Looking for a dinner that is easy and flavorful that everyone will enjoy eating? Sausage and Peppers are always a hit in our home. This is a winning dinner idea. Why? Because you can cook this quickly for days you are busy. Plus, you can serve it so many different ways.
Typically my weeks used to look like this. Does yours? Driving everyone around to sports or lessons, a weeknight for when the kids are in school, you just got home from work. You forget to get it together or have a meal plan, and you are throwing your hands in the air. Now, what's for dinner? Don't know what to cook?
Looking for quick dinners to make? Check out our 30 Minute Meals
Sausage and Peppers
I have to admit there are days I just don't want to cook. Recipes like this make preparing dinner a breeze. No matter when you cook this up, you will love all the flavors the combination of pepper with sausage makes.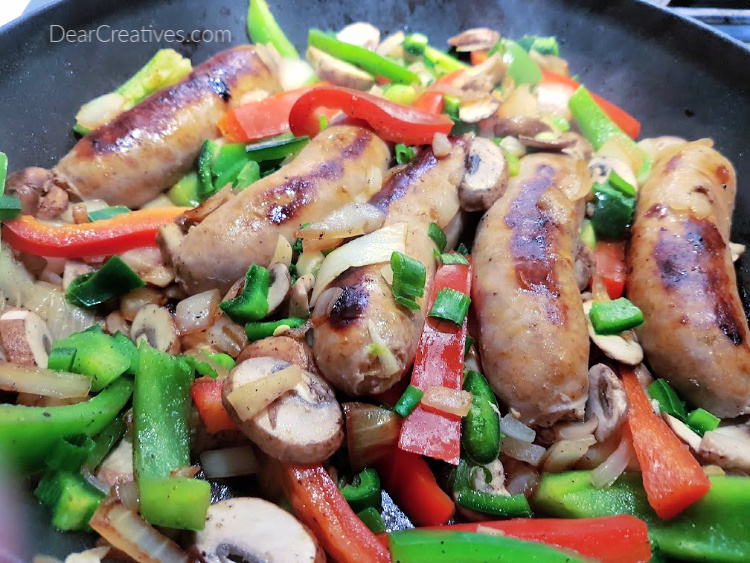 We like to keep this on the healthier side when it comes to dinners, we select chicken sausages
. But, you can pick out any type of pre-cooked sausage. Why pre-cooked? It cuts down the overall cooking time. The sausage we use is gluten-free, fully-cooked and 100% natural and nitrate free.
What types of sausages do you use for sausage and peppers?
You can use a variety of sausages but if you want dinner to cook quickly pick pre-cooked sausage.
To switch things up and adapt this recipe, we have days where we pick different types of sausages which makes this recipe flavor profile change.

Sausages to try with this recipe include Cajun, Andouille, Italian, Hawaiian, Garlic Artichoke… Do you see where I am going with this? Options!
This recipe for Sausage, Peppers, and Onions is easy to adapt to include your favorite vegetables.
Sausage and Peppers Recipe
Ingredients
Your Favorite Pre-cooked Sausage
For this recipe, these are my picks, (Italian Chicken Sausage) Or (Chicken Sausage with Pineapple) Or (Artichoke Garlic Chicken Sausages)
1 Sweet Yellow Onion
3-4 Garlic Cloves
1 Red Bell Pepper
1 Green Bell Pepper
1 small package Cremini Mushrooms (optional)
Minced Green Onions (optional for garnish)
Directions
How to cook sausage and peppers
Start by washing and preparing your vegetables
Slice your bell peppers
Peel, slice and cut your yellow onion
Peel and mince the garlic cloves
Wash, dry and slice your mushrooms
Prep optional garnish of minced green onions. Wash, mince and reserve until other vegetables are cooked
Heat your skillet to medium heat, adding 1-2 tablespoons of olive oil
Add your sausages whole (prick them with a fork), or cut up and heat your sausages, flipping them over to cook on each side
Reduce stove heat slightly
Next, add your prepared vegetables, onions and garlic to the pan. Cooking them until just being tender. Just a few minutes while stirring
Optionally, you can remove your sausages at this point and just cook the vegetables in the same pan
For garnish add minced green at the last few minutes of cooking time
Remove from the pan, plate and serve
Recipe notes
If you like spicy foods wash, seed, rinse and chop a Poblano or jalapeno pepper to add to this dinner idea.
What do you serve with sausage and peppers?

Side dishes include serving with rice, pasta, add the sausage on a hoagie bun or French roll bun. Or making a red pasta sauce with the sausage, bell peppers, onions, and mushrooms.
Be sure to subscribe to learn how to make this recipe with a red sauce. That recipe will be coming soon!
Honestly, I love keeping packages of sausage in the fridge just for nights I don't want to cook. It's a healthier stand by than hot dogs. You cook it all in one pot! Yeah, for less clean up with One-Pot Meals!
To switch things up we have days where we pick different types of sausages which makes this recipe change flavors. Think Cajun, Andulie, Italian, Hawaiian… Do you see where I am going with this? We are headed to Flavor Town.
Hmm, watching too much Food Network? Probably. I have to mention I have met Guy Fieri when we used to live in Santa Rosa. We ate often at his restaurant before he became a television personality. I have to say, we had some amazing times and good food while having dinner at his place. Flavorful, foods cooked with garlic. lots and lots of garlic. He always used to come out to the table to say hello. Are you one of his fans?
Don't forget to pin this!
Recipe for Sausage and Peppers