Today's baking recipe for Pumpkin Donuts with Chocolate Chips. Not only is this an easy pumpkin recipe, but it's also Paleo, and so tasty! I don't always cook Paleo but, it's with a few substitutions you can easily make this recipe for Paleo Donuts. Nothing says fall like PUMPKIN, baking, and PUMPKIN DONUTS. Anyone else ready for baking season?
This is one of those recipes that is perfect to pair with coffee and friends. Or for a grab and go breakfast.
I have been wanting to bake donuts forever. I have baked everything pumpkin under the sun.
Pumpkin pies
Pumpkin cheesecake
Baked then seeded fresh pumpkin, which is great for freezing
But, until now I hadn't tried pumpkin chocolate chip donuts. Do not miss out on this healthy pumpkin donuts recipe!
Pumpkin Donuts With Chocolate Chips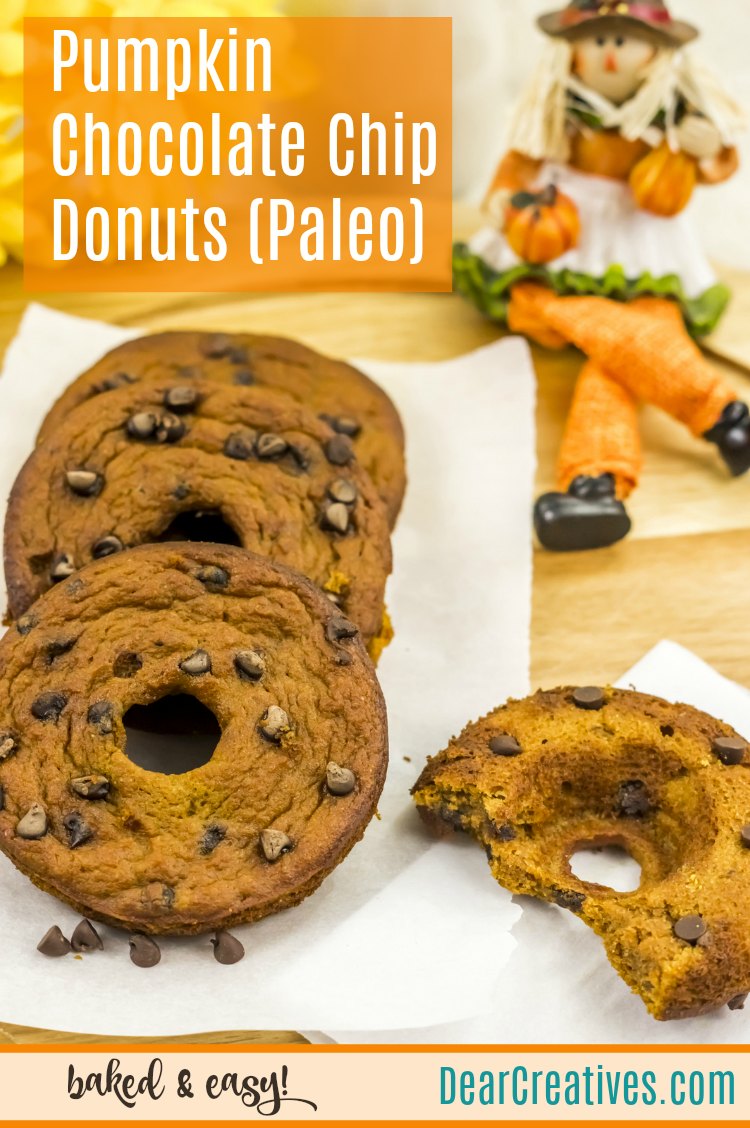 What makes this recipe Paleo donuts?
The coconut flour vs. processed white flour. Maple syrup vs sugar. Coconut oil vs. processed oil. Easy substitutions will make your recipes healthy and Paleo. *Paleo is (source) avoiding processed foods, sweeteners, and oils. But, this doesn't mean that these pumpkin chocolate chip donuts are not AMAZING!
But, if you prefer other pumpkin dessert recipes… see these posts:
Or subscribe for more because we have some tasty fall recipes coming including muffins and bread! Can you guess, what ingredients they will include? PUMPKIN!
Are you ready to make pumpkin donuts?
For today's

Paleo pumpkin donuts recipe

I only had to buy coconut flour don't worry it's easy to grab. You might also need to purchase coconut oil if you don't have it on hand. If you are a baker you'll probably have everything else you need.'
Pumpkin Donuts
Ingredients
How to make pumpkin chocolate chip donuts
Start by preheating the oven, and preparing your donuts pan.
Step 1
In a medium bowl, sift together the coconut flour, baking soda, pumpkin pie spice, and salt and keep aside.
Step 2
In a blender or food processor
add the eggs, vanilla extract, coconut oil, maple syrup, and pumpkin puree and blend well on high.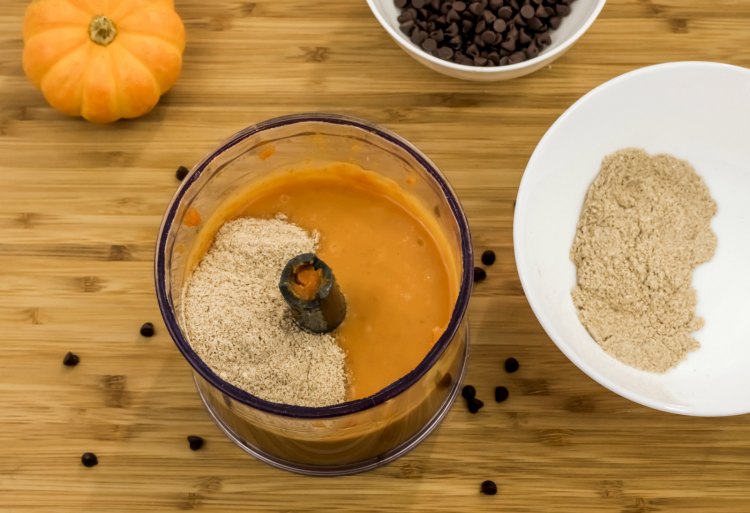 Step 3
Add the sifted dry ingredient and blend or process till the batter is well combined.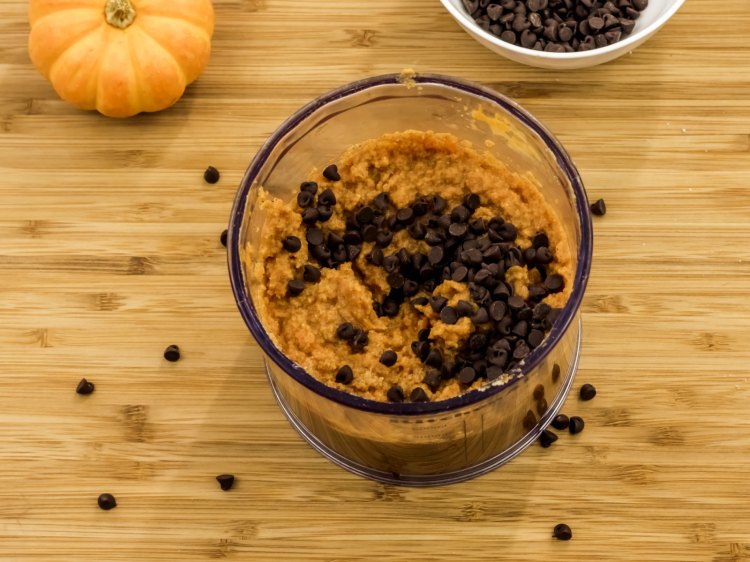 Step 4
Add the chocolate chips and gently fold in.
Step 5
Put the prepared batter in a Ziploc or any plastic zippered baggie snip one corner's end.
Pipe it carefully into each greased donut well, filling about ¾ of the well. Tap to release any air bubbles. Top with more chocolate chips.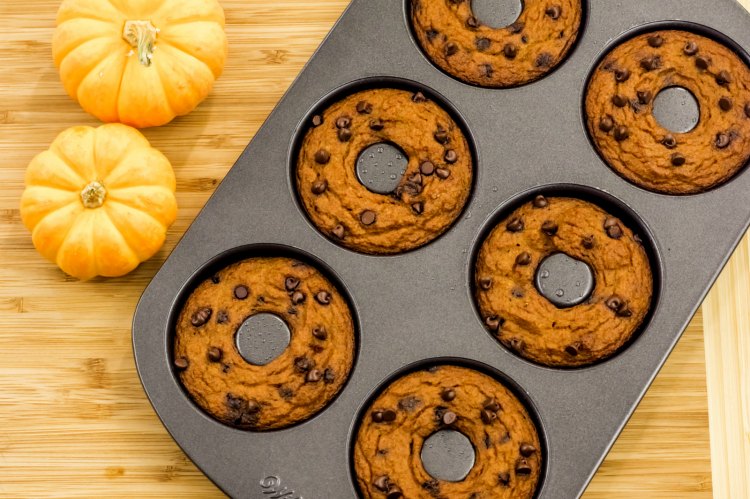 Step 6
Bake for about 20 minutes, or until golden. Let the donuts cool in the pan for 5 minutes. Transfer to a wire rack
to cool completely.
You'll love these donuts. Serve them with coffee or tea. Serve them on the weekends for the family. This is a healthy treat recipe you are sure to enjoy this fall or anytime you are looking for easy pumpkin recipes.
Do you enjoy pumpkin recipes? I hope so because we have some more good ones we will be sharing soon. Be sure to subscribe to never miss out.
Baked Pumpkin Chocolate Chip Donuts (Paleo)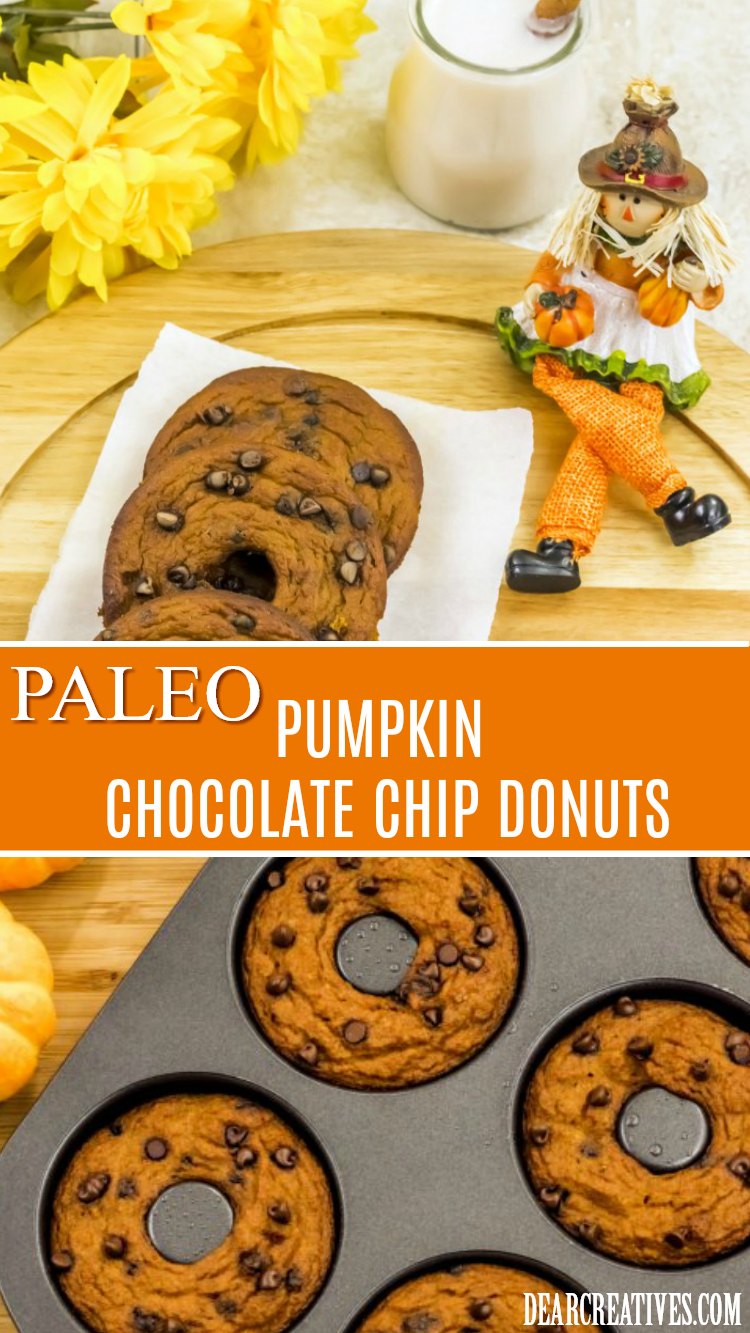 New here? Subscribe bonus you get free printable recipe binder, meal planners, and more!
All our Treat Recipes