Dear Creatives, Happy post Thanksgiving! While many of you are with family still or traveling (including myself) or out shopping I have a special post for you today with an introduction & then onto the link-up! Plus news that a new giveaway is open! Don't worry if you already entered you can still pop in your links & have more than one entry.Today I would like to introduce you to my new weekly co-host Rebekah from Accidently Wonderful Rebekah is in the SpotLight today.
Rebekah was an art major in college, but now is working with special needs high schoolers, they love to make small crafts. Rebekah loves anything creative cooking, crafting, painting… anything that lets her express herself. Rebekah started blogging just over a year ago. Rebekah says," I have been married to an amazing man for over two years, and we are expecting our first child in early March" (a little girl- Parker Elizabeth).
Be sure to visit Rebekah & welcome her! Even follow along with her if you like! When you visit Accidently Wonderful you will find some great recipes along with diy & crafts that Rebekah has shared. I am excited to have Rebekah as my co-host here for Inspiration Spotlight & I am sure you will hear more about & from her as we go along. PS Don't forget to check out yesterday's post & enter the giveaway!
Now onto this week's Inspiration SpotLight Link-Up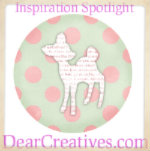 <div align="center"><a href="https://www.dearcreatives.com/ " title="Dear Creatives " target="_blank"><img src="https://www.dearcreatives.com/wp-content/uploads/2011/08/Inspiration-Spotlight-DearCreatives.jpg" alt="Dear Creatives " style="border:none;" /></a></div>