This is a Sponsored post written by me on behalf of NECTRESSE™Sweetener for SocialSpark. All opinions are 100% mine.
Dear Creatives, When having my coffee in the morning to baking with my favoirte recipes I started to look for a sugar alternative. Honestly being healthier is a priority for me! I jumped at the chance to review NECTRESSE™Sweetener Maybe this would be the answer to my single scoop sugar + coffee in the morning habit? mid day treat habit?
What I discovered is that NECTRESSE™Sweetener available not only in the single serve packets suggested retail price $3.99 ( 40 servings) or by canisters suggested retail price $6.99 for easy scooping & pouring into your favorite recipes.
I have never found a sweetener I was loving until now. NECTRESSE™Sweetener is a zero calorie sweetener & the only one that is 100% natural fruit that I can get where I shop – it is made from monk fruit extract. Summer got a whole lot sweeter & fall baking is going to have a lot less calories, along with being healthier.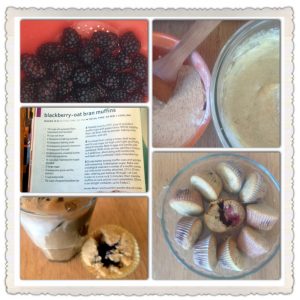 I decided to give it the baking test being 150 x sweeter than sugar I found you don't need as much to get the desired sweetness. Here is my recipe & results! I made blackberry oat bran muffins. Everyone loved them & I hope you do to! BTW I also added it to my iced coffee it was the perfect combo for a mid day snack.
Sugar Free Oat Bran Blackberry Muffins
Ingredients:
1 1/2 cups all purpose flour
2/3 cup oat bran
2 tsp baking powder
1/2 tsp baking soda
1/2 tsp ground cinnamon
1/4 tsp salt
_____________________________________________
6 tbsp softened – room temp (unsalted) butter
1/4 cup NECTRESSE™Sweetener
2 large eggs
2 tsp pure vanilla extract
____________________________________________
1 cup buttermilk
1 1/2 -2 cups blackberries
__________________________________________
*additional NECTRESSE™Sweetener & cinnamon for topping optional
Instructions:
Put together dry ingredients in one bowl
In another bowl mix butter, NECTRESSE™Sweetener until creamed add eggs & vanilla
Add in flour mixture alternating with adding in buttermilk into bowl with butter, NECTRESSE™Sweetener & vanilla
Fold in blackberries
Add to lined cupcake tin & take 1-2 tsp NECTRESSE™Sweetener & mix with 1/2 tsp ground cinnamon & sprinkle on top of uncooked batter
Bake at 375* for about 15-20 min. makes about 18 if using two small ice-cream scoops to put into liners
Now you can see why Lisa Ling loves Nectresse so much & how one tiny green fruit can make a difference in your life.
.
Another great thing about me reviewing Nectresee Sweetener is that I am able to offer you a chance to try it & hopefully sweeten up your days FREE sample of NECTRESSE™Sweetener
Have you ever tried NECTRESSE™Sweetener? What would you add it to?