Are you looking for clothing deals? Clothing sales? Labor day weekend is one of the best weekends to shop for the next season, and styles! You will find The Best Labor Day Sales!
That is, if your not camping, sitting by the pool or at the beach. But, if you are out of town we have listed a few places we love to shop for the best deals all the time. Plus, we are sharing a few fashion coupon codes for shopping this labor day weekend. Grab the 411 below.
PS. I'll be sure to share a few things we are looking for later because there is more than fashion shopping over the labor day weekend. Wink, wink.
Labor Day Sales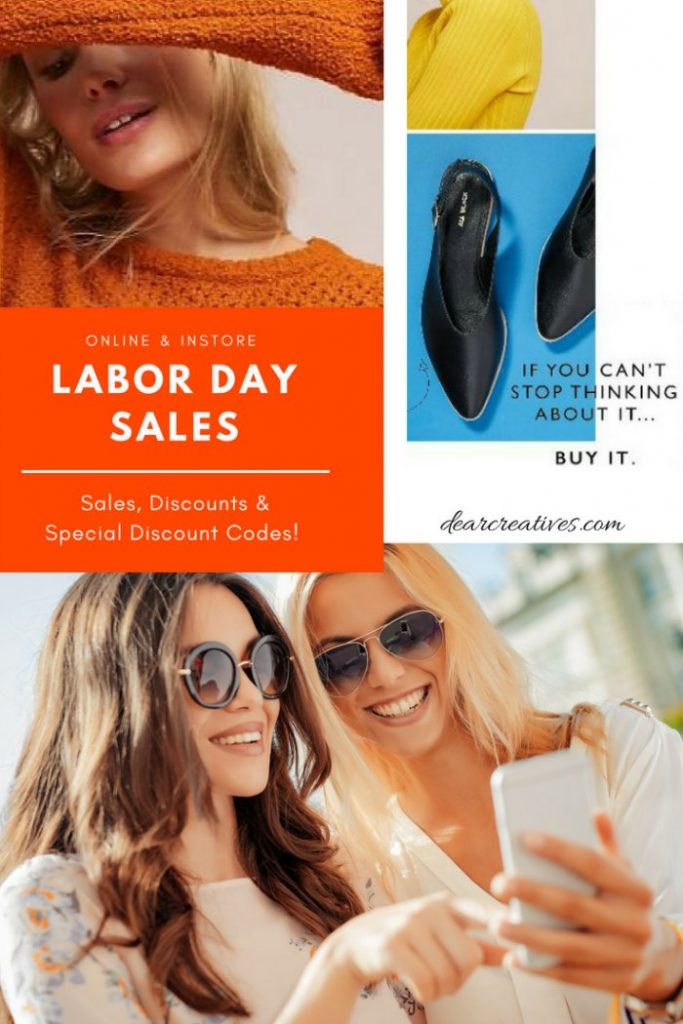 Labor day is an awesome time to shop your favorite online stores
. It's a great time to pick out wardrobe basics to wear all fall long. This is the outfit we are crushing on right now. What we love about it is that we think almost all figures will be able to wear this look. Bonus, the shoes are ones you can walk in, head to office or shop in. Can't wear yellow? Not a problem we will share a few other pops of colors for fall that you can wear instead of yellow.
Outfit of the day
Today's fall outfit of the day is a wardrobe basics.
Turtle Neck Sweater (comes in yellow and black)
Slingback Flats (leather)
Shop new items or get 40% off on sale items. You are sure to find some basics to mix into your fall wardrobe.
If you are planning on stocking up for fall you might like this sale Online and in Stores Use Code NM100 *( see details at Neiman Marcus) Code valid to 9/3.
Shop the Look
Daily Look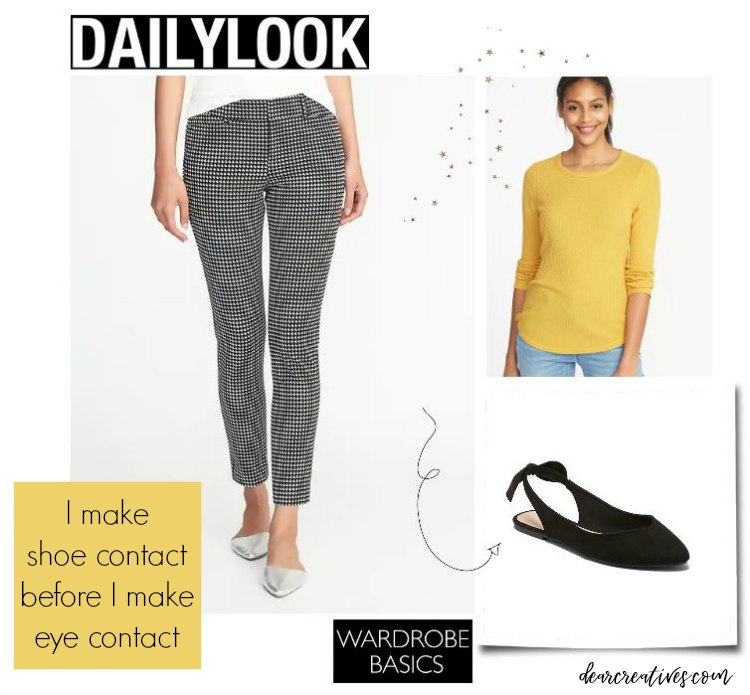 Find similar styles less if you don't want to invest right now in our pick. No, it's not a wide pant but the check comes in second best. Do you prefer a scoop neck sweater over turtleneck? You can wear this outfit with silver flats but, we love the slingback ballet flat. The sling back comes in three colors too. Perfect for matching to your wardrobes.
Another option for the hounds-tooth pant are these pants that are wide legged, and are flowy. Great for a casual every day look.
Rib Knit Top (in 6 colors, including yellow)
Slingback Ballet Flats (suede)
I purchased this best seller faux suede ballet flats in two colors. I wore out my blue suede shoes by wearing them every day. But, I've only wore the mustard ones for going out so I have a few more miles to go in them. They are so comfy, and I love the pop of yellow for shoes.
Depending on your skin tone yellow can be a harder color to wear. It's ok to pick other fall colors for your pop of color.
Maybe your fall color ends up being rust, or green, or a mix of prints. For me it's burnt orange or an orange sweater like this.
Look for styles with these prints for fall
Hounds-tooth
Checks
Plaids
Florals
Modern
Looking for fashions at great prices?
Sammie just ordered her homecoming outfit from Shein. I can't wait to share her homecoming outfit. Shein is having great pre Labor day sales, and sales through the weekend.
Take 20% off with code

SFX20 Valid through 9/3
Ordering off Shein is easy, but if you don't get express shipping allow yourself extra time to get your shipment.
PS. If you miss their labor day sales don't worry, check out their Best Sellers on Sale! With FREE shipping on order $49+ Limited Time Offer at SheIn.com
The Best Shopping Labor Day!
Save up to 30% sitewide. Valid through 9/3 See all fashions, and sales at Target
Macy's Take 20% off at the Labor Day Sale with code WKND. Valid 8/29-9/3
New here? Be sure to subscribe!
$15 Off Moto Jeggings & Free Shipping
Coupon Code: MOTO15
Expires: 9/22/18
Book Lover Graphic Tees for $16.95 & Free Shipping
Coupon Code: BOOKLOVE
Expires: 9/22/18
$30 Off Orders of $100+ & Free Shipping
Coupon Code: 30SAVE
Expires: 9/22/18
What are you shopping for over the weekend?