Dear Creatives, It's crafting party time! See what's being made & share what you have been crafting, creating & cooking up! Link up your arts & crafts, blog tips, cooking, decor, diy, photography, sewing, recipes……You name it! We love to see it. Come inspire us! & don't forget to sign up for the email reminders if you'd like a postcard like reminder about the party. Sign up will be at party link-up below. Now onto last week's entry features & today's link-up party!
In The Spotlight!
I love this easy to do & Dollar store purchased items that made this Shamrock Wreath. Shannon from A Cozy Place Called Home submitted this tutorial. Shannon writes a lifestyle blog sharing cooking , creating new recipes, crafting, and decorating. These are hobbies and way of her life. She also enjoys taking care of her four sweet dogs.
I love this super cute & functional sewing machine cover. The steps on how to make it are well laid out. This was submitted by Amy who writes Clippie Dips. She has been blogging since 2009 & is in Texas.
Chocolate Covered Cherry Fluffy Bars
I love all the cherry dishes I have been seeing around & this one that was submitted I liked for the fact that it seems very easy, not time consuming & can be made for a crowd. This just might be a dessert contender for our Easter. This was submitted by Erin who blogs at Wholly Delicious Dishes. Erin shares recipes and menu ideas to help save you time and money by creating easy, flavorful, budget-friendly dishes that you can make at home using more whole, fresh ingredients and less of the processed stuff.
There are many ways to be in the Spotlight & I love continuing to share your content now & in the future, here's just a few shared this past week:
Pinned this week: #62 Repurposed Side Table to Desk, #32 Sandbox diy #34 Jute Spool Storage
Tweeted This week: #45 Balsamic Potato Recipe, #47 re-purpose dresser to changing table.
To See these & more visit last week's link-up right here for when your done entering:Inspiration Spotlight #29
I love sharing all your inspiration, seeing what you have to offer & sharing it to inspire others! If you'd like follow me don't forget to subscribe . I wanted you to have a way for you to receive an email reminder if you'd like one! I created a new sign up just for a simple weekly postcard reminder. For me I like reminders as I already calender so many things. & if you decide you don't want a reminder later on you can just unsubscribe with a simple click. There are three options, one is for the link-up email reminder! Just visit this link to sign up! There is an option to receive only link-up reminder!! Subscribe to our newsletter Don't forget to check out yesterdays crafty post before heading on.
Now it's your turn to join the party!! It may take a moment for the linky to load.
Button Up!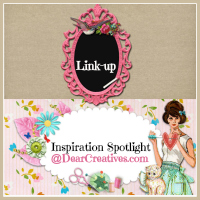 <div align="center"><a href="https://www.dearcreatives.com/" title="Dear Creatives"><img src="https://www.dearcreatives.com/wp-content/uploads/2013/01/Button-inspiration-spotlight-dearcreatives.jpg" alt="Dear Creatives" style="border:none;" /></a></div>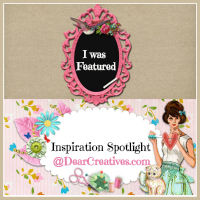 <div align="center"><a href="https://www.dearcreatives.com/" title="Dear Creatives"><img src="https://www.dearcreatives.com/wp-content/uploads/2013/01/Button-Inspiration-Spotlight-I-was-featured-2013-DearCreatives.com_.jpg" alt="Dear Creatives" style="border:none;" /></a></div>
Widget may take a moment to load:
Loading InLinkz …