Dear Creatives, Hope you find time to submit your crafting, creativity, decor, diy, recipes…..to this weeks link up & see what great entries were submitted from last week! I think I managed to make it by to see everyone this week. I hope I didn't miss your link-up entry. If the party gets bigger I might not make it around to everyone each week but, will do my best. I hope you were able to visit at least a few other creative party goers! Be sure to share the button or a link somewhere on your site so others can join in! & if you ever need it re-sized just email me & I can fix one up for you! Now onto the party & who is in the spotlight this week!
In the Spotlight!
This yummy submission was entered by Evelyn of My Turn for Us. Evelyn is retired from law enforcement, she is a wife, mother & grandmother. Evelyn & her husbands goal is to one day travel in an RV full time! She is happily done raising kids & loves sharing yummy recipes like this one above. If you haven't visited her lately she has some great game day recipes! I know I am trying more than one of her recipes soon!
Sweet & Salty Goodness this entry was submitted by Marisa from Marisa Howard Designs. What I love about this entry although she posted it around the holidays it is perfect for game day, movie night or even a simple Valentine treat for family or friends! & ladies you know there are times you just crave that sweet & salty goodness! Marissa left her high-pressure, six-figure job to pursue my love of design, crafts and diy. Marissa is full of creativity and loves to share fun and easy design projects. I am sure you'll find more than one project or recipe you'll love when visiting her.
This is a great diy from LakeGirlPaints submitted by Deb who loves crafting a life painting and creating fun projects for her home. Giving old furniture new life with layered paint styling is a part of my everyday. A crafter at heart, she enjoys making a home and happy art to fill it. She hopes you can take some happy bits from my notes. I know I have 1 or 2 dressers I'd love to redo at some point. Do you?
Don't worry if you didn't get in the spotlight previous entries are still up on submit page, along with I am always pinning & tweeting about the entries. This week I shared:
Pinned Favorite this week was #64 My Love To Create Diy Caddy Tutorial & also pinned this week was #31 Knitted Wristlet Tutorial added to Knit board & #55. Crystelle to the apron board. Tweeted this week was Paula #60 for one of her handmade Etsy items, #34 Diy heart stamped Soap & #54 Crafty In Crosby's Valentine Wreath #3 Shakentogetherlife's Triple Strawberry Cupcakes. I'll be tweeting more of the entries this coming week too! Along with new entries! To visit these entries & see more of last week's entries just click here: Inspiration Spotlight #25! PS New here? Don't forget to subscribe!
Now it's your turn to join the party!!
Button Up!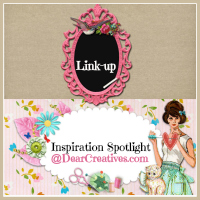 <div align="center"><a href="https://www.dearcreatives.com/" title="Dear Creatives"><img src="https://www.dearcreatives.com/wp-content/uploads/2013/01/Button-inspiration-spotlight-dearcreatives.jpg" alt="Dear Creatives" style="border:none;" /></a></div>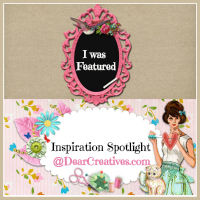 <div align="center"><a href="https://www.dearcreatives.com/" title="Dear Creatives"><img src="https://www.dearcreatives.com/wp-content/uploads/2013/01/Button-Inspiration-Spotlight-I-was-featured-2013-DearCreatives.com_.jpg" alt="Dear Creatives" style="border:none;" /></a></div>
Widget may take a moment to load:
Loading InLinkz …