I had a chance to preview Laura Doherty's In a Heartbeat children's CD it is done in a acoustic-folk style. Some of her songs are jazzy. Her voice is amazing and so enjoyable to listen to. This Children's music CD is geared to ages 0-6 but, will be delightful to listen to with your children. Today I'll share a little bit more about Laura's musical adventures and background along with the CD details.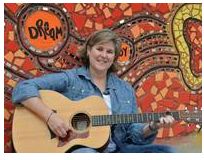 Laura Doherty is a nationally touring recording artist and award-winning producer with an ear for a catchy melody. Known for her warm, engaging style, Laura Doherty has a passion for creating sweet, folk-inspired songs, and a one-of-a-kind ability to connect with children that earned her:
The moniker "Chicago's pop sweetheart for kids" from

AAA Living Magazine

.

Time Out NY Kids

declared Laura's 2009 Parents' Choice Gold
Nappa Gold Award-winning Kids in the City to be one of that year's "Top 10 Kids' Albums."

Time Out Chicago

gave 4 stars to her 2011 Parents' Choice Silver Award-winning Shining Like a Star and rated Laura as one of Chicago's Top 4 Children's Artists (with Justin Roberts, Ella Jenkins, and Ralph Covert).
Enthused Sirius/XM's Kids' Place Live Program Director Mindy Thomas about Shining Like a Star, "Laura knows her audience, and her music is fantastic!"
Laura's humble beginnings started from fourth grade clarinet, followed by piano at age 12 and then picking up the guitar at age 16. In 2009 She took the leap to going full time with kids' music. Playing at festivals throughout the country. Disclosure: I did receive Cd to enable facilitation review of In a Heartbeat CD. These are all my 100% honest opinions. My full disclosure.
Laura's latest CD In a Heartbeat has a release date of February 11, 2014
For ages 0-6 and families
Label: Laura Doherty Music
MSRP: $15.00
Run Time: 34 minutes
The In a Heartbeat CD song list includes: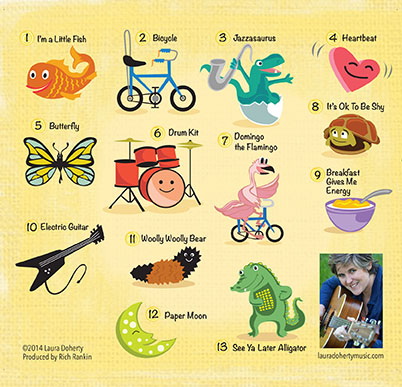 I'd have to say I have a lot of favorite songs on Laura's In a Heartbeat Children's CD but, my top three favorites are Heartbeat it's a catchy tune, PaperMoon with it's Jazzy vibe & Drum Kit because the Mr. and Sammie play drums and it's a super fun song. You'll be wanting to pick up some drum sticks and click them right along with it's catchy beat! Many of the songs are teaching without you even realizing it until you really listen to the words. This is one of the Cd's that your whole family will enjoy listening and singing along to once you learn the words to the songs.
LAURA DOHERTY IN PERFORMANCE
Highlights – Winter 2013
Feb. 22 Old Town School of Folk Music, Chicago, IL CD RELEASE SHOW!
March 1 World Cafe Live, Philadelphia, PA
Music appreciation begins at a young age and it's never too early to start introducing all types of music to your children. I've mentioned before how music enhances learning in children. If you are looking for children's music to give someone this holiday season be sure to check out Laura's other kids' music Cd's available for preview and purchase on Amazon now:
Kids in the City by Laura Doherty (May 12, 2009)
Kids in the City
Shining Like a Star by Laura Doherty (Sep 9, 2011)
Shining Like a Star
This song Valentine is on Laura's Shining like a Star Cd. You can purchase the songs individually for MP3 or buy the entire albums.
Be sure to subscribe to Dear Creatives Stay tuned for a great holiday round up of the best Children's CD's for your holiday gifting! And all things creative, crafting & inspired daily living! See side bar to follow on FB and other options.
Visit Laura Doherty's website to find out more about her and her kids' music.
Do you have a favorite Children's Music Cd? For the kids or the whole family?