This shop has been compensated by Collective Bias, Inc. and Walmart Family Mobile. All opinions are mine alone. #Save4Summer #CollectiveBias
Well, it's officially the last day of school. Last year at this time I had all our summer plans laid out. Do you plan and #Save4Summer ? We do! This year we are just beginning to start our summer planning. The unfortunate thing is that I dropped my cell phone and this time my case didn't break the drop, it's completely smashed. Navigating summer without a good cell phone is not a good idea, especially when your traveling!
The last cell phone I purchased my daughter loved so much she took it over. Yes, I caved. We always want the best for our kids and if your like me you might put yourself second.
But, now I had a damaged iPhone and she had the other. I headed to see Walmart Family Mobile's options for Unlimited Talk Text and Data/Web. Before, I've found a plan for everyone and now I needed my own plan and a new cell phone. This is when I saw the new ZTE ZMAX there!
What's great is this new purchase of a cell phone and plan is saving me money now I can continue to make our summer plans happen that we'd been thinking about! I'm excited to tweet photos when were out and about. This camera is pretty amazing!
You know how I love taking photos of travel, flowers and things we've cooked or baked. ZTE ZMAX has a 8-megapixel camera which makes me excited! Now, I'll never have to miss a shot when I don't have my big camera with me! This cell photo is just one rose in my yard. I can't wait to use it on my trips! I didn't even edit the photo.
I was super excited to see the ZTE ZMax came with chrome installed, music, play movies & tv, sound recorder, my account information, notepad, task manager, a flashlight, shopping and more! The first app I installed was Instagram I haven't been able to use it since I broke my cell but, I'm ready to get sharing again!
Don't forget to follow me! My everyday life includes a lot of web tasking. Does yours? I was happy to pick from two options of unlimited plans. If the lower data plan isn't enough I can update it at anytime. So far I am still using the lower priced plan, still making my plan under $30.
Our summer trip itinerary includes the amusement park, city museum and a SF City Weekend! I won't have to worry about navigating or finding things as my new phone can do all that and more! I can even watch movies while they ride rides at the amusement park.
This year we are even planning a three day trip to Monterey, CA with my second youngest daughter and her family. We are looking for a house to share. Whale watching? I'll check and book it from my phone! We also hope to make it to my brothers in the mountains of Lake Tahoe. What about you?
Another great thing is this cell comes with 14 hours of talk time! Now, I don't have to worry about losing a charge before getting to my destinations or waiting for Sammie when doing pick up's from her lessons or friends. Let's just say my last cell wasn't cutting it in that department. It's even big enough I'll be able to do some of my work on the go.
When Sammie saw this phone she said, "Are you sure you want this and not mine?"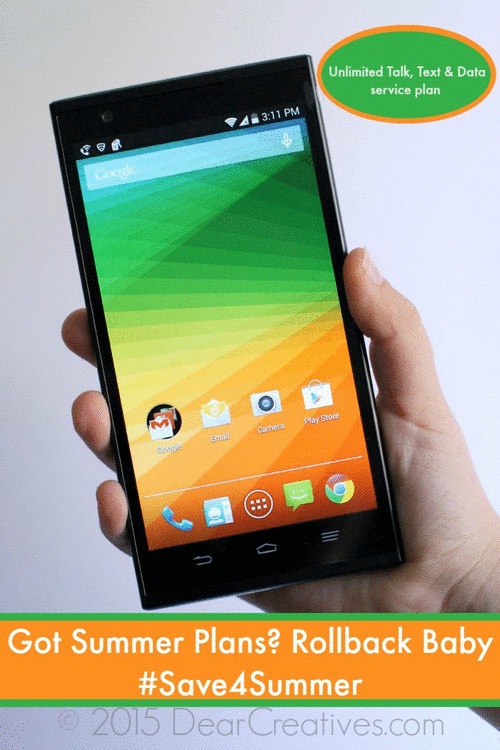 This time I told her I needed the new one and she'd have to wait this time. Maybe, later I can get her a ZTE ZMAX of her own, as it was on sale at a great price.
If you find yourself looking for the Lowest Priced Unlimited Plans I highly encourage you to look at your local Walmart.The coverage areas are easily checked online or check out their brochure in the store. We registered our personal information online it literally took us 10 minutes to register the SIM card from the WFM Starter Kit and activate the cell phone. Next we just popped it into the cell with the handy tool that is provided with the cell phone, then turned it on! If you need help getting started they can help you at your store.
It was easy to find my cell phone and $25. one time activation SIM card in our local Walmart in the Electronics section. The isle I found it was in the entertainment section of our Paso Robles, CA Walmart. Walmart Family Mobile service is $29.88/month (for the first line) Unlimited Talk, Text & Data service plan which includes up to 1G of 4G LTE data.
Disclaimer: All prices for phones and plans included in this post are accurate as of the date of posting; however, these prices are subject to change. Please refer to http://cbi.as/ax84 or your local Walmart for current pricing.
What summer plans do you have? Do you need a new Unlimited Talk, Text and Data service plan or cell phone?
Visit Walmart to find out your options and more!