Who is looking for an easy, tasty, treat recipe for Halloween? If you answered yes, then you need to make these Easy Chocolate Chip Halloween Cookies. This is an easy treat idea that anyone can make, and bake. With our busy schedules I don't always have a lot of time to spend baking? Can you relate?
I made this easy treat one afternoon for Sammie. I almost feel guilty, it's so easy to do! Shh, no one is the wiser. The plans on this night was that she was going to her high school's haunted theater production, after a day full of activities.
Chocolate Chip Halloween cookies are the perfect addition to any festive day, night or Halloween party. Who doesn't like cookies for a treat?
Easy Chocolate Chip Halloween Cookies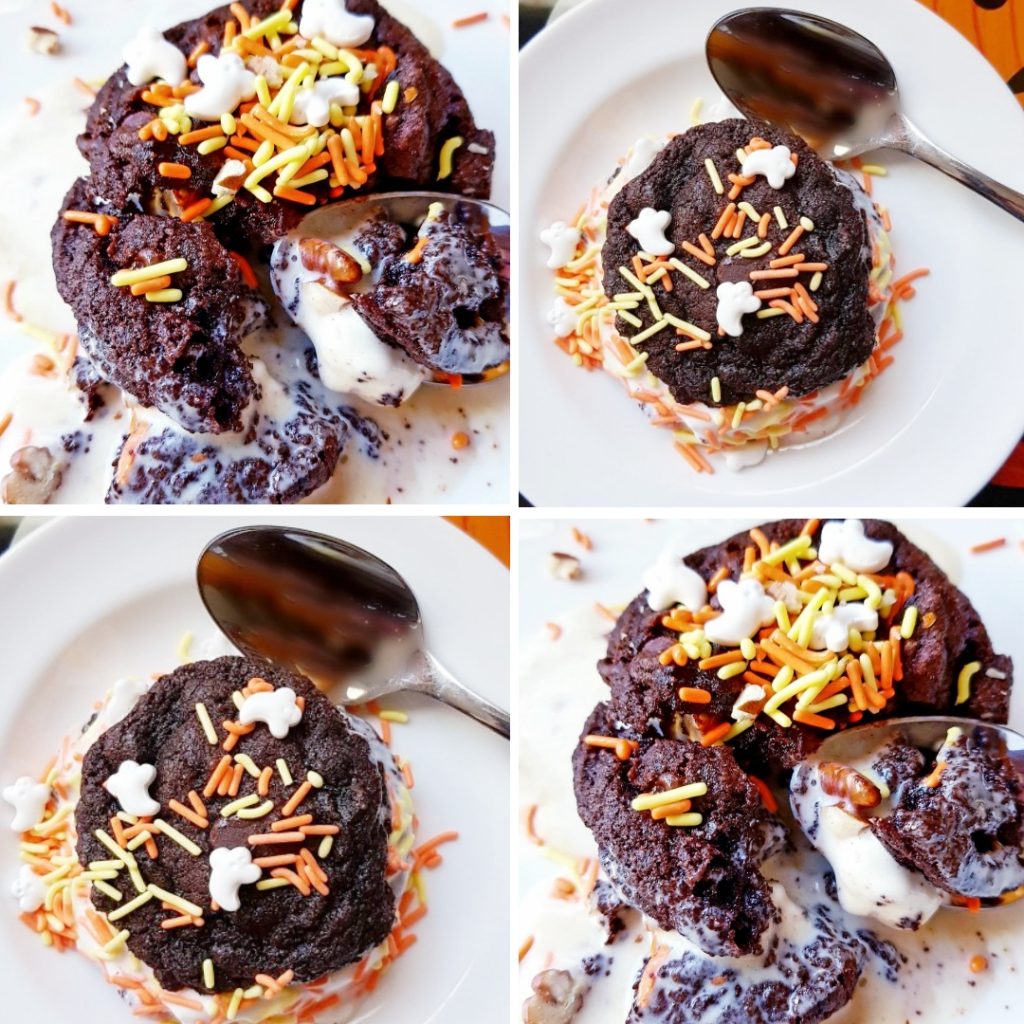 You might of seen my part one of my post here for Ice Cream Stuffed Cookies for Halloween? You could make this with these chocolate chip cookies too. But, today's treat recipe is even easier, if you don't have the time to stuff your cookies with ice cream.
Here's how to make this Easy Halloween Cookies Treat
Grab a package of #ImmaculateBaking Chocolate Chunk Cookies ( ) they are

organic, gluten free, and taste amazing

Baking sheet pan liner (my favorite)
Hot pads, and your oven
(1) Next pre heat the oven to 350 degrees.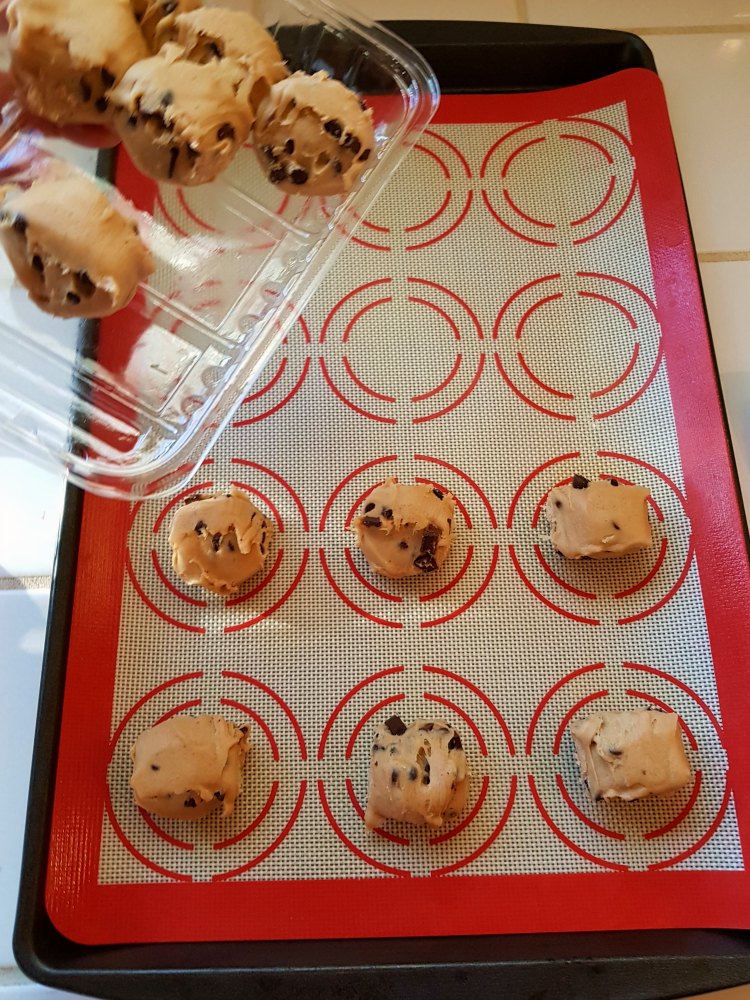 (2) Then open the package, set on a lined cookie sheet, with your washed hands.
(3) Press down the cookie dough slightly, and (4) add sprinkles. Reserve some sprinkle to add to them, just after they are baked (if more are needed).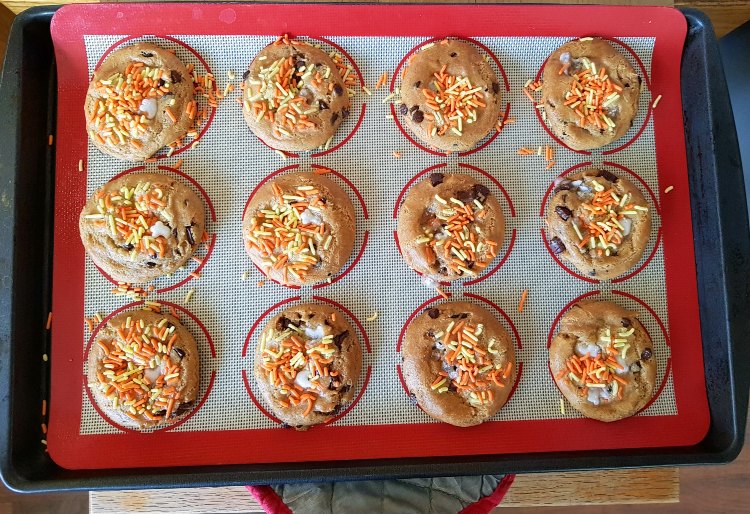 (5) Bake. (6) In about 14-16 minutes take them out of the oven with your hot pads. There you have it! Technically, to make this easy treat it's 6 easy steps if you count pre heating the oven.
Easy, delicious Halloween cookies. Cool, and serve. Or cool, and stuff with ice cream.
Holler!
So yummy! Don't forget to Grab $1 Off your Immaculate Baking Gluten-Free, Organic & Natural refrigerated dough products. Immaculate Baking offers so many great products for baking season, including pie doughs, cookie, and mixes. They have more easy recipes too! I love being part of the Immaculate Holiday Baking Influencers.
I love sending my grand kids snail mail over the holidays when I can't see them. At least it lets them know I am thinking of them. I'm thinking of sending them a tin full of these cookies, one of the perks of being a grandma is getting to spoil them.
You can use today's easy treat recipe for a party, or to pack up a tin of cookies too. Give them to the kids, neighbors, co workers……
Are you packing up your Halloween treats?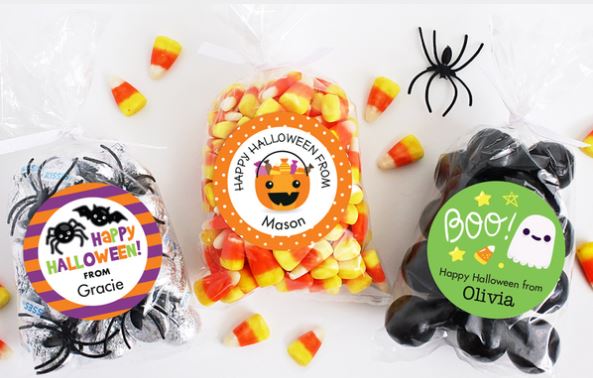 Grab any of these treat bags, with options to personalize:
Don't think you have time to bake?
Think again. Grab $1 OFF Immaculate Baking products
Don't forget to subscribe, bonus you get a free printable recipe binder!
More baking, and treat recipes you'll enjoy!