As a mom, artist, blogger and part time chauffeur to a teen there is the never ending lists of things to do, places to go and very early mornings. Mornings don't come easy as the polar opposite is the lifestyle of the creative person inside me who squeezes in every ounce of quiet time for writing, editing photos and learning. This means we have some long days. I consider myself a huge coffee lover and it's a part of our daily lifestyle. In the mornings I enjoy must have a cup of coffee along with a little quite thinking before the day gets jump started with all the buzzers blazing.
Weekdays are a bit more hectic than weekends but, they are just as full and started the same with a fresh brewed coffee. There is something about the aromatic scents and flavors of coffee that make mornings more tolerable when your a coffee lover. The lifestyle includes a love affair with tasting coffees from around the world. Sometimes I imagine I'm traveling to countries in search for the perfect morning brew. Other times I'm just sipping my fresh brewed coffee pinning inspiring coffee art, photography and illustrations.
Coffee Lovers: Recipe for a perfect cup of coffee;
Luckily for me I didn't have to travel far to find three coffees that I've been enjoying lately. If your a coffee lover you may have already discovered four basic fundamentals of coffee. But, if not these fundamentals will help you enjoy a better cup of coffee. I'm not going all coffee snob on you here but, I'm sharing some tips I've learned that will help you brew a perfect cup of coffee. Every coffee lover I know wants each cup to be the best experience and savor the flavors as they sip and slurp of their fresh brew.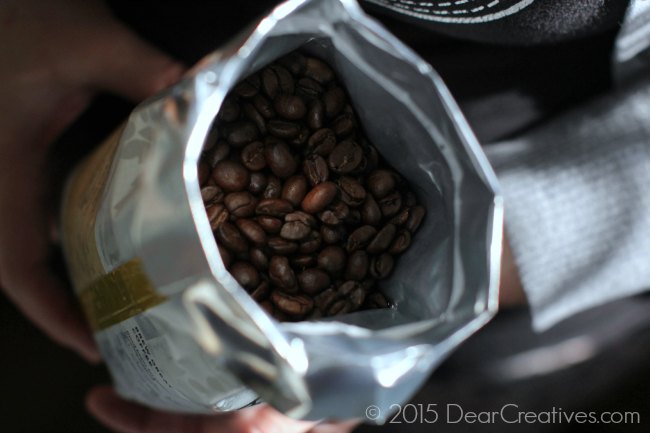 The recipe for a fresh brewed cup of coffee;
Proportion. The ratio of coffee to water. The recipe for a great cup of coffee is 2 Tbsp. of ground coffee for every 6 oz. of water.
The grind. The coffee grind is determined by the brewing method you make your coffee by. Course ground for a french press, medium for flat bottom, fine for cone and extra-fine for espresso as pictured below.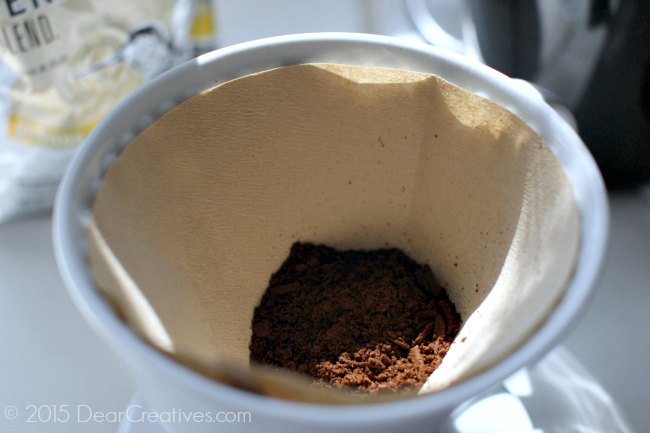 If you want to go coffee tasting around the world with me you can! Pick up a bag like my Latin American coffee from Starbucks® the Veranda blend with is mellow and soft.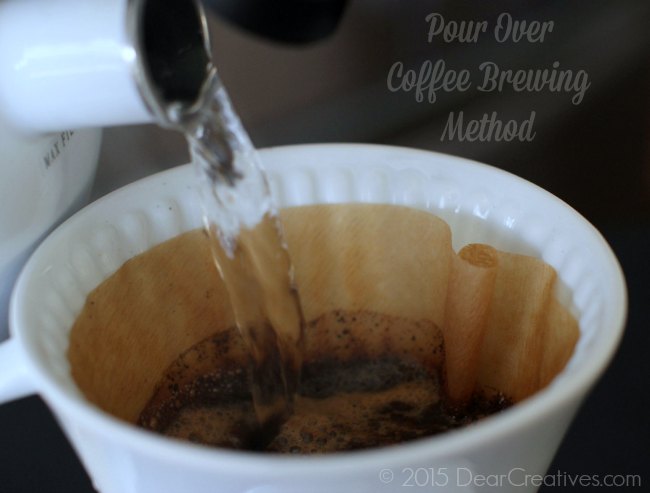 I made my coffee with a pour over brewer method with paper cone filters which is ideal for brewing ground coffee.
Another fundamental of brewing is water.
It should be fresh and clean especially since coffee is 98% water. Start with cold fresh water then, you need to get the water temperature between 195*F and 205* for full extraction of the coffee's flavor. I got my water hot with a kettle on the stove. I wish you could smell the aroma after you pour the water as the coffee filters to make the cup.
Here I'm lifting off the pour over brewer off the cup so you can see the coffee drips straight into the cup. It sits on the cup when brewing. Have you tried the pour over brew method? Below you can see I've set the pour over brewer on a plate until I'm ready to set it up for my next cup. I'll toss the used filter and grounds into a compost, then start fresh using the same steps!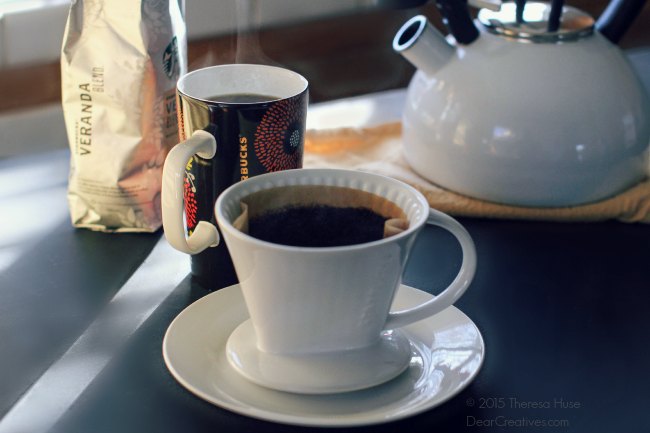 Lastly, the fourth fundamental is freshness. Store your coffee in an opaque, airtight container at room temperature. It's best to use up your coffee within a week. If you are a coffee lover you'll find this is easy!
Coffee Lovers Lifestyle;
I'm not a purist, I don't drink my coffee black. I like a little soy, almond milk or cream in my coffee. This is a typical morning routine in my house. I've learned the recipe for the perfect cup of coffee with Starbucks® as my guide into the coffee lifestyle. Now I'm passing this onto you so that you can enjoy a perfect cup of coffee at home too! If you visit them often don't forget to sign up for their Rewards program too, it's free!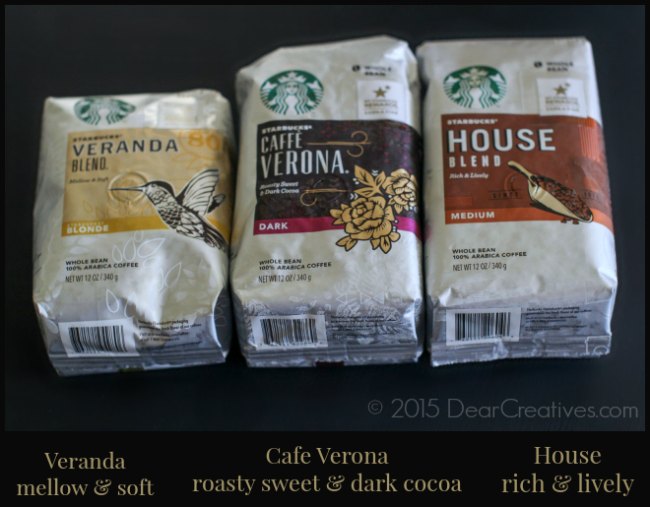 I'm happy to be bringing you more coffee lover updates, coffee lifestyle posts and Starbucks® news as I've been chosen to be one of the official Starbucks® bloggers. Whether I'm brewing at home or headed to the coffee shop to write a post I couldn't be happier to share my love of coffee with you, along with all the great blends I'll be trying thanks to Starbucks® Coffee Company!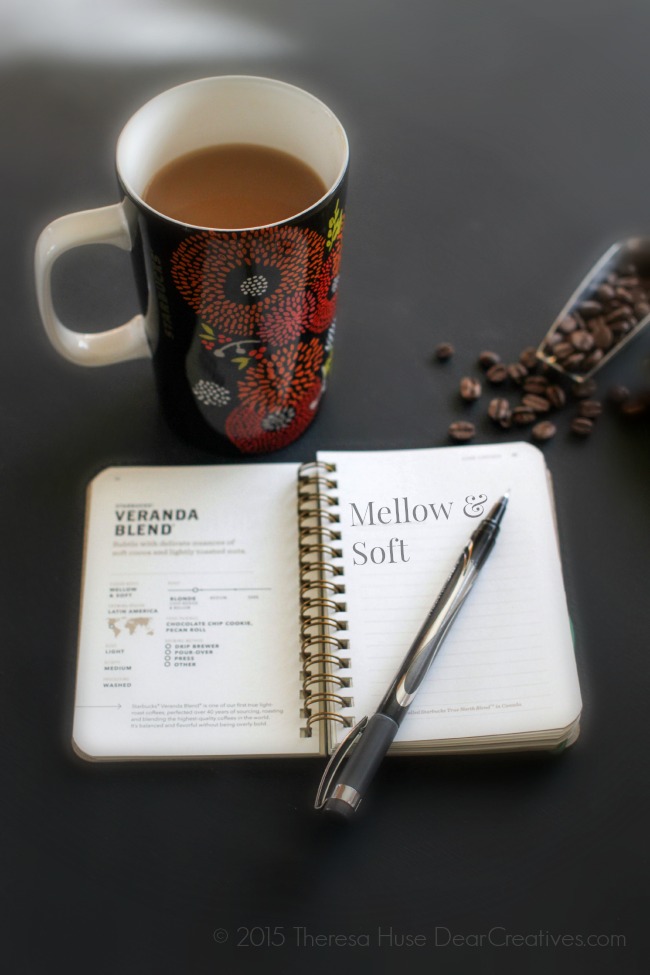 At the end of the day after enjoying my cup of coffee I wrote down some notes about the coffee flavors and pairings in my new coffee passport.
The pairings for these coffees are as follows;
Veranda goes well with chocolate chip cookies and pecan rolls
House blend goes well with morning buns and blueberry scone
Cafe Verona goes well with chocolate, chocolate croissant and chocolate chips
Are you a coffee lover? How do you brew your coffee? Have you tried any of these blends of coffee?