Chocolate-dipped strawberries recipe. This recipe for making strawberries dipped in chocolate is easy and delicious. Make chocolate-dipped strawberries for celebrations, holidays, birthdays, bridal showers, and baby showers…
With strawberry season upon us, we grabbed fresh baskets of strawberries to make this delicious treat! We love chocolate-covered strawberries! Do you? Looking for something else to make, cook, or bake? Find all our strawberry recipes here.
Are you a beginner at making these? Once you find out how easy they are to make there is no looking back. Let's make strawberries dipped in chocolate.
How To Make Chocolate Dipped Strawberries
Are you ready to dip strawberries in chocolate? DIY Chocolate Dipped Strawberries. The process is easy. And there are a few steps to know but, you will love making this sweet treat. You might remember we made them and shared the first time we tried making this strawberry dessert, chocolate-dipped strawberries.
Affiliate links may be included in the post. By clicking the links for qualifying purchases we earn a small commission. This is at no additional cost to you.
Ingredients
Optional chocolate melts for decorating the dipped strawberries (pink chocolate melts) (white chocolate melts set)
Recipe Tips
The fresher the strawberries the better! I like getting mine directly from the farmer's market or local strawberry vendors.
Do not use bruised strawberries or ones that have any bad spots.
Ensure the strawberries are completely dry! Keeping the stems on will help them last longer.
I have found chocolate melts give them a smoother look vs. using chocolate chips or other chocolates.
Are you using another chocolate? You might need to add a little

coconut oil

.

Add the coconut oil a little at a time (vs. adding it all at once) when melting the chocolate. Next, stir the ingredients only to mix them together. This will get you the proper smooth consistency you need.
The longer you store the strawberries the stems will dry up a little. Remove them or trim them off with kitchen scissors just before serving (if you prefer). But, not if you are storing them! That's why it's better to serve them in the 24-48 hour window.
You can also add them to chopped nuts after dipping. Or add other colored chocolate candies to make stripes or partially dip designs.
How many chocolate melts do you need?
Use about 1/4 -1/2 of a bag per big basket of strawberries. More or less it does depend on the size of the strawberries too. It's easy to melt more chocolate melts (or chocolate) as needed. The size bag of chocolate melts we used was 12 ounces.
Chocolate Dipped Strawberries Recipe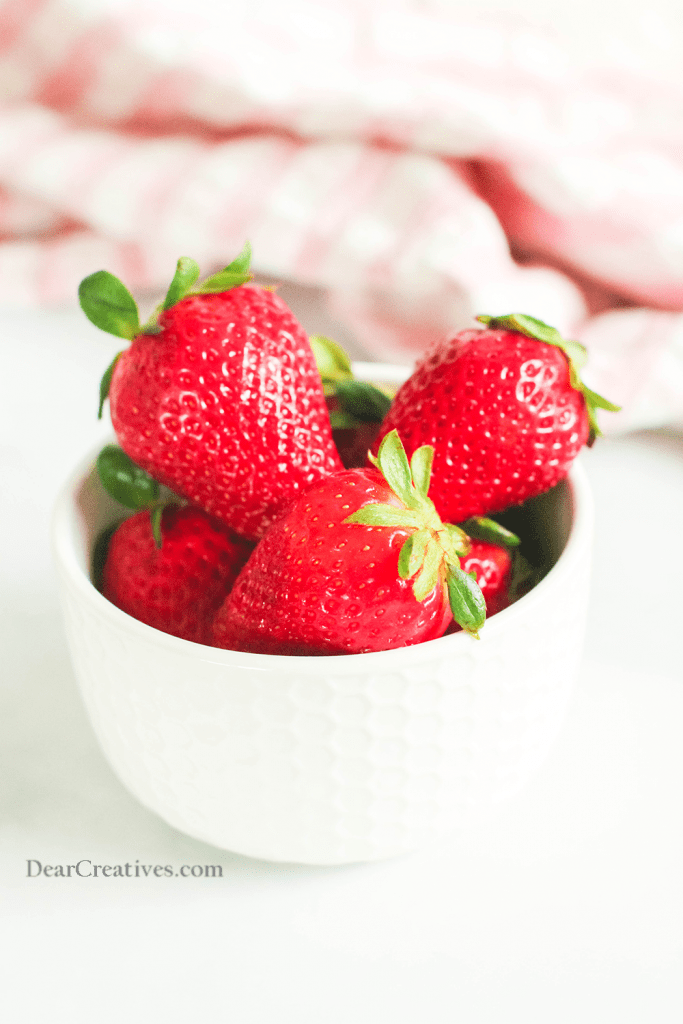 Wash the strawberries with cold water (Do not remove the stems).
Carefully, pat the strawberry dry.
Then, place them on a prepared sheet pan lined with paper towels. (repeat the process until they are all washed) Let them dry completely.
I like to let them sit there an hour or so.
Get out your Little Dipper or Wilton Candy Melting Pot
Optional melting methods – Use (a double boiler) to melt the chocolate melts. Or use a microwaveable bowl and the chocolate melts.
Hold the strawberry by bunching the stems together.
Dip the strawberry into the melted chocolate.
Place the strawberry onto a parchment-lined sheet pan.
Repeat steps 5-7 until all the strawberries have been dipped in chocolate.
Let them cool. And let the chocolate harden completely.
Store them or serve them when the chocolate has hardened…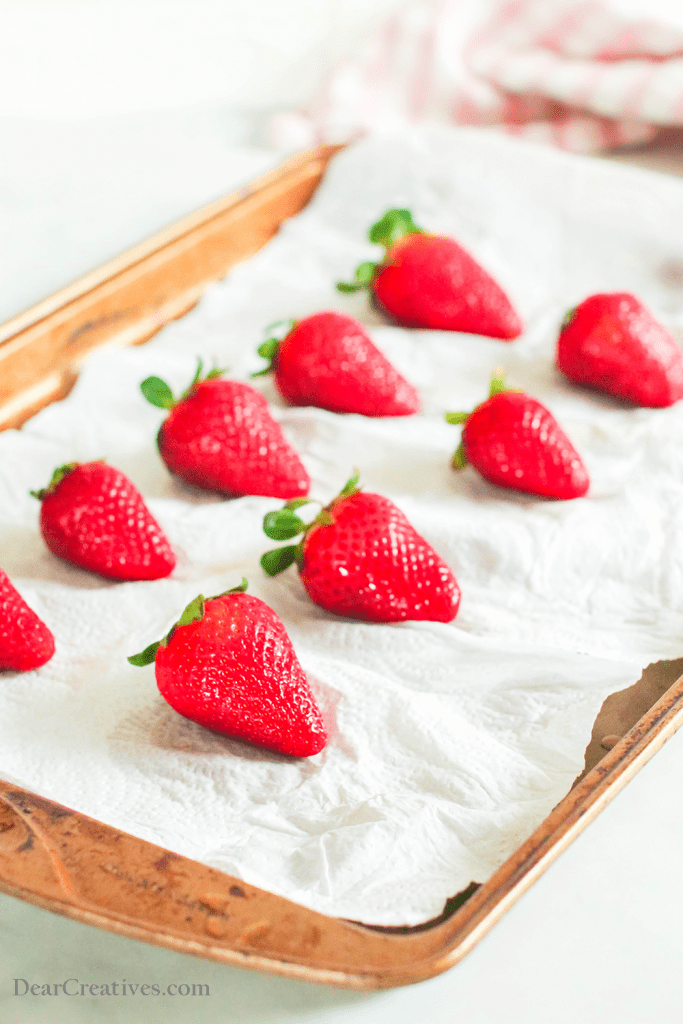 Here's short a video on how to dip the strawberries in chocolate. But, if you scroll to the recipe card you can see the full video for how to make chocolate-dipped strawberries. Be sure to subscribe to our new YouTube Channel.
Chocolate Covered Strawberries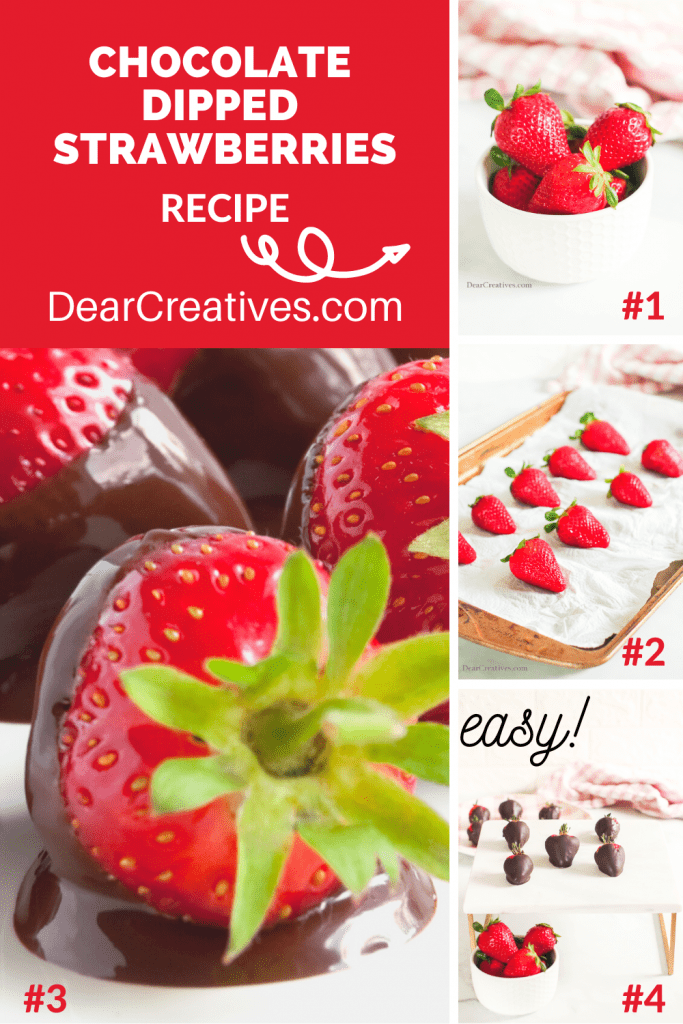 These are easy steps to making chocolate-covered strawberries! Wash and dry the strawberries, melt and dip the strawberries, let them cool on a parchment-lined sheet pan, let cool, and serve!
We love serving our strawberries dipped in chocolate right away! Do this once the chocolate has hardened and the berries have chilled a bit. Every bite is so good! You will love the crunch of the chocolate and then biting into the fresh strawberry. DELICIOUS! Serve it with your favorite sparkling beverage or other sweets.
Honestly, this is a no-fail way to make chocolate-covered strawberries! I hope you try it soon!
How to store chocolate-dipped strawberries?
Store your dipped strawberries covered in a cool place.
Preferably use within 48 hours.
When stored in the refrigerator, they can last up to 7 days if they are uncut.
Make sure the chocolate has dried a little bit prior to covering them.
I use parchment paper to loosely cover the strawberries.
Once the chocolate is completely dry; place them in a

food storage container

or
(food storage box if gifting) to store in the fridge.
If you store them at room temperature make sure to keep them in a cool, dark place (to ensure the chocolate doesn't melt).
Move them to the refrigerator if you are planning on keeping them for days.
We love making chocolate-dipped strawberries for Mother's Day! It's the perfect time of year to get fresh strawberries. Make them any time of the year with fresh berries! Spring, summer, and fall are the perfect times of year to make them. Look for fresh strawberries at their peak!
Did you make this chocolate-dipped strawberries recipe? Be sure to tag me on Twitter or Instagram! Or share a photo on our Facebook page. Looking for more things to make for mom or brunch recipes for Mother's Day? See all our Mother's Day Ideas.
New here? Be sure to Subscribe. Grab our bonus printable recipe binder and cooking resources. Plus, never miss a post with our newsletter!
Don't forget to Pin it for Later
Shop the recommended supply list
Print the recipe with tips!