A few weekends back we packed up and headed for an over nighter. One fashion, beauty item every girl or lady needs is a good makeup bag or clutch. They are handy for adding in necessities, makeup and the occasional needed items. Ours had seen better days. Which had me looking at them for not only our next mini weekender but, also for Sammie's tennis tournament overnighters. Everyone needs beauty basics, especially when traveling.
It's hard to believe that Sammie is in high school. She is taking PE classes and will has tennis after school. She made the team! She will also continue her piano. A makeup bag or clutch is an essential to toss in her backpack too. This is a must have. Perfect for face wipes, lip balm or the other essential beauty must haves.
Beauty Tips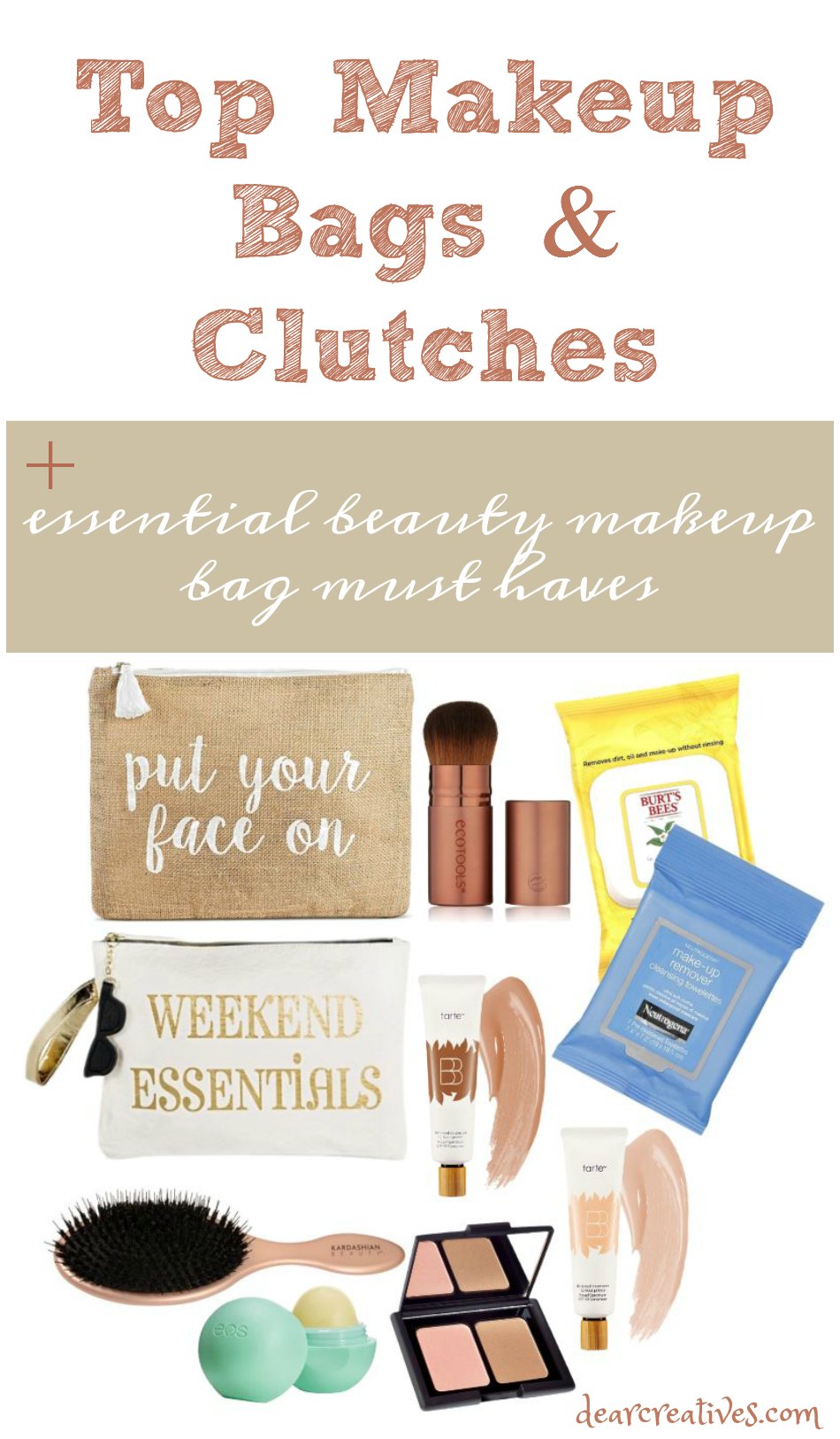 Makeup Bags And Clutches


You don't have to spend a bundle to get a new makeup bag. Fall is the perfect time to update them. Especially if your switching out your purses.
Women's "Put Your Face On" Carry All Pouch Case Handbag – Tan •
Merona® Women's Contemporary Faux Leather Pouch Beige – MeronaTM • Merona •
OMG! Accessories Women's Faux Leather "Weekend Essentials" Clutch Pouch Handbag with Zip Closure – White •
OMG! Accessories Women's Faux Leather "Hello" Clutch Pouch Handbag with Zip Closure – Black •
Large Metallic Zip Pouch • Banana Republic •
Merona® Women's Stripe Faux Leather Pouch – MeronaTM • Merona •
Shiraleah 'Mistral' Clutch • Shiraleah •
Mossimo Supply Co. Women's Printed Pouch Clutch Handbag – Mossimo Supply Co.TM • Mossimo •
Mossimo Supply Co. Women's Pouch Mossimo Supply Co • Mossimo •
Beauty Tips
Makeup Bags And Clutch Must Haves
Face wipes are great for when you are traveling. But, even better when you have a workout, gym class or after school physical activity. Keeping your skin clean and refreshed after a workout even if you don't have access to a washroom.
You can't forget your lips. Out in the sun all day? Or if it gets windy or cold. Lip Balm EOS ( 100% Natural. Available in a 5 pack, Passion fruit, sweet mint, strawberry sorbet, summer fruit, blueberry acai) Stay tuned there are a few others we love too.
Retractable Makeup Brush is always handy to have and closes up so your bag doesn't get dirty.
When you need some foundation coverage with SPF and want coverage to be lighter a BB tint with SPF is a great solution. Tarte BB Tint With SPF 30 12 hour coverage. Skincare and Makeup
Elf Contouring Blush and Bronzing Powder is perfect to get a little bit of glow on. Especially if you are protecting your skin. Don't forget a good mascara if your dressing up a bit.
Another great item is a boar bristle paddle brush. Helps reduce frizz and stimulates scalp. Boar bristle brushes are good for all hair types.
What are you makeup bag must haves??