Dear Creatives, Back to school happened this week & with that an adjustment back to getting up early, being on more of a routine, drop off & pick up along with seeing summers waning. But, with that comes more time to dive into crafting, sewing, trying new recipes….Inspiration Spotlight is the perfect way to gather up some weekend diy or share what you have been up to all week long! We had some lovely entries this past week! I hope you made it around to visit a few & if not you can still check out last week's participants.
I didn't send Sammie off with apples for the teacher, but a big bag full of supplies! I am sure they will need more for the class & if we can help out more we will. Isn't this just the most lovely photograph? I had to hunt down the photographer. I am so inspired by Frl.Klein on Flickr & if you love photography, styling, recipes & inspiration you will enjoy her blog http://fraeulein-klein.blogspot.com/ It is in German, but can be translated.
Back to school makes me think of apples, autumn, books & paper-crafting. There are always projects to swoon over, try & even do along with kids (if you have them) I think with Sammie learning to sew a bit over the summer this is something she could make for her new teacher. I can see this turned into a ornament ( I didn't want to mention that holiday just yet!!) Kami from NoBiggie put hers into a shadow box.
Of course with autumn rounding the corner herbs, flowers & garden will go to seed. If you love collecting them to plant for the following spring you will love this freebie – diy printable. Not to mention there are 14 other paper projects right here at Country Living Crafts Projects
Here's an easy one just print & share these lunchbox notes, labels, stickers. You can see them all & grab them right here on Alpha Mom created by Skip To My Lou.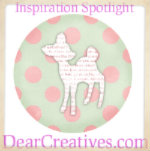 Now onto the Spot light Inspiration from last weeks link up!
Inspiration Spotlight couldn't go to just one this week. First up Melisa who shared some of her creativity with her Altered Blocks. Melisa shares how she made the text patterned typewriter paper. On her blog she shares Mixed Media, Paper Crafts, Art Journals & she shares what she does for creating cards. Melisa is so talented & been published more than a few times.
Over at A Little Bit of Everything this crafty personalized mason jar wine glasses diy were shared & also a link on how to make some dishwasher safe. Perfect for Labor Day or any fall backyard gathering! Roberta is an avid knitter who loves photography & crafting.
How great is this simple idea to spruce up a mailbox by using Modge Podge to glue on stamps & then an outdoor sealer. I wish I could get away with covering our neighborhood mail box like this. You can see it over at Creations by Tee . She also creates ATC Cards, Paper-Crafting & Mixed Media. Tee has swaps & all kinds of paper fun at her blog!
There were so many lovely entries. Thanks everyone for linking up! If you were looking for anything to do with sewing. recipes, baking & even a few seasonal items! Don't just take my word for it you can still see last weeks link up / blog hop right here! So be sure to visit around & as this weeks entries come in be sure to visit a at least a few! Now it's your turn! Show us what you have been cooking, creating, crafting, a diy, decor or…



Want to help Co-Host get the InLinkz code
Are you working on any projects this weekend or trying a new recipe?