These Santa Rice Krispie Treats are so easy to make! Decorating Rice Krispie bars and making them look like Santas is fun, festive, and the perfect activity for the Christmas season.
This is an easy idea for the holidays! Rice Krispie Treats Santas are perfect for Christmas movie nights, to snack on while watching Hallmark movies, for dessert tables, classroom parties, and for making with the kids over the holiday season! My kids and grandkids love marshmallow snack bars. Do yours?
Affiliate links may be included in the post. By clicking the links for qualifying purchases we earn a small commission. This is at no additional cost to you.
Rice Krispie Santa Treats
These Rice Krispie treats are easy to decorate for the Christmas season. You can make these by starting with purchased Rice Krispie Bars or by making the Rice Krispie Treats from scratch (I always use the original Rice Krispie Treats Recipe). Decide which way you prefer and follow the tutorial for decorating your Krispie treats to look like Santa.
If you rather make a Santa Treat from cookie dough be sure to see our Holiday treat recipe for Santa Cookies.
Easy Santa Krispie Treats
Ingredients
Santa Rice Krispie Treats
Instructions
How To Decorate Rice Krispie Treats To Look Like Santa
Begin by Buying or Making the Rice Krispie Bars. Unwrap the purchased bars and if using homemade make sure they are cooled and cut into the bar shapes.
Coat the top of the Rice Krispies with red frosting to create a Santa hat. Next, sprinkle the frosting with red sprinkles.
Next, coat the bottom of the RiceKrispie Treats with white frosting. Then sprinkle the coconut flakes onto the white frosting to make Santa's beard.
Using the frosting as glue, place two eyes onto each Rice Krispie Treat.
Then add a red heart sprinkle for Santa's nose.
Add a white star sprinkle to create a hat ball.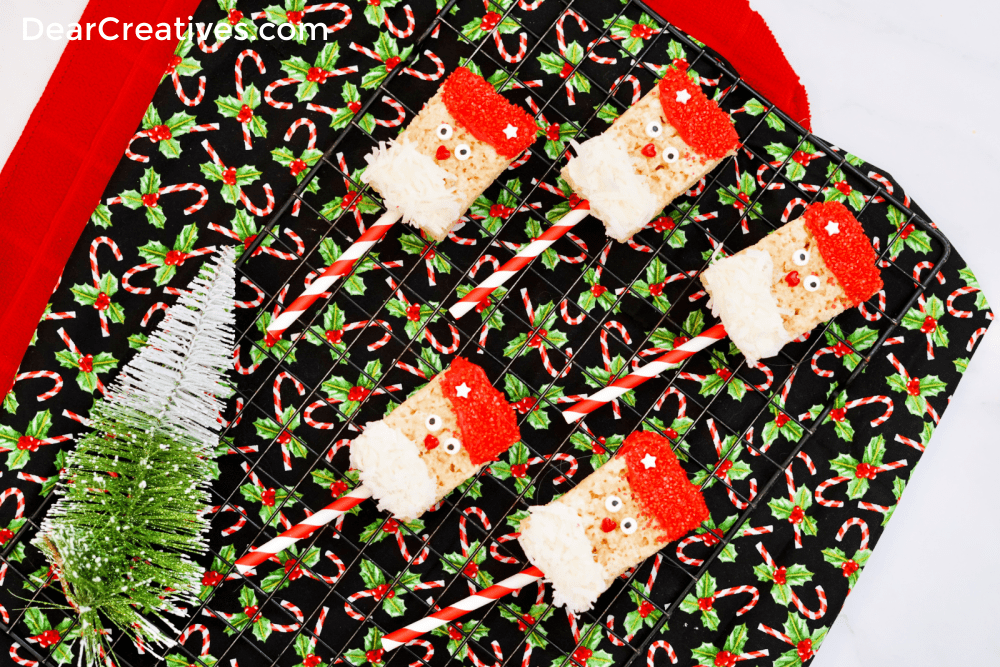 Lastly, insert the straw into the bottom of the treat (this is optional). Making them into Santa Pops made with Rice Krispies. Or add them to Christmas treat bags.
You might like to make these sweet treats and have the kids write a letter to Santa using this printable. While eating these Santa cookies. Or have a crafting session and use our Santa Felt Ornament Pattern to make ornaments for the Christmas tree!
New here? Be sure to Subscribe. Grab our bonus printable recipe binder and cooking resources. Plus, never miss a post with our newsletter!
Don't forget to Pin it for Later
Looking for more fun ideas to make or bake for the holidays?
Related Ideas For The Holidays
Holiday Cookies, Christmas Cookies, and Sweet Treats