Dear Creatives, I can't believe it's May already! I created some pinwheels & now I am spinning with inspiration to create some more! Next with pretty papers while I wait to gather some more felt. I can't believe I have run out, but I do love using felt! I promise to link to some tutorials so you can make your own, these will be at the end of the post!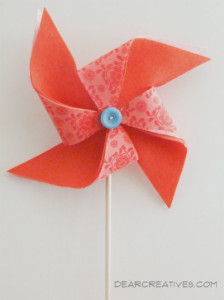 I used felt & fabric for this project. You can vary the look by choice of fabrics & the fabric bond you use or not use.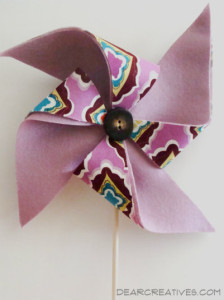 I am partial to anything purple or lavender. I used wood dowels that are 3/10 x 12″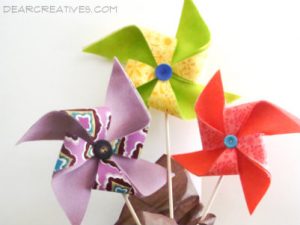 I had to make a few & use some old buttons to embellish the centers. I'll be looking for vintage buttons,broaches & more at yard sales to embellish pinwheels with pretty accents!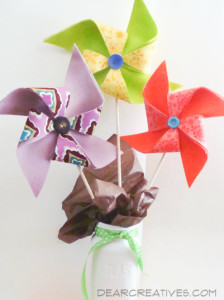 To finish them up I placed them in spray painted a mason jar, added brown tissue & tied the jar with a bow! Next I will be making some that you can actually spin! I have these on my mantel right now. Mine came out a bit different I didn't have the Vliesofix / Bondaweb & could of glued down the fabric to the felt in a spot or two. I think they came out just as cute as Irina's any way. Don't you think? I can't guarantee you'll stop making them when you see all the options! You can make these up in no time yourself with a little how to from these places:
Which will you make first fabric or paper? (or) Have you made pinwheels before?
For Daily Deals, Supplies, Patterns & Classes Craftsy