Are you ready for a big bowl of piping hot soup? This Lentil Soup Recipe is one I've made a few times with my daughter Krissy. The first time at her home and then at my house, each time adapting it to suit our tastes. It is so good, and flavorful. If you haven't tried making lentil soup before you are in for one yummy bowl of good eats.
The lentil soup is not only filling, warms you up and it makes a great dinner. You can serve it with your favorite rolls or French bread. Who doesn't love dunking bread into soup? Looking for a different soup to make for dinner? See all our soup recipes.
Lentil Soup
With a few updated things added to our post, we hope you enjoy one of our favorite lentil soup recipes. You can make the lentil soup recipe on the stove, and you will love how easy it is to make. It's mostly chopping, a little saute action, and dumping it all into a soup pot to simmer away. With an occasional stirring. You can make it in a *crockpot if you want to. Set on low and slow, or in the *instant pot on soup for 30 minutes *(According to the original recipe, which is in the recipe notes).
Lentil Soup Recipe
Ingredients
onion
garlic
carrots
celery
potatoes (2)
sweet potatoes (2)
baby spinach
2 – 32 ounces of chicken broth or * vegetable broth *(USE vegetable broth for vegetarian and vegan options)
Spices – salt, pepper, herbs de Provence, and fresh thyme
How to make lentil soup
Peel and chop your garlic and onions.
Wash and chop your carrots (and peel if you like) and celery, discarding end chops.
Wash, peel, and rinse your potatoes. Cube them into larger chunks.
Wash your baby spinach. Then reserve it for adding it to your soup in the last steps of the recipe.
Directions for making lentil soup
Take your onion, garlic, carrots, and celery that have been prepped and add them to your soup pot that has olive oil in it.
Saute them until onions are translucent. Stirring while cooking.
Next, you will add the potatoes, lentils, and broth of your choice. Using vegetable broth will make this vegetarian and vegan. Easy Peasy!
Bring soup to a boil, then lower and simmer until potatoes are cooked and lentils are tender.
The last five to ten minutes or before serving to add your pre-washed baby spinach. The soup will be done and ready to serve.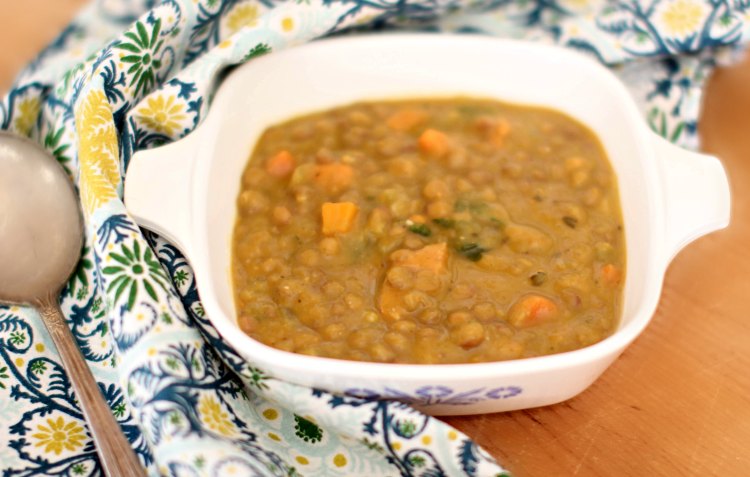 Ladle your lentil soup into a big soup bowl
, regular soup bowl
, or baby size soup bowl
for the little ones. Serve with rolls, biscuits, or French bread. You can use this recipe for lunch or dinner. It makes a big pot of soup to feed a crowd or you will have leftovers for the next day. Reheating is easy on the stovetop or microwave. You can freeze leftovers if you like. I like using these glass containers for freezing
. Just be sure to leave a little headroom, as it will expand as it freezes.
Sorry I didn't take step by step images by here's a lentil soup video if you need help making lentil soup. Luckily I snapped a few photos because we have been busy. This is an easy lentil soup recipe to make. Any novice cook can make this soup. But, if you have questions just ask me on our Facebook page. I'm happy to answer them.
Kitchen tools you may need for making soups