We love a mix of hip, vintage vibe and classic fun fashions. What about you? You might be doing back to school shopping for the little kids but, once they get to high school look out. They have a sense of fashion all their own. Sammie loves throw backs, music tees and mixing new with vintage vibe…
I'd definitely call her style geeky hip. She creates her own style. She owns each outfit she puts together. Her floor proves it with all her cast outs to the side. Do you remember those days? I got her a basket just for clean clothes she doesn't have time to hang back up.
Fashion Style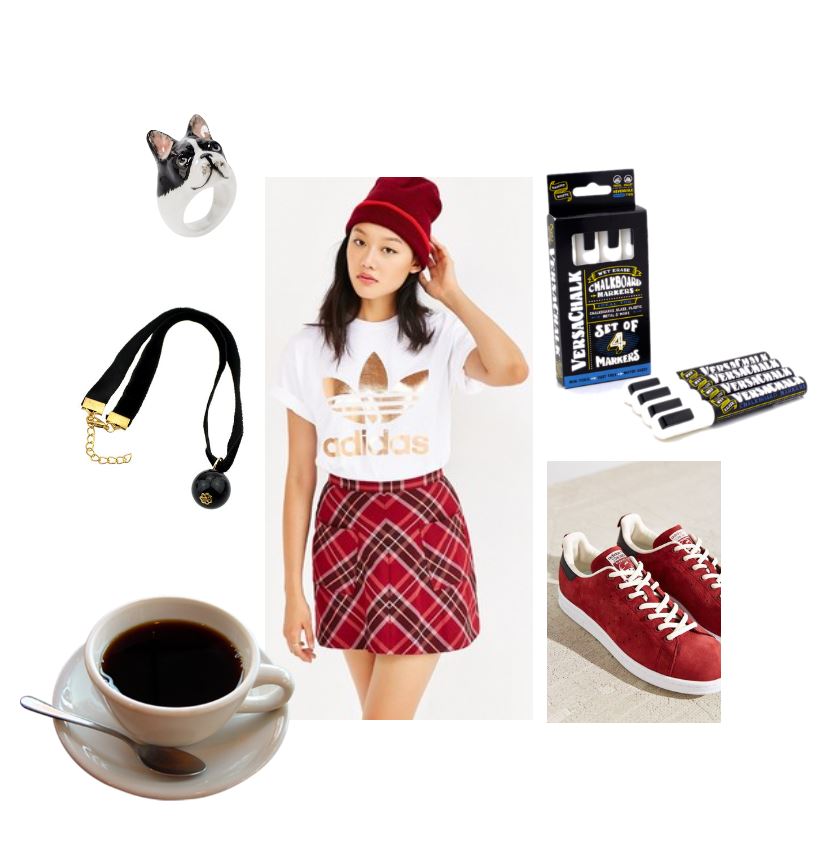 We love anything bulldog, French or English. This bulldog ring won us over. Polished brass, hand painted with high gloss enamel. Then there's this tiny little Frenchy Ring all gold and shiny.
We think fall is the perfect time for velvet. Our love of velvet for this year only begins with this Dogeared Velvet Choker Necklace, 12″ – 100% Bloomingdale's Exclusive
The fog rolls in and the knit beanie goes on our pick for fall is this Converse Twisted Waffle Knit Beanie – Back Alley Brick Winter Headwear • Converse •
I had this mad love of Adidas. I had the perfect pair of Adidas tennis shoes and wore them so much. I wore holes in them. But, I kept them for my river shoes. I find it amazing that my kid goes in my closet digging out vintage finds. And then she saw these Adidas Originals Stan Smith Suede Sneakers and said I need these.
When she saw this Adidas Originals Rose Gold Double Logo Tee she was over the moon!
I couldn't help list a few other Adidas we fell in love with. Which ones will we end up with??
Adidas Originals Gazelle Sneaker • adidas •
adidas 'Superstar ADICOLOR' Sneaker (Women) • adidas •
adidas 'Superstar ADICOLOR' Sneaker (Women
Don't forget to mark your calendars! We use Versachalk on ours. (chalk pens great for school projects too) There are plenty of end of summer sales where you can buy, mix and match your fashion style. They are happening now. Check your favorite retailers.
Fashionistas what fall finds are you loving?? Or your kids??