Despite the last of summer heat here I decided to update my fall decor starting with my mantel. When Sammie and I headed to Michaels to get a few back to school supplies like color pencils and sketchbooks for her we started browsing around all the new fall crafting supplies. I found the cutest little fall crates. At first I was going to paint my own but, they were the perfect size for my mantel, into the cart. Then I found an apple basket perfect for painting and creating an easy diy improvement project. I'm going to show you how easy it is to paint and add on a few fall accents. You just might want to make your own painted apple basket.
Sorry I don't have step by step images with this tutorial but, I think you'll be able to make one easily following the supply list and directions below. My camera lens broke and I had to wait for a new lens by mail. That's a story for another day. This project can be made for under $10. folks!!
Supplies needed for the Apple Basket Decor Project;
First you can grab these apple baskets at Michaels Stores you can see what they look like and the before here.
Ashland™ Chipwood Bushel Basket With Handle ($4.19) Available in multiple sizes
Gesso (painting primer-If you don't have it you'll just need to use more craft paint to coat your basket)
Painting Supplies: 1-3 colors of acrylic craft paints ( I used Black Chalk Paint, Metallic Copper on outside and Metallic Peridot on the inside) Use only one paint ($1.99)
Recollections™ Signature Floral Embellishments, Fall Holly Leaves or something similar
Ashland® Monarch Pack or something similar I found mine in a three pack about $1.00 each/$3. pack
1 Fall Floral Pick ($2.59)
1 clothespin or hot glue gun or E6000 glue
Water Container
Paint Brush 3/4 – 1″ brush
Paper Towels
You can grab floral supplies and the apple basket online in home decor and floral at Michaels have them shipped to your store for free or delivered to your home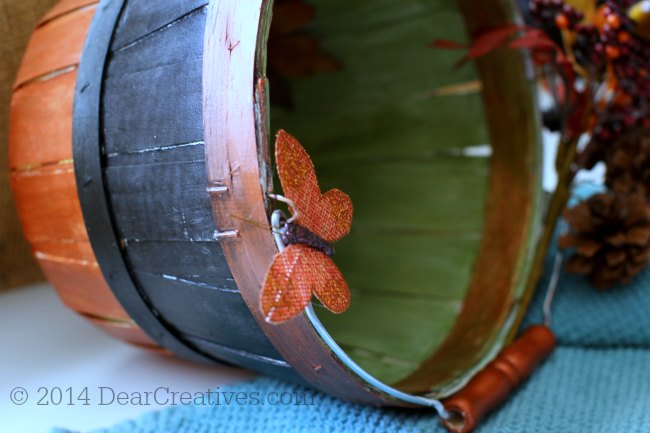 The first thing you want to do for this diy is gather all your supplies. Make sure your work space is somewhere you paint or protect the surface area. Add water in your water container. NOTE: For the steps below *let dry between painting.
Steps for painting the apple basket decor project;
Use a primer coat of Gesso * allow coating to dry
Next paint the inside of the basket *
Next I distressed the inside with a little white paint to give it a vintage look
Decide if you want the outside one or two tones. I decided on two colors on both the inside and outside
I first painted the outside center with the black chalk paint then the bottom and top rim
After that is dry I took a little bit of black on the rim and distressed it
Lastly carefully coat the handle twice*
After your project is dry clip on a butterfly (mine came with clips) and add a floral pick to the side. I actually was able to use a clothespin to hold it and hid it behind the floral pick which means I can reuse it for other things if I want.
I slipped a little leaf or two in the inside of the basket but, I am planning on getting some straw and other things to have flowing down the inside of the basket. A few faux apples or maybe some mini pumpkins. Then straight to the mantle it goes.
Of course you could always take off the embellishments on the basket. I used chalk paint so I could write the word autumn or harvest. The apple basket can also be used when you take the little ones to pick real apples or mini pumpkins. Upright it could hold a few good books your reading or magazines….