Want to learn an easy way to Personalize gifts and packages? Let me show you how to make pretty packages for Christmas or other occasions. One thing I love about the holidays and Christmas is all the pretty packaging under the tree! These Christmas wrapping ideas are easy.
I spy pretty packaging that has caught my eye. Over time, so much so that I created a dedicated Pinterest board. I'll have a link to it a little later. Are you ready to make something but, this isn't it? Be sure to see all our Craft Ideas.
I am sharing how I used a new craft tool that I received to try out for free. You can make lovely packaging, crafts, embellishments for scrapbooks and even makes iron-on labels with it!
Think of all birthdays, weddings, celebrations, holidays where you can make your packaging and gifts look special
I'm going to share a few ways I used the Epson LabelWorks™ This is a Printable Ribbon Kit. I will go over the special features and options that it comes with. What's great about the Printable Ribbon Kit LabelWorks™ is that it is made for printing personalized messages on satin ribbons for crafts, scrapbooks, decorations, gifts and more. This little machine was so easy to put the batteries into, insert the ribbon tape and begin using it!
DIY Personalized Ribbon Messages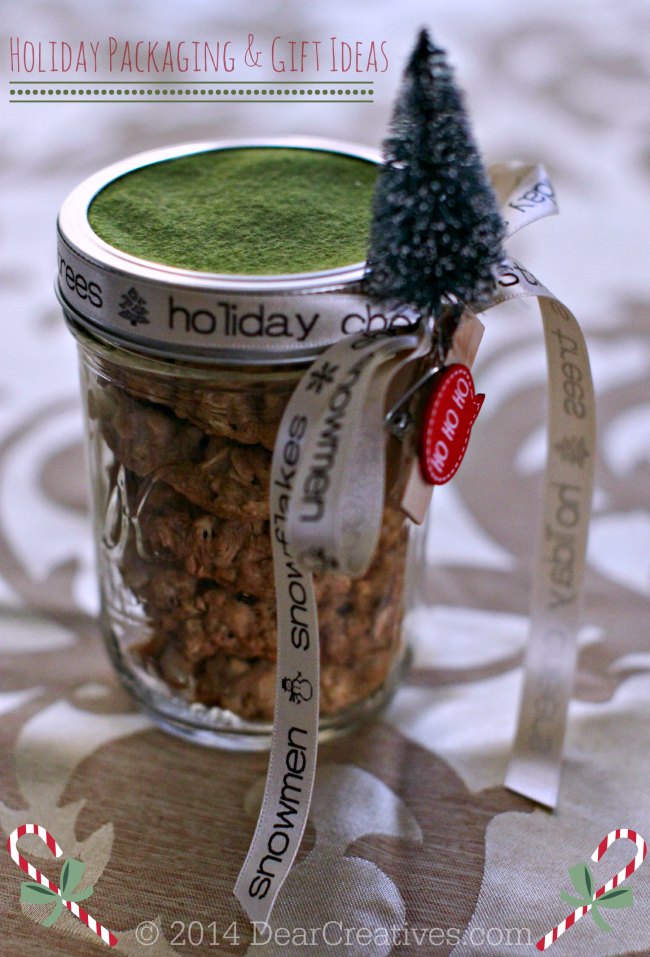 The Printable Ribbon Kit is so easy to use just by reading through the steps in the manual. If you have ever used a label maker, it's steps are very similar.
If you like this idea then you will enjoy all our mason jar crafts.
How to use a label maker or label making ribbon kit
Select the font
Size
Add a design you like
Print the label
Use the cutter or scissors for snipping ends
Attach to your gift
I filled a mason jar with cookies and decorated the jar with ribbon, covered the lid with wool felt and added little holiday accents.
There are over 300 symbols and 75+frames to pick from, 14 fonts types and 10 font styles!
Gift Wrapping Ideas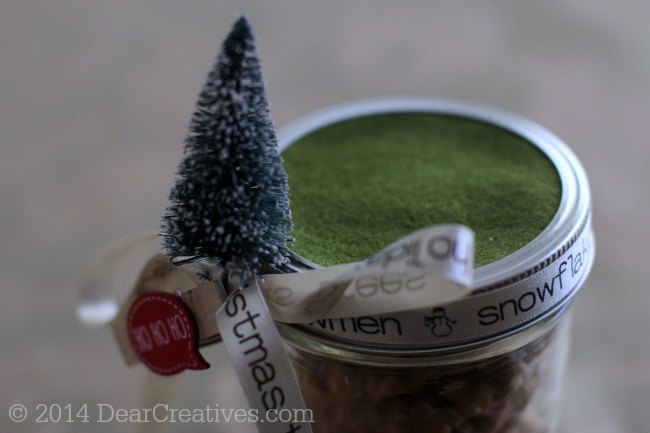 I tried a few different fonts, changed out the cartridges for different colors and added little designs from the available choices.
Christmas Gift Wrapping Ideas
I have to say this is a perfect tool for adding to your creativity. I love the gold on the blue ribbon!
Ribbon Kit Labeling Features
Built-in-memory stores up to 30 label design files!
Prints up to two lines of text.
Accommodates tapes from 6 mm(1/4 inch) to 12 mm (1/2 inch) wide
Uses Iron-On and Colored Satin Ribbons
There are over 300 symbols and 75+frames to pick from, 14 fonts types and 10 font styles!
DIY Packaging Ideas
The Epson Label Works can be used with 2 high-quality printable ribbon tapes, as well as sticky labels, glow-in-the-dark tape (perfect for Halloween!)and iron-on labels! Honestly, I can't wait to use the iron-on labels for all my sewing and doll projects coming up this winter! (these are sold separately)
But, the kit comes with two colors of satin ribbon to get you started!
Wrap tissue around little boxes, bottles of perfume or other gifts insert into a burlap mini sack then wrap with the ribbon and you are ready to give your gift to someone special.
Pretty Packaging Ideas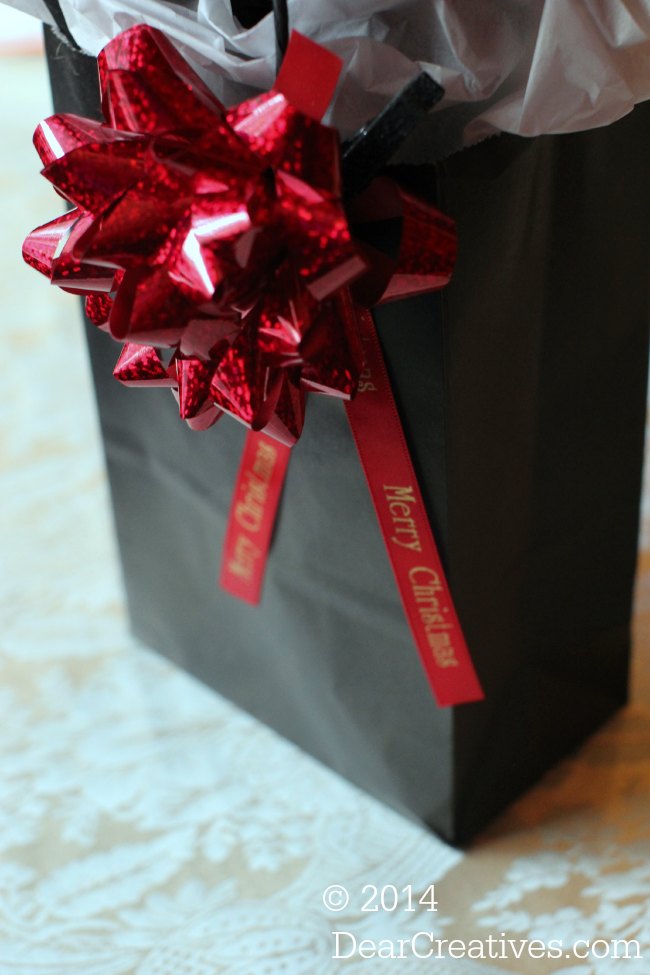 For this package, I used a pre-made bow
and handle bag then added my personalized printed message under the bow. Tape it or use a glittered clothespin
as I did. Add tissue paper
into the handled bag around your gift.
For this mason jar gift of oatmeal cookies, I added some Christmas fabric
over the lid cover and under the lid rim. Then I cut the fabric
leaving a few inches under the jar rim. I glued the printed ribbon onto the lid.
We personalized this mason jar Christmas gift
with cookies and with the ribbon saying, "Made Special For You" and then I added music notes for Sammie's piano teacher.
If you are looking for a gift to give someone or want to add special touches to your gift ideas I think you'll love the Epson LabelWorks™ Printable Ribbon Kit. Need more ideas on how you can use this label maker? See this video with LabelWorks Satin Ribbon Printing Ideas.
Our thoughts of the new label printer
I highly recommend this handy tool! I have only had mine a short while and can't wait to use it for iron-on labels
, more holiday wrapping and creating special touches for upcoming baby showers, bridal showers and more.
Ideas for using printed ribbon
Create gift tags and slip the ribbon through to add flair to any package
Wrap a homemade jam or mason jar craft for gifting with the ribbon
Wrap a plain box with the ribbon
Wrap package with butcher paper or wrapping paper then add the ribbon
Tie a bouquet of flowers
Tie a bunch of helium balloons
Create special tied wedding favors or baby shower favors
What ideas can you think of?
Thanks, Espon for sending us the Label Works to try out! All text, images and 100% honest opinions are mine. We hope you enjoy using Epson's LabelWorks™ as much as we have should you decide to purchase one.
Label Maker
How to change the cartridge on a label maker
To change the cartridge you just take off the back cover

Remove the cartridge you are done with

Insert the new cartridge.
It is easy to pop out and pop in a new cartridge! See image below for help
Epson LabelWorks™ Cartridges come in a variety of colors including iron-on cartridges
Are you ready to wrap your gifts?
More Packaging Ideas