I've loved felt totes for a long time. They can look classy, hold a lot and are perfect for everyday, travel and even the beach. I decided to create a roundup of DIY Felt Craft Project Ideas that you can make for yourself or as a gift. Felt is such an easy fabric to sew and has a classic look. You can get colors to suit any time of year.
With these DIY felt craft project ideas you'll be able to make yourself a bag for shopping, a wallet purse, backpack, slouch felt tote, sketchbook and even a felt tablet cover….
You won't want to use these particular felt totes for carrying your groceries. That is unless you line your felt tote. You'd never want any spills creating bacterial growth in the fabric. Grocery totes need to be washed often especially when purchasing meats. That's just something to consider. But, if your heading to the farmers market they do come in handy. Just remember to clean them often per fabric washing instructions.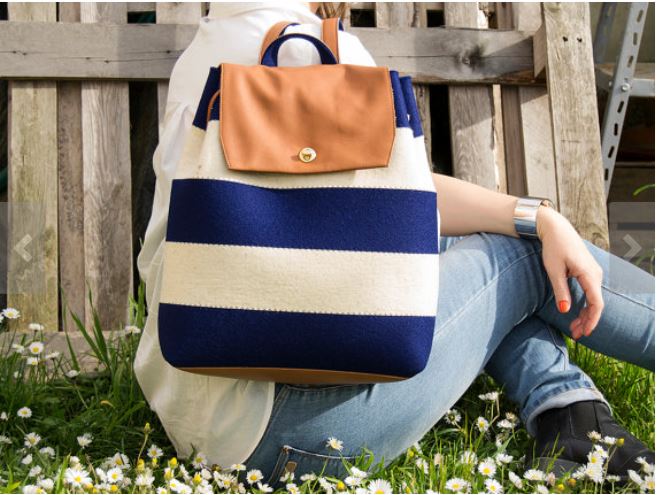 DIY Felt Craft Project Ideas
Felt Tote Crafts
For the projects in this section there are no patterns to download for the most part, just the how to. (For Patterns: Skip to Next section to see where to grab some great patterns I'm crushing on right now perfect for sewing up felt tote crafts.) The ideas directly
below are really great if you are really familiar with sewing. And creating your own patterns. Then these will give you more ideas to add to your
DIY Felt Craft Project Ideas.
You will see how each person made their felt tote bag.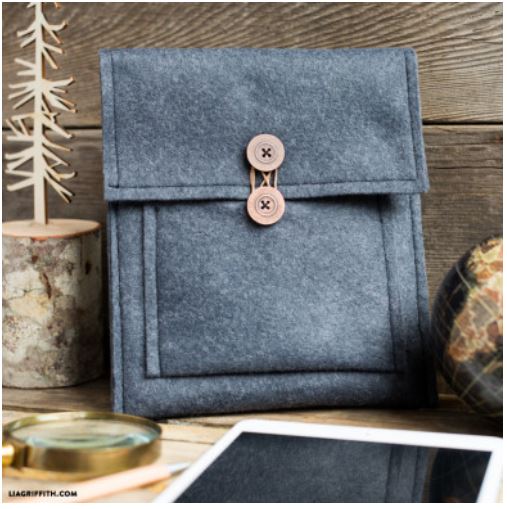 Now felt totes can be made out of all felt fabric. Or a combination of felt and cotton. And even a combination of felt with leather. Really, you can create your felt tote crafts in so many ways. You can make your totes and embellish them with a felt flower. It really is up to you on how you spin your DIY Felt Craft Project Ideas.
With the patterns below you'll be able to start on some really fun felt craft projects!
DIY Felt Craft Project Ideas
Felt Tote Crafts Sewing Patterns
Now, if your looking for patterns for felt totes I've rounded up a few that are perfect for sewing up anytime! Most all these are downloadable PDF / digital download patterns. They will be for beginners to intermediate level sewers and up.
Jet Backpack pattern is for the eager Intermediate sewer. If you have sewn several projects from patterns or a book or class you should be able to make this bag! It does include top stitching and a zipper. It uses a combination of felt and cotton fabrics. So pretty! Perfect for travel and day tripping.

Jet Backpack Pattern:

Accessory Jet Pack Bag Felt Tote Pattern
The Ellie Hobo Bag is a fantastically trendy bag for any season! A perfect project for anyone looking for a large and unique bag. Due to its large size, this tote can be used for travel, trips to the market, books, laptops and the most important essentials! This is easy enough for a beginner. Hobo Bag: Ellie Hobo Bag PDF Pattern
Senneca Creek Bag would be perfect for going to the theme park and riding rides. A smaller tote that cinches at your waist. You'll be ready for the roller coasters and not lose a thing! Senneca Creek Bag: Senneca Creek Bag Felt Tote Pattern
SoChick Market Tote You'll love this pattern as it's a beginner tote pattern. Which means that it will be easy to make. Instead of using cotton fabrics pick felt. You can even make one of each if you like. SoChick Market Tote
Metro Hipster Bag is for the intermediate sewer. You should be able to sew, top stitch and insert a zipper. The Metro Hipster is a cross-body bag to get you where you're going with style and functionality. The front of the bag has a roomy bellows pocket with a top flap and hardware closure. Metro Hipster Bag Sewing Pattern
How to Sew a Yoga Matt is a beginner pattern and you'll have it done under 30 minutes!! Just swap out cotton for felt or use a combination of the two to make this stylishly easy Sew A Yoga Mat Bag. Sew A Yoga Mat Bag With Video Tutorial and PDF sewing pattern.
How often do you sew felt craft projects?