Today I would like to introduce you to a few craft kits. These are a few kits we'll be working on. These would make a great gifts to give someone who loves crafting. Or maybe your a crafter and you'd like to grab them yourself to try these crafts. I think they would make great gifts for the kids or ornaments for a holiday tree when they are done! Of course you might not have time to before this holiday but, for next year.
I have two crochet crafting kits and one felt craft kit to share with you. I haven't un-boxed to try these yet but, with the holidays nearby I thought I'd share them with you any way, then circle back with a project or two when done with these. I did read a few reviews from people who made the kits already so I'll share the 411 with you of what I found out.
Craft Kits
Craft Kits
Rudolf
First up is this adorable Rudolf the Red-Nosed Reindeer Crochet craft kit! I have to admit it's my all time favorite holiday story (along with a Charlie Brown Christmas). This is too adorable for words! With this kit you will be able to create 12 classic Christmas Characters. Oh deer, Clarice is adorable!!
This joyful kit comes with everything you need to make 2 of the projects Santa and Rudolph and the instructions for the rest of the characters. You get 6 colors of yarn, a crochet hook, stuffing…… Preview the other projects and find out more.
The kit comes with colorful photos and step-by-step directions in the 76-page instruction book will also guide you through crafting the Bumble, Charlie-in-the-Box, Dolly, Spotted Elephant, Hermey, Moonracer, Mrs. Claus, Clarice, Sam the Snowman, and Yukon Cornelius. Warm up your crochet hook for this group of charming holiday characters!
Yes, you'll have to know how to crochet for this crafts kit, it's not for beginners.
Reviewers are giving it almost 5 stars
Craft Kits
Felt
Hey, hey Star Wars fans! This Star Wars Felt craft kit is so adorable! It comes with a 48-page instruction book, die-cut templates for 10 projects, 11 sheets of felt, embroidery needle, 9 colors of embroidery floss and stuffing.
Craft Kits
Star Wars
There are how-tos for basic embroidery stitches. I can see doing this project for a kids room and stringing these to be hung up. Reviewers are giving this almost 5/5 star visit to preview other projects.
Our last craft kit for today is the Marvel Universe Crochet The book has 12 step-by-step illustrated patterns. The book comes with all the supplies for creating 2 of the patterns Spider Man and Captain America, as shown below. I think Captain America is my favorite out of all the marvel comic characters in this set.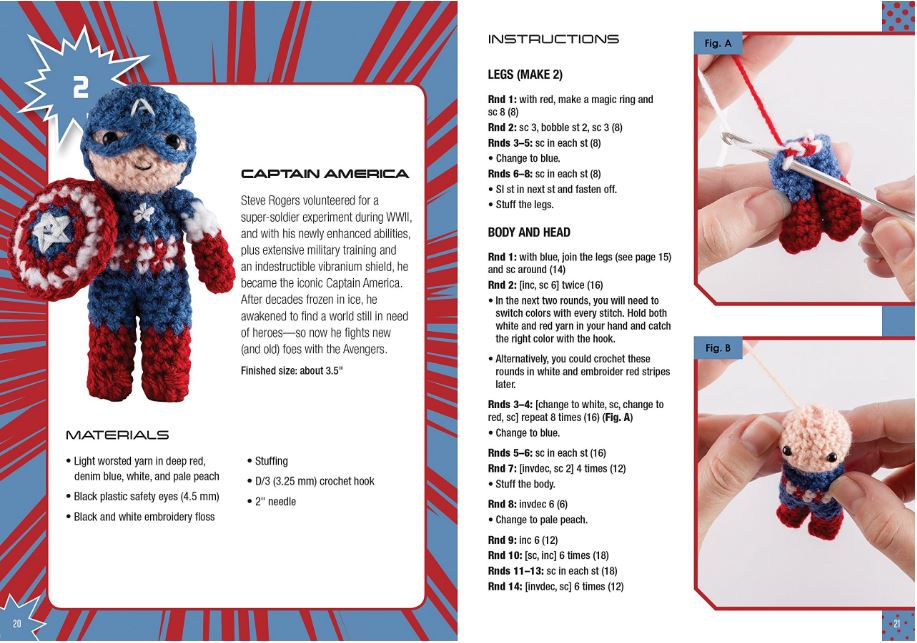 Instructions included are also for Iron Man, Thor, Hulk, Black Widow, Hawkeye, Falcon, She-Hulk, Daredevil, Groot, and Rocket. Again, I highly recommend knowing how to crochet prior to purchase for this kit!
What are some craft kits you have tried and enjoyed making??