Hi guys! It's Lisa from
Adie and Aden
and I am so excited to be here and share a little holiday inspiration for your little babes! I love the holidays and everything that comes with it. The hot cocoa bars, the twinkling lights, my little babies laughing, and just that feeling of celebrating happiness.
Christmas is fifty days away and this really is the most magical time of the year! I'm kind of a freak about Holiday's and tend to go overboard when it comes to decorating and checking off that "to-do" list. One of my favorite things to do is find the cutest holiday outfits for my little Adie. She literally can rock any outfit and I so need fashion advice from her! I love how she can be completely girly one day and the next day all she wants to wear is her favorite avengers tee with socks!
Nothing is more girly to me than a skirt and we have been loving them for every day outfits. I love pairing them with a simple tee and a bow of course. Sneakers, slip-ons and sandals all make the outfit complete and I even do the same. I threw on a simple black dress with sneakers to pick up Eric from the airport and with two kids I felt somewhat put together and being comfortable is so important. Chasing Adie all over while hanging on to Aden and usually the diaper bag, purse and a few bags! Hashtag momlife. Am I right?!
I have fallen in love with Rags to Raches everything! I cannot get enough of their one piece rompers! So simple and looks like you could live in those for. ever!! I love this outfit with a beanie and those shoes!! Perfect, you guys! Beanies are perfect right now for the cooler weather and will last well into the winter for those cold afternoons headed to see Santa. I love funky socks and that's all I buy for Adie and bought
these happy socks
and love them on her! She even loves fun socks, she picked out a pair for Eric to celebrate him getting a new job! She is hilarious!
Bedtime should be just as cute! Nothing is cuter than when Adie gets out of the bath and we blow dry her hair, snuggled in new jammies and her Daddy reads her stories or tells her funny stories from when she was a baby! I am for sure grabbing those red sparkly slippers for the holidays to match those festive pajamas. I am already dying … so cute! And on Christmas morning the pictures will be so adorable! I am so excited for the holidays with my three favorites. So much change is happening in the next few months for us and we are all excited, a little tired but so excited!
Christmas Gift Ideas;
Girly Style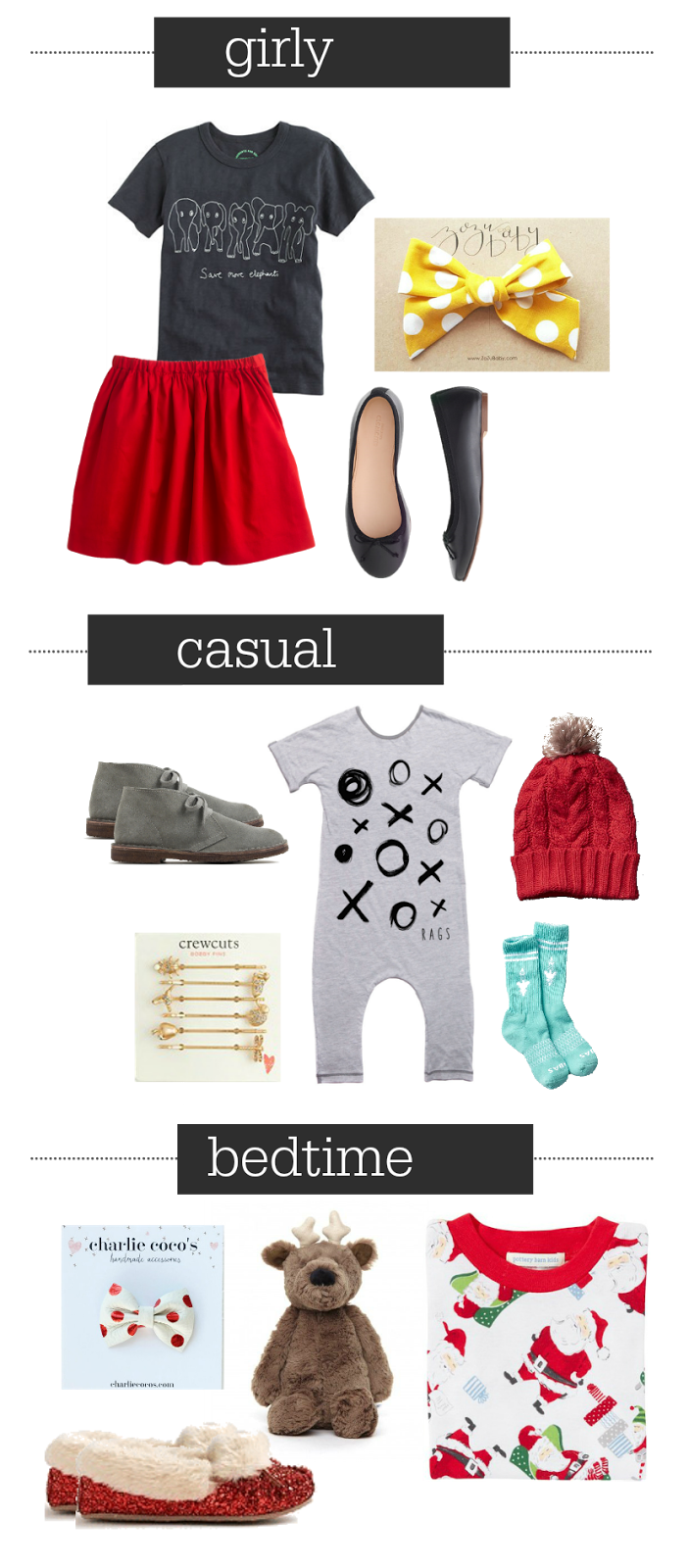 Hope you guys are having a good week so far and I am so happy to be here and meet you guys! Cheers!