Are you looking for a chocolate pie to make? Try our Chocolate Cream Pie! This pie is going to make your guests running for a second slice! (You just might want to make two) Forks to the ready! I've been wondering what type of dessert I wanted to make for my next holiday dessert. I wanted something creamy, chocolatey, delicious, and easy to make! This recipe hit all those points. Best of all this is a no-bake chocolate pie!
Are you ready to make dessert for the holidays? Or maybe a birthday or other celebration? Get out your mixing bowls, spatula, and a spoon because this is one yummy chocolate cream pie recipe. Looking for other no-bake recipes? I'll link that at the bottom of the post!
This post is sponsored by Greek Gods but the content and opinions expressed here are my own.
Chocolate Cream Pie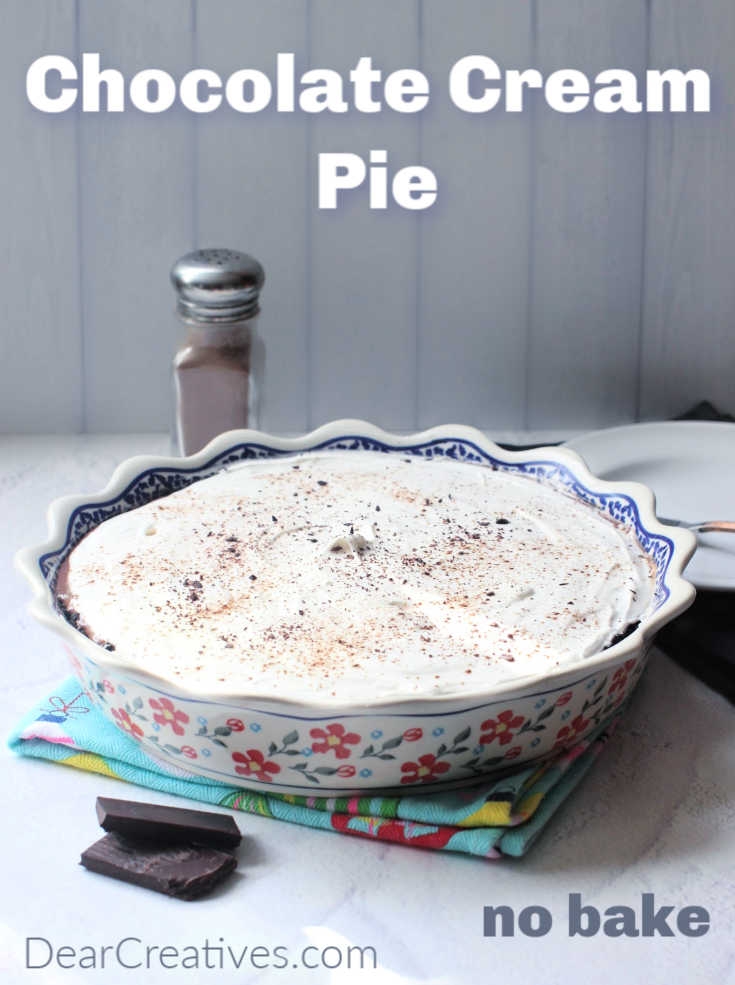 I love making desserts to share with family and friends. Don't you? If I didn't share I might just eat the whole pie or cake myself. Ha, ha! Well, not really. I usually send my leftover desserts to work with my hubby.
I have a secret ingredient in my recipe today, it's Greek Gods Honey Vanilla Greek Yogurt. But, Greek Gods Greek Style Yogurt has other flavors too! You'll have to pop over to see them. The printable recipe is at the bottom of the post.
How To Make A Chocolate Cream Pie
Read the recipe and the recipe notes before assembling the pie into the chocolate graham cracker pie crust. Of course, you can make a homemade pie crust, chocolate graham pie crust or graham cracker pie crust.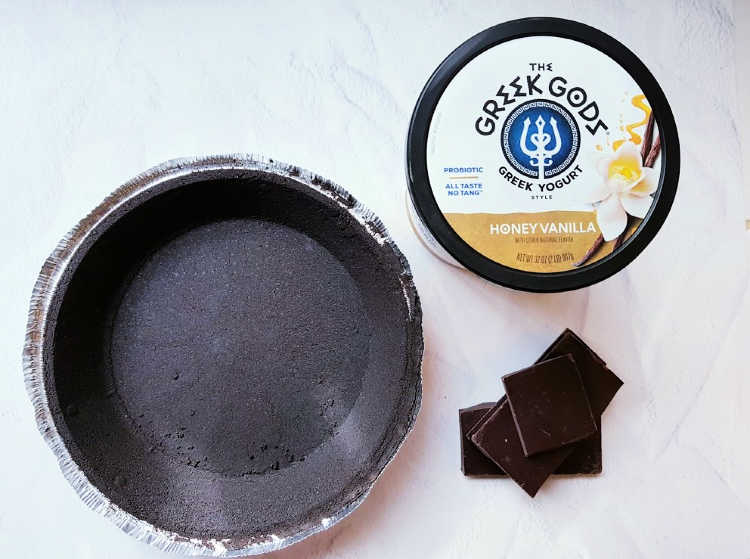 Ingredients
How To Make Chocolate Pie Filling
Directions
Melt 4-ounces baking chocolate in a microwaveable bowl. Stir, melt, stir, melt. Do not over melt it can burn it!
Next, open and pour out the sweetened condensed milk into the melted chocolate and stir.


Add 1 tablespoon of confectioners sugar (commonly known as powdered sugar) If you like your pies sweeter add up to 1/4 cup of confectioners sugar, taste and adjust the flavor to your liking.
Then add 1/2 tsp. vanilla extract



Stir and pour into your prepared chocolate pie crust.
How To Make Whipped Cream Pie Topping
Directions
In a separate bowl for the topping add 1-1/2 cup Whipped, Topping.

Stir in 1/2 cup of Greek Gods Honey Vanilla Yogurt.



Add 1 tablespoon of confectioners sugar (powdered sugar) Then add 1/2 tsp. vanilla. Optional to sweeten the pie up a bit more, you can add a bit more powdered sugar if you like.

Stir the mixture.

Carefully, add to the top of the chocolate pie. Then spread it over the top of the chocolate pie layer.



Garnish with chocolate shavings, sprinkled on cocoa powder or even crushed peppermint!

Chill for 2-3 hours before serving cold.
Enjoy!
Recipe Notes
Chill for at least 2-3 hours or overnight. You can add the pie to the freezer for 45 minutes prior to cutting to help get a cleaner, easier cut.
If you are like me I think you will love the rich and creamy consistency Greek Gods Honey Greek Yogurt in the pie and just to eat. I just might be making a yummy parfait next, and I've been working on a new cake recipe too. I'm on a chocolate lover's roll which makes all these ideas perfect for the holidays! Be sure to reach for Greek Gods Greek Yogurt this holiday season for your recipes!
Where to find Greek Gods Greek Yogurt?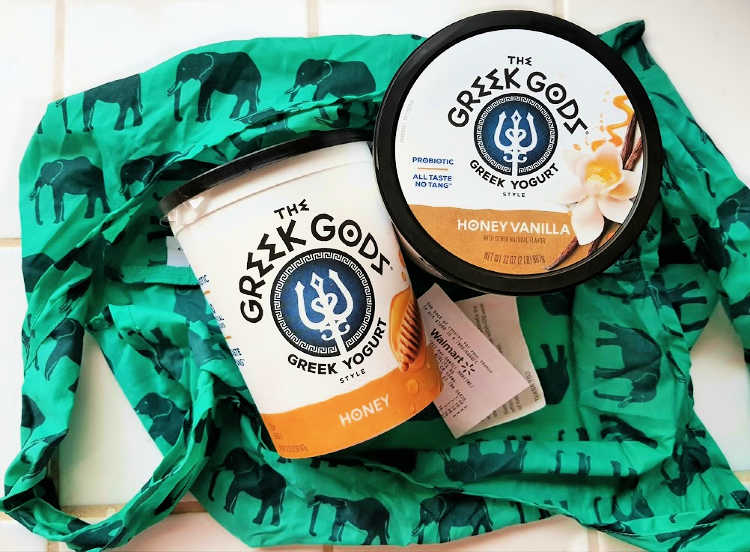 It's so easy to swap out ingredients to make desserts with this creamy delicious yogurt. Did you know you can swap out sour cream in recipes 1/1 making them lighter in calories but, not in taste?
I think you will love using Greek Gods Greek Yogurt, it can be found at Walmart.
The bonus is that whatever you don't use can be made into a parfait, yogurt with granola, smoothie recipes, or more desserts and cakes with yogurt! Or just eat a bowl of yogurt on its own. (my favorite breakfast btw)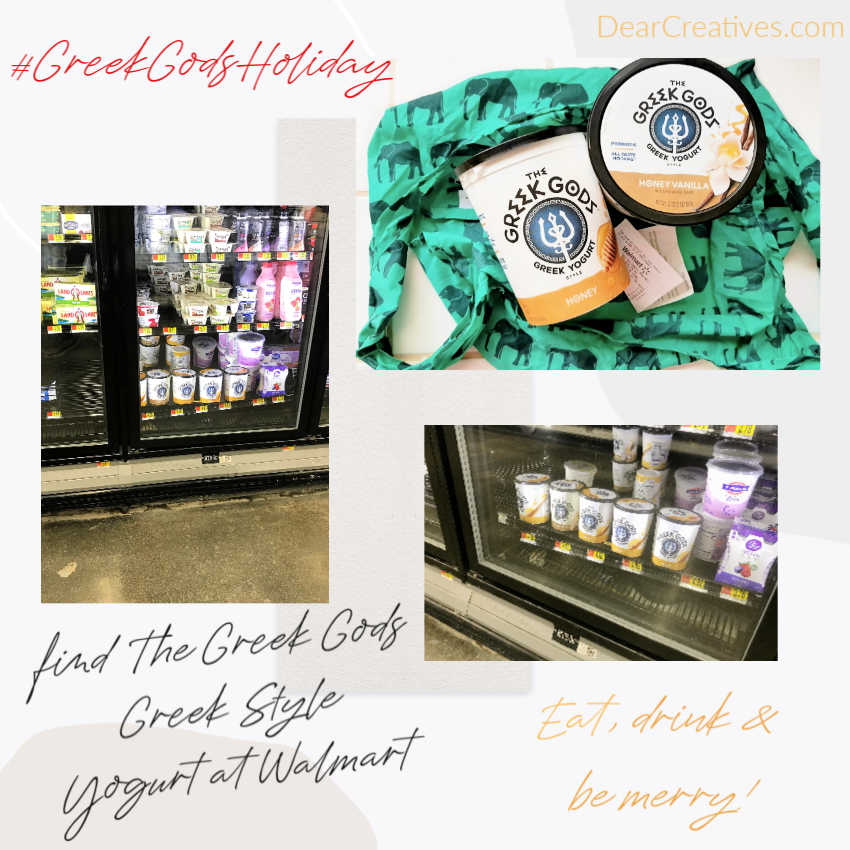 Greek Gods Greek Yogurt can be found in the dairy aisle, in the yogurt section, on the lower shelf
"Each serving of Greek Gods yogurt has 9g of protein. It is also an excellent source of calcium and has seven different live and active cultures. The Greek Gods Brand products are not only rich, smooth and delicious; they are gluten-free and contain live and active cultures. Plus, The Greek Gods brand Greek-Style Yogurt and Kefir are organic, non-GMO, and made with milk from cows that are not treated with growth hormones."
Happy Holidays and dessert making!
New here be sure to Subscribe

Chocolate Cream Pie Recipe
Pin it to make it later