Are you looking for a flavorful soup, with a leaner cut of meat? Today's Chicken Meatball Soup is just that. A healthy meatball soup. I'm adding this to my soup recipes list, for our meal plan rotation. It is so delish!
Chicken Meatball Soup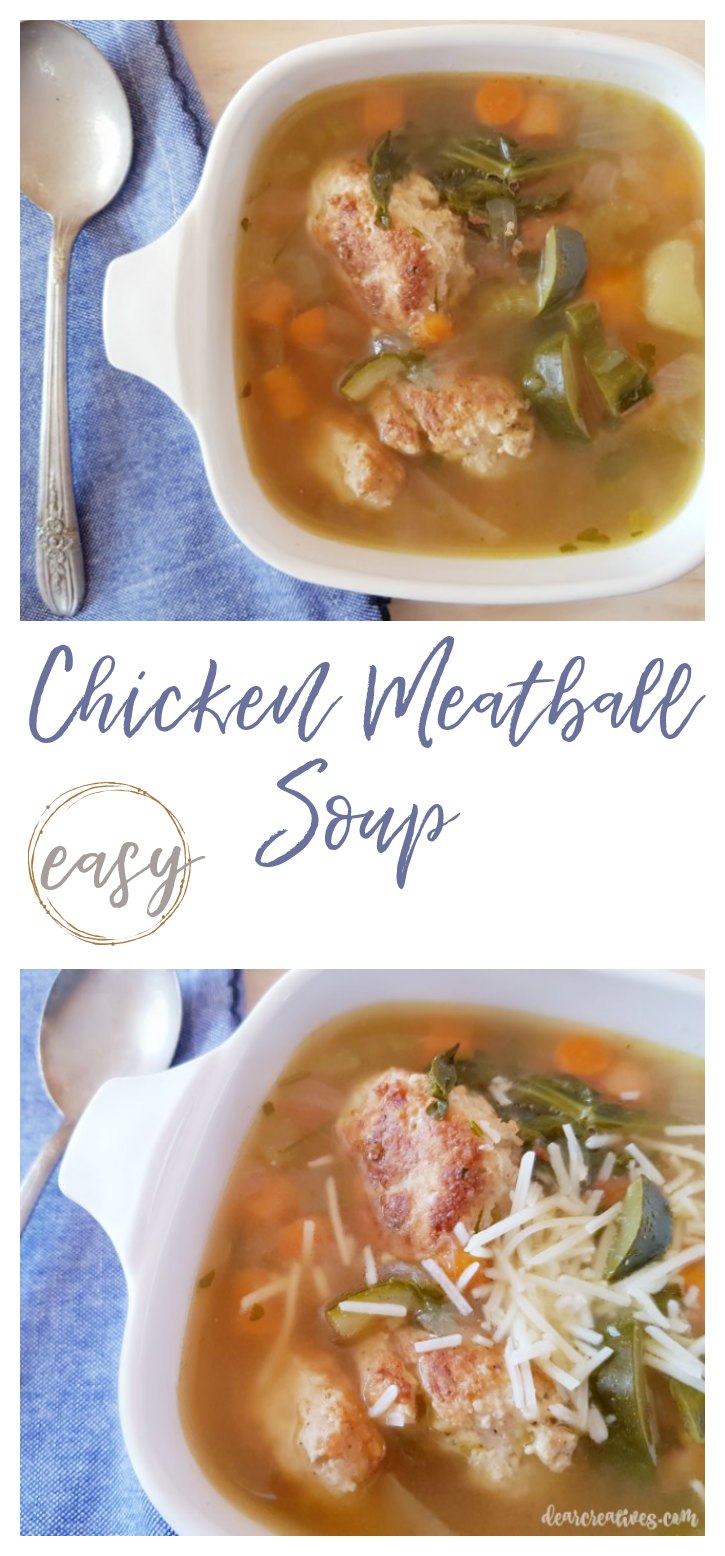 Homemade soups top our favorite family dinners, and today's recipe is adapted from Valerie's Home Cooking. Her recipe is called Chickarina Soup. This soup serves four, prep time of about 30 minutes, and done in an hour.
This soup recipe is perfect for a cold day when you've been busy or if your just looking for a good homemade soup. It bares similarity to my turkey meatball soup. Easy to make, flavorful, and packed with healthy vegetables. Oh, so good.
Chicken Meatball Soup
Are you a Valerie Bertinelli fan? I might age myself but, used to watch her when I was a teen, and have loved seeing her on other shows, and the Food Network. Her recipes are filled with flavor, not overly fussy and her cookbook Valerie's Home Cooking has 100+ recipes to share with friends, and family.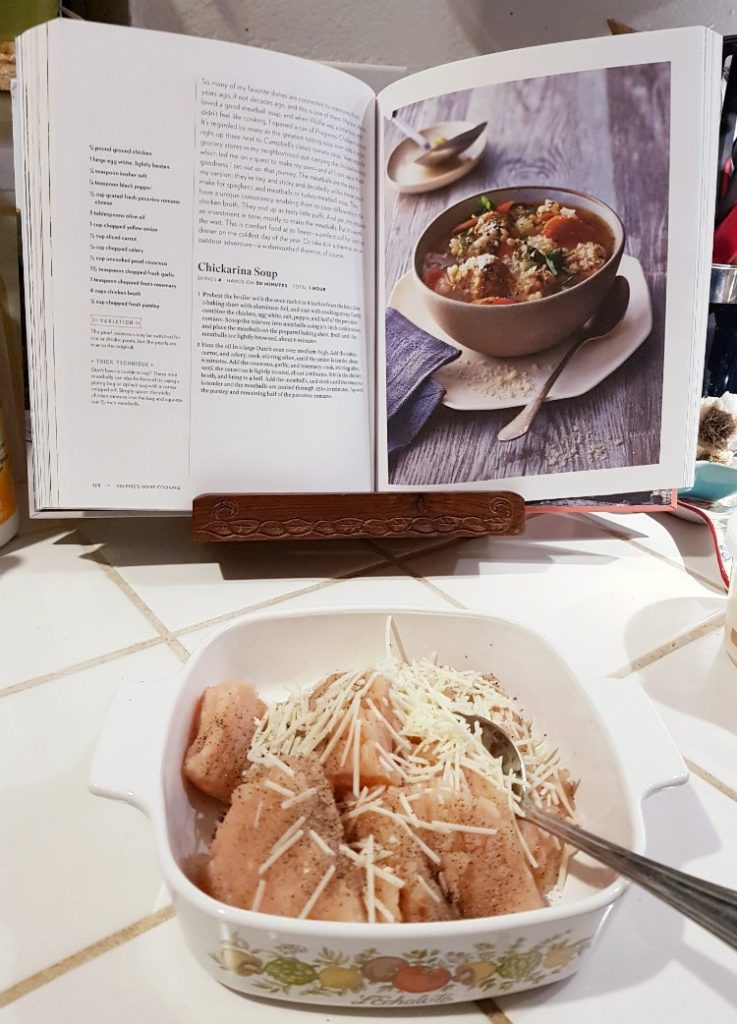 I can't wait to cook through a few more recipes in this cookbook, which I did receive for free to review. (a few of these photos are taken at night)
You can make this soup in a 5 quart stock pot, but Valerie cooked her meatballs in the oven by broiling them, and then added them to the soup. I opted to add olive oil, and make this a one pot soup recipe.
Once the chicken meatballs are browned, and cooked on each side, continue to cook slightly. Push to the side or remove, and sauté your onions, carrots, celery, zucchini and parsley. When it's done cooking mix together.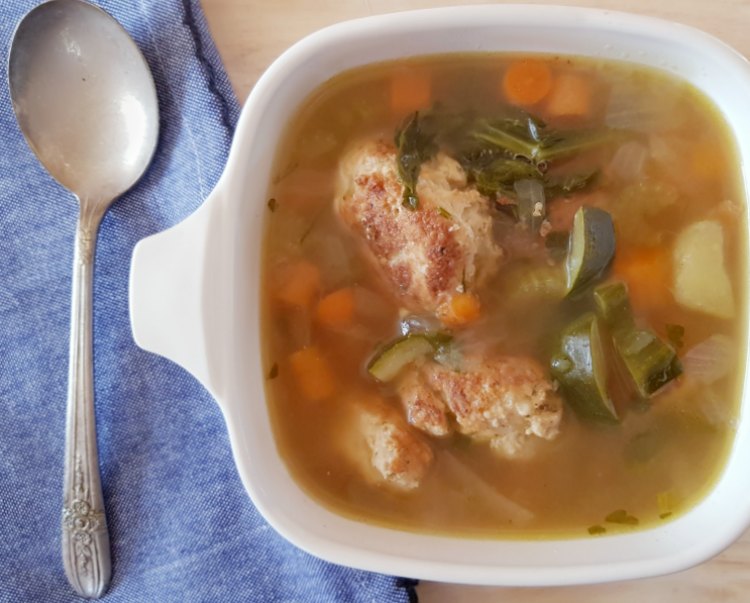 Next add into your cooking pot; add your broth, spinach, and spices. Bring to a boil, and reduce to a simmer cooking about 30 minutes, or until ready to serve. Garnish with grated romano cheese.
Optionally, you can cook penne pasta noodles al dente in a separate pot to add to each serving bowl.
Print your recipe
Chicken Meatball Soup
Delish, full of flavorful, and packed with chicken meatballs. A healthy meatball soup recipe to enjoy anytime of year.
Ingredients
1

pound

ground chicken

organic

1

egg

1/4

cup

Italian Dried Bread Crumbs

1/2

tsp.

garlic powder

1/4

cup

grated pecorino romano cheese

1

onion

peeled, and chopped

half cup mini organic carrots

chopped

2

celery stocks sliced

1/4

cup

fresh chopped Italian parsley

1/4

tsp.

rosemary

salt

pepper to taste

2-32

ounce

chicken broth

organic

1-1/2

cups

spinach
Instructions
Mix ground chicken, egg, Italian bread crumbs, and romano cheese. Form meatballs.

Cook meatballs in olive oil on medium heat.

Move to side, or take out of pan.

Add chopped onion, celery, carrots sauté, and then add back meatballs.

Next add in broth, spinach, spices, parsley.

Cook on simmer for 30 minutes or until ready to serve.

Garnish with cheese
Recipe Notes
You may use minced garlic clove to the veggies, and omit the garlic in the chicken meatballs if you prefer. Garnish with more cheese (optional)
Optionally, you can cook penne pasta al dente, per package directions. Keep in a separate bowl, (do not add to soup) and add to each bowl of soup when serving.
Adapted from Chickerina Soup Valerie Bertinelli
What's different from Valerie's recipe? She uses only egg white, no dried Italian bread crumbs for the meatballs, no spinach, no zucchini, and she adds couscous. You can easily omit the bread crumbs if you prefer.
We hope you enjoy making today's soup recipe.
Pin Recipe for later.
New here? Don't forget to subscribe. Bonus, you'll get a free printable recipe binder pages for all your recipes.