Today I am sharing a few IKEA hacks and how you can create even more! Even if you don't live by an IKEA these ideas will get your wheels spinning when it come to easy DIY home decorating projects you can create and have fun while doing them! We are sharing a fun book review; that we received to review. Let me say, books always make great gifts for the holidays or other times. This one is perfect for the IKEA / DIY lover. Let's dive into this book a bit.
Book Review
I Modify IKEA
Who doesn't love a great upcycle? Taking an inexpensive item and creating a styled chic piece of home décor with it. What's great about this book is there are projects that you can do without even heading to IKEA. But, if you have one nearby there are plenty of ideas to upcycle their furniture and other home décor items.
What I love is the book tells you the difficulty level and expected time for each project.
There is a layout of the exact materials needed (including which IKEA item was used)
There are 200 step by step illustrations and instructions
The instructions are laid out clearly
The finished projects are in color
The book has nice waxy pages for easy flipping and stay clean when using
I am dying to try the rolling bar cart DIY on pages 78-79. I can see making the upcycled tea lights for gifts from page 20. I can't wait to do a few of these projects and circle back to how I recreated my own version. But, in the meantime. We are happy to share a few excerpts / DIY projects with you!
Book Review Projects
I Modify IKEA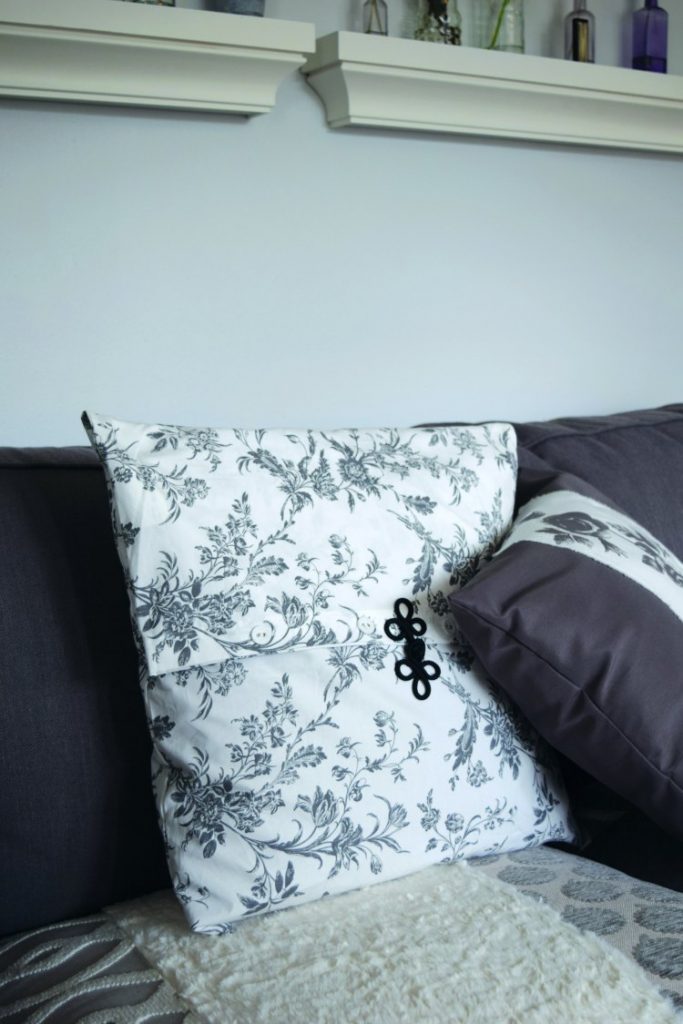 Book Review:
Upcycled Throw Pillow DIY
For this project taking plain pillows and a duvet pillow case that you have purchased to make a stylish throw pillow.
Excerpted with permission from I Modify IKEA by Elyse Major and Charlotte Rivers (Ulysses Press, 2016).
Book Review
Excerpt I Modify IKEA
Throw Pillow DIY Directions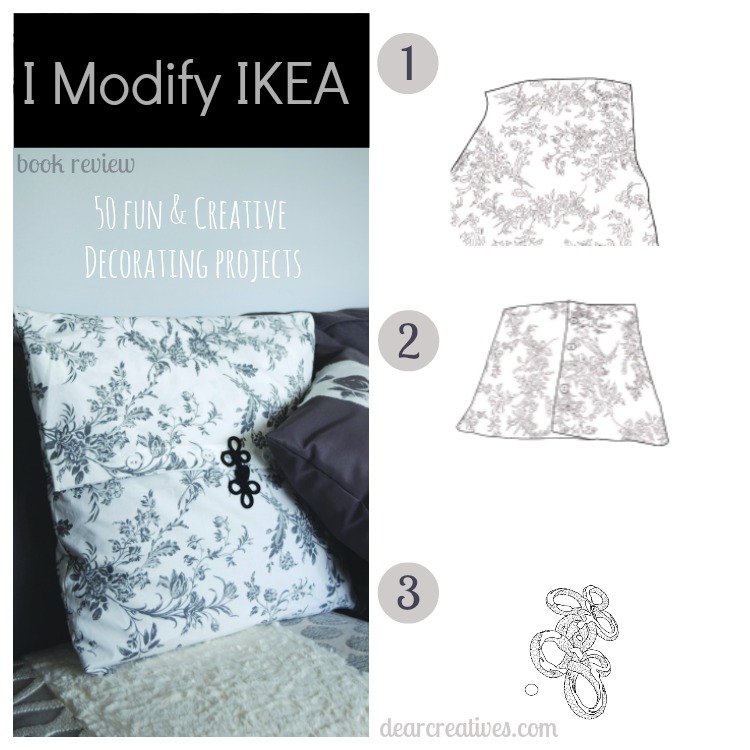 Add instant panache to plain pillows with these no-sew ideas:
fold a duvet pillowcase into a square or add a strip of alluring fabric to an existing cover. Scatter about for effortless sophistication. (The above image is a collage of images from the book, layout in book is different)
Book Review
Excerpt I Modify IKEA
STORAGE BASKETS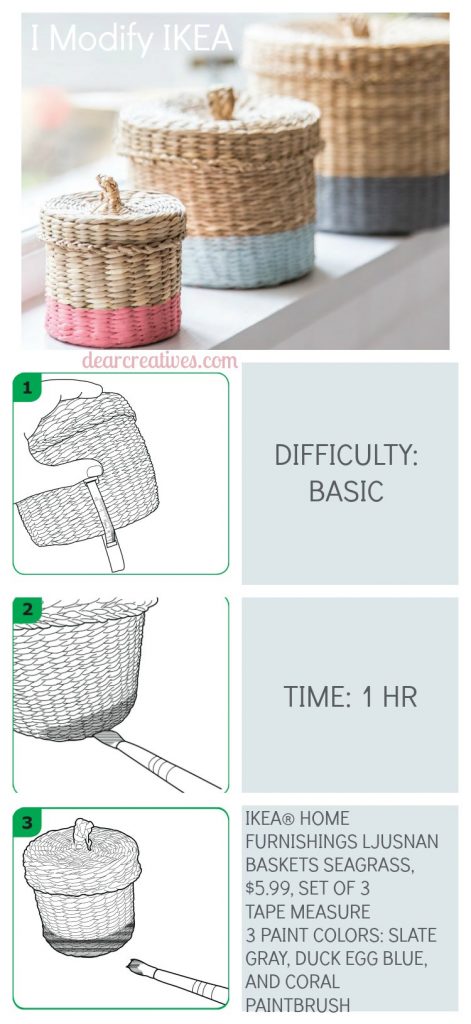 This project takes a set of three small bathroom storage baskets and adds a "color-dipped" effect to them. Pastel shades have been used here, but you could select three different complementary colors of your choice. (The above image is a collage of images from the book, layout in book is different)
Storage Basket DIY Supplies
IKEA® HOME FURNISHINGS LJUSNAN BASKETS SEAGRASS, $5.99, SET OF 3
TAPE MEASURE
3 PAINT COLORS: SLATE GRAY, DUCK EGG BLUE, AND CORAL
PAINTBRUSH
TIME: 1 HR
DIFFICULTY: BASIC
Directions for painting storage baskets;
Once you have decided on your three colors, choose the depth of paint that you would like on each basket, using a tape measure against the sides. Here, 5/8 inch (1.5 cm) is used for the smaller basket, 3⁄4 inch (2 cm) is used for the middle basket, and 1 1⁄4 inch 
(3 cm) is used for the larger basket.
You can now begin to paint each basket. It is not necessary to mark the paint level with tape, as you can simply follow the
groove of the basket weave at the level
you wish to paint at.
Once all the baskets are painted, leave them to dry for approximately 20 minutes and then apply a second coat of paint to each basket.
To preview more pages from the book head over here* (amazon) It's available on both Kindle and Paperback

You love I Modify IKEA® for its affordable projects and turning them into high-quality home furnishings. Featuring projects for every room of the house. Don't forget to subscribe to see all our posts and projects.
Do you love creating DIYs and IKEA hacks?