Hot summer days have finally hit us. Temperatures reaching 105 degrees. What's a girl to do? Catch up on her painting and illustration under a cool fan blowing. That' it! On this day, I was pretending I was an artist in the South West such as Georgia O'Keeffe had been. Spending some me time with my daughter. Yep, when it's too hot to handle you just have to grab your paint brushes and paint. Honestly, it seems like forever since I opened my multi media sketch book. But, I was also inspired to by trying out a new set of artist paint brushes! I know the title might have you wondering. I mean Wikipedia knows it all. Right? Maybe but, not about what art supplies to buy online. And I bet if I headed there they wouldn't have an article on Santa Fe Artist Paint Brushes. But, since your here I know you will enjoy finding out about these paint brushes.
It was perfect timing for us as we were looking for a new set of artist paint brushes.We had picked up new mini multi media sketch books recently. I have to admit I don't always give my brushes the best care unless they are my better ones. Sometimes I will buy the cheap ones (having kids) and they crash and burn so to speak, ending up in the trash heap. Partially because they aren't made well, partially because there are ways to care for your paint brushes to make them last longer.
Of course whether to share your brushes with kids or not can be a whole other subject. Now that Sammie is gotten older and learned how to care for paint brushes, we teamed up on a painting challenge using our new multi media journals and our new paint brushes.
We received Santa Fe Art Supply Artist Paint Brush Set for our honest review of the art supplies. I knew I'd be taking good care of them after opening them up and using them. We are sharing our gouache illustrations along with our honest review of these brushes.
Art Supplies Online
Santa Fe Art Supply Artist Brush Set
The first thing I did was unwrap these beauties and pull the special protective covers off the fine brushes. They came packed very well. The brushes come with a card telling you that you should rinse brushes with soapy water and clean water rinse prior to first time use. Always air dry prior to storing. Which is super important to do!
These brushes are made with long wooden gloss finish handles in a range of sizes. I typically don't use long handle brushes for my illustration but, didn't have any problem using these brushes. They aren't heavy, are made with a fine nylon quality synthetic hair and come in a range of sizes to suit your painting needs. Sizes 000-12, with plenty of shapes. We received a bonus #1 fine short handle one in the set too. (Just scroll down to see the full set.)
Of course I already have my favorite brushes for painting. A fine tip and angle brushes are two that I used the most when painting details. The fine tip for details and the angle for getting into those curves and tough spots. The nice thing about practicing painting is you get to the point where you just know what brush to grab for to tackle what your doing. If you've never tried painting just do it! It's fun.
I wanted to try a few of the other brushes so I mixed up the background with layers using different brushes such as the 12, 9 and 3 the fan brush. I don't shy away from playing with color. Well, it's not South West art, or in a Georgia O'Keeffe style but, there are South West colors in this.
First we challenged ourselves to both create the pineapple illustrations. Above is Sammie's pineapple illustration, the first was mine. Then, Sammie went on her own illustration journey.
She painted a summer girl illustration. I was surprised she didn't paint an anime character or kawii style as she is really into drawing them. Maybe next time? I am proud of how good she is getting with her artwork at such as young age. I love spending time with her and seeing her creativity. It's the perfect summer thing to do when it's too hot.
Since it was the first day of summer I painted an ice cream illustration. Maybe the heat that had me thinking of way to cool off? Do you buy your art supplies online? We do, quite a bit as we live in a smaller town. Our one supply store has a limited selection.
Art supplies online
Our Final thoughts on the Santa Fe paint brush set:
I honestly can say we love the brush set. We used our gouache paint set along with the brushes. I also used a few acrylics and watercolors. I haven't tried them with oils yet but, you can! The bristles are neatly and securely tucked into the ferrule of the brushes. I think this brush set is great for beginners and artists alike.
And if well cared for will last you a long time. The handles are nice, smooth and light weight. One thing I didn't get was instructions on how to set up the case for using, as shown in the image above. Then I realized it's just so easy. You just peel backing off the velcro, bend the back, that's behind the brushes in half and adhere it to the Velcro for ease of use! The case is sturdy, comes with a zipper pull, Velcro for keeping secure, convenient and well made. This would make a great set for anyone, for yourself or a gift. See below for all the other details for the Santa Fe Art Supply Artist Paint Brush Set.
Art supplies online
Santa Fe Art Supply Artist Paint Brush Set:
15 professional long wooden polished handles (12 inch)
Ideal variety of sizes (000-12) & shapes (round, flat, filbert, fan, wide)
Quality Paint Brush Set for Acrylic, Watercolor, Oil, Ink & Face Paint with Sturdy Case
No Shedding Paint Brushes + FREE Gift for Beginner Art Students and Professional Artists
Secure portable storage – longer life with elegant black zipper case.
Convenient portability. Includes internal stand for easy paintbrush access.
Free Gift (while supplies last): Ergonomic short handle for fine touches.
Lifetime 100% Satisfaction Guarantee*
Art supplies online
#SantaFeArtSupplyArtistBrushSet paint brush set is available on Amazon and available with Amazon Prime. They were originally listed for MSRP $99. and now at the time of this post are priced at $37.97 a 62% Savings! I'd say they are well worth it and at the time of the post are a 5 star item by many. They come with a Lifetime 100% Satisfaction Guarantee. How can you beat that? Seriously! Woot!Woot! I can't wait to share more painted illustrations we do with this set!! Be sure to subscribe to DearCreatives to see upcoming projects and more!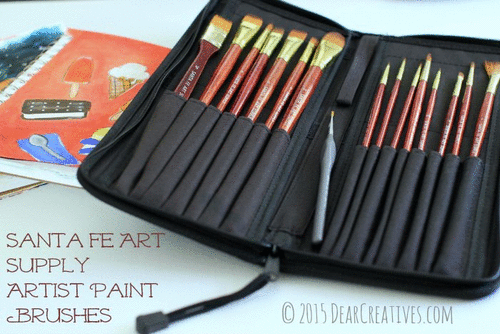 Do you enjoy painting? What types of paint would you use with these brushes?