I shared my favorite make ahead recipe entertaining meal when having friends and family over, but I thought if you have never made enchiladas and are a bit intimated I'd show you how easy it is. This process really makes it go by fast. You'll wonder why you never tried making enchiladas before!
Now here is how I make these yummy Cheesy Veggie Enchiladas! Step by Step so you can do it yourself!
You'll need: 
Two bowls
Two pans or I use one and then wash in between
A deep spoon (ladle type)
Towels, hot pads, paper towels
Plus all your ingredients! See recipe below! Print or save for later
Make sure your work area is clean and sanitized
Now your ready to get started cooking!
Wash and julienne the zucchinis. Chop the onion and two garlic cloves add them to a pan with a little olive oil and saute. Add a few dashes of pepper. Don't over cook them! They finish up in the baking process.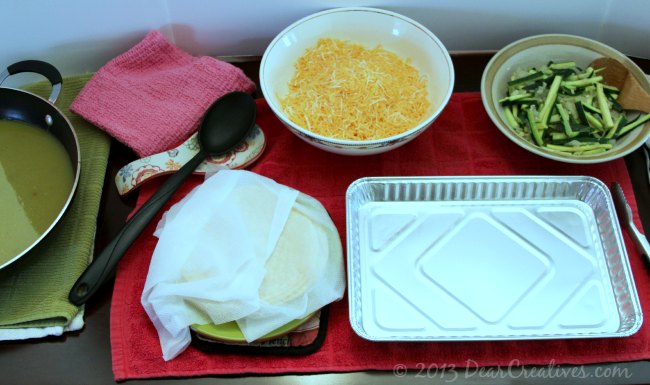 Set up your table or prep area. Have your cheese in a bowl, extra towels, hot pads and any spoons ready. It will be easier to do them all at once. After you sauteed your veggies put them in a bowl then  heat enchilada sauce until just over a simmer. Set at table. Lastly add the microwaved corn tortillas. ( about 45 sec. for just a few 2 min for about a dozen) Make sure you use a damp paper towel or two over them.
Note I moved the warmed tortillas to the pink towel and silver baking pan slid over to where the tortillas are in the photo. This way it's as close to the green sauce as possible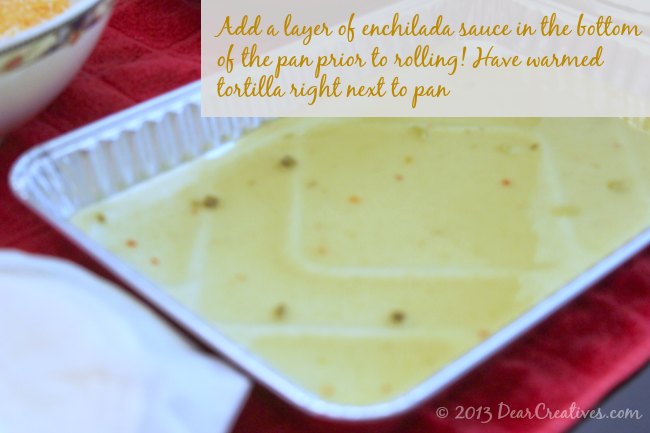 Now layer the bottom of the pan with green enchilada sauce.
Next you will dip a tortilla into the warmed green sauce, let it drip off. Set Tortilla in pan. (you will roll them right in the pan) Then add your cheese and veggies. If you want them smaller only put a smaller amount of cheese and veggies. Then roll them up placing the meeting edges of the tortilla to the bottom of the pan.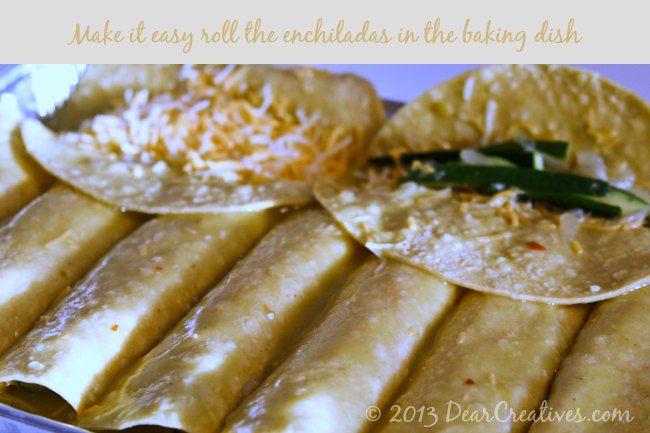 Roll them on the tighter side & push them together. Repeat until the entire pan is full! I even fill the last side open pockets with a few. Pour a bit more green sauce over the top add more shredded cheese and garnish with green chilies or black olives. Then they are ready to bake or put in the fridge until your ready.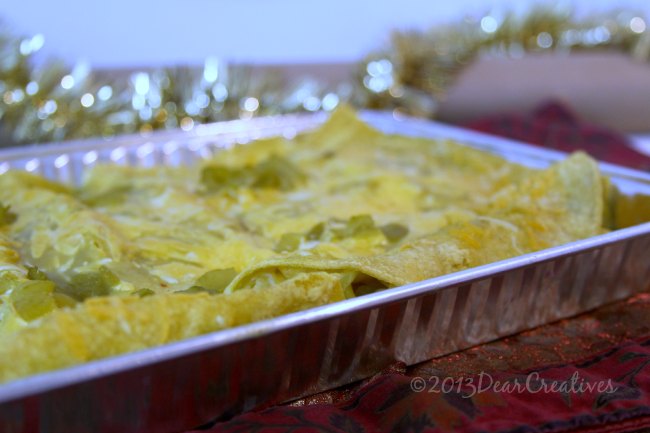 Bake at 375* for 30 – 45 minutes check them during the baking process. Bake them throughout but, don't let them dry out. Tent the pan if you need to with foil.  Add your favorite side dishes & serve.
[amd-zlrecipe-recipe:58]
I have suggestions if you are entertaining and serving enchiladas on this post. You can grab $20. worth of coupons to help you save on any meals your making over the holidays! Happy Cooking!
If you liked this post you might like my older post with a  recipe for Chicken Enchiladas 
Have you made enchiladas before? What is your favorite kind?