I have found an easy and delicious party appetizer. Perfect for any occasion or party this recipe is going to be a hit! Game day get together s,  anyone giving a baby shower or for your new years parties! When ever you need a recipe you can whip up in no time flat, heat it in 25 minutes and serve, this is going to be the party recipe that you keep pulling out time after time! I'm going to show you how easy it is to make this Broccoli and Artichoke Dip Recipe and a few other tricks that will make your cooking or entertaining a little simpler.
You don't have to waste time in the kitchen making recipes 100% from scratch.You can create the same great holiday meals, appetizers, and sides without all of the stress with the help of Green Giant® Valley Fresh Steamers. That is part of what makes this dish so easy! Grabbing a bag of  Green Giant® Broccoli & Cheese Sauce. #SimpleVsScratch Seriously, why make a homemade cheese sauce or precook the broccoli when you can cut your time in half and I promise this will still taste divine!
Gather all your supplies for this delicious and easy Broccoli and Artichoke Dip! Prep time: 15 minutes bake time: 25-30 minutes.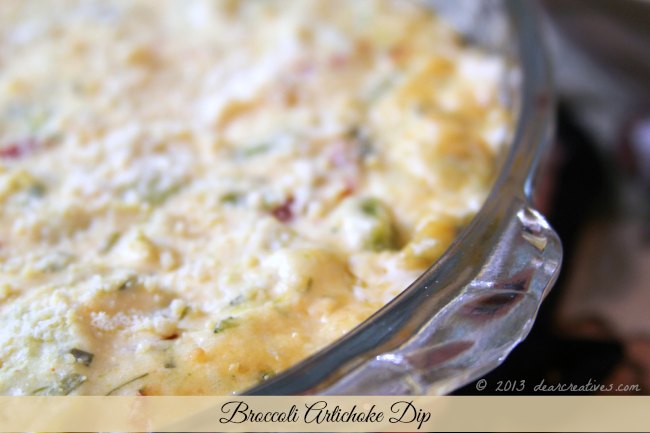 Ingredients:
 12 ounce bag of  Green Giant® Broccoli & Cheese Sauce
1- 8 ounce chive and onion cream cheese
1 cup Parmesan Cheese ( the original recipe calls for freshly shredded Parmesan Cheese) Either way you'll love it!
1/2 cup mayonnaise
1/8 cup milk ( the original calls for 1/4 cup but, it didn't seem like I needed the entire amount. maybe because I used pre grated Parmesan Cheese)
1 can artichokes ( drain and chop)
1/4 cup roasted red bell peppers ( drain and chop)
1/4 tsp ground red pepper * cayenne ( I omitted from mine eh, just an over sight)
1 loaf baguette or sour dough french bread or your favorite crackers
Heat  Green Giant® Broccoli & Cheese Sauce per instructions.
In the mean time drain then chop the artichokes, red bell peppers
and put the rest of the ingredients into a big bowl as follows.
Into bowl: Cream cheese,  half theParmesan Cheese, Mayo, chopped artichokes, roasted red peppers. Next grab your Green Giant® Broccoli & Cheese Sauce cut a slit to let cool a bit (per package instructions!) before adding all but the big pieces of broccoli to the mixture. Then chop up and add the bigger broccoli and toss into bowl. Toss in the ground red pepper (cayenne) at this point if using. Mix gently. Next add milk as needed!
Pre Heat oven to 350* I used a non stick spray on my baking dish! Put mixture in baking dish and add the other half of the Parmesan cheese.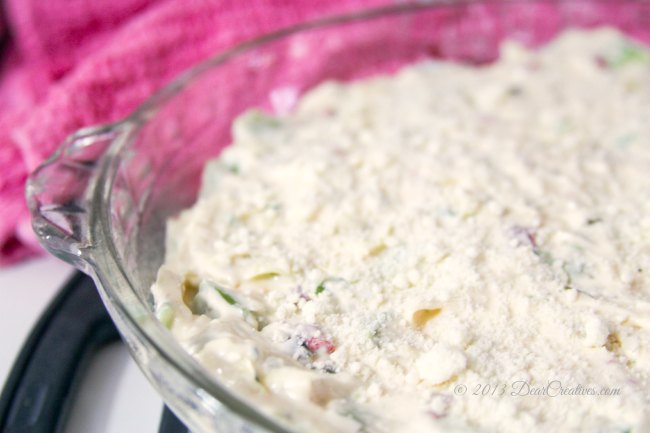 Bake for  25-30 minutes! (or) Until hot and bubbling.
While it was baking I cut up into bite sized pieces my sour dough french bread.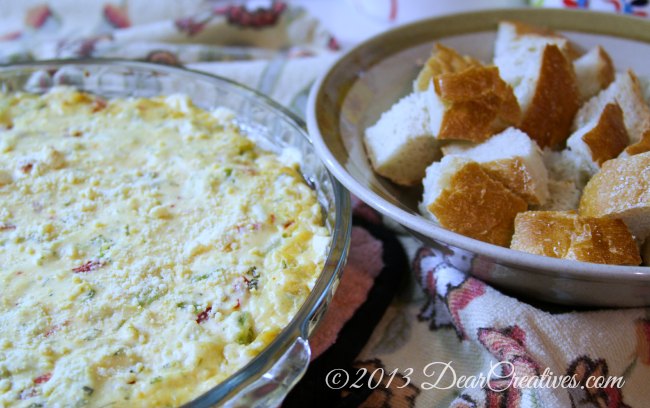 This recipe for Broccoli and Artichoke Dip can be easily prepped in advance, kept covered in fridge and bake just before needed! Best part is this is so yummy I don't think you'll be having to worry about left overs!
It's seriously easy and delicious! Not to mention the broccoli was the perfect texture from using the Green Giant® Broccoli & Cheese Sauce. (Valley Fresh Steamers)
Now if you are looking for more recipes just head over to SeriousEats that's where I grabbed this recipe to try!
[amd-zlrecipe-recipe:59]
Disclosure: I did receive Green Giant® Broccoli & Cheese Sauce. (Valley Fresh Steamers) to facilitate my review and make a recipe of my choosing. These are all my 100% honest opinions. Receiving the product did not influence my opinion.