In between heat waves we had a day cool enough to bake. I love fall, baking meals to baking treats. I dream of the perfect kitchen & cooking the most wonderful & yet easy comfort foods. Of course my favorites take a bit of time. Like my recipe for lasagna or Sammie's favorite chicken enchiladas verdes. But, this might just be the Mr.'s newest favorite comfort food recipe. I'm calling it Autumn Chicken Casserole.
I have to admit I am not a big casserole person. Except when it comes to homemade macaroni & cheese and maybe a few others. All those recipes & more are right on my recipe page & gallery. I found a recipe for the chicken casserole, which was called something else & adapted it to fit my needs & used what fresh veggies I had on hand. I think you'll love the recipe as you mix it in one large bowl & toss in the ingredients, then pour into your baking dish. Bake in the oven & serve.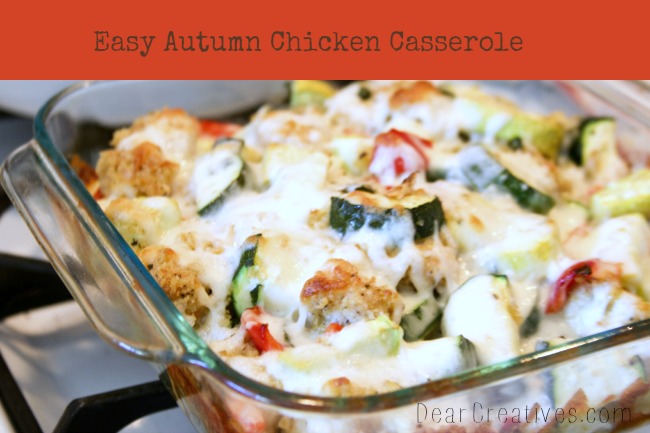 Nothing like an easy p easy meal! Bake ahead if you need to as it reheats well!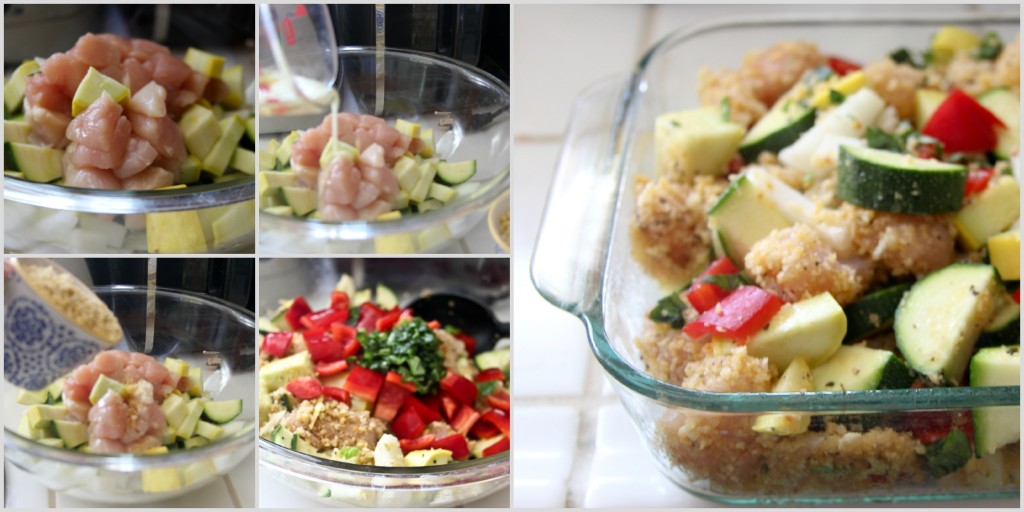 The ingredients are chicken (keep cold  until time to add, per instructions for food safety), green & yellow zucchini, red bell pepper chopped, then toss into bowl. Melt butter in microwave & pour into bowl then add panko & Italian bread crumbs & stir all together. (Click to enlarge above image)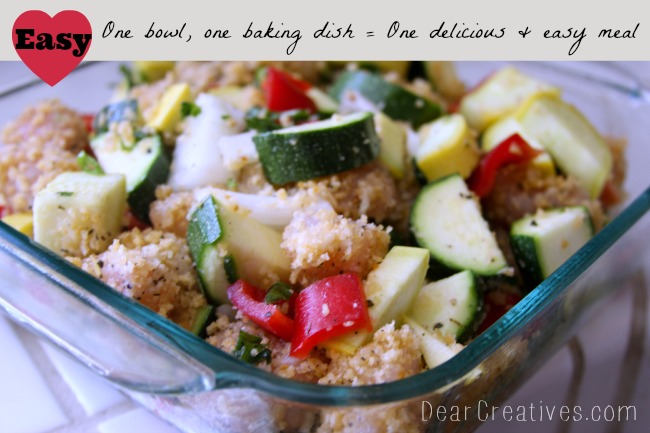 Bake at 400*! While baking shred your mozzarella cheese. Then for the final 10-15 minutes of the bake add shredded mozzarella cheese.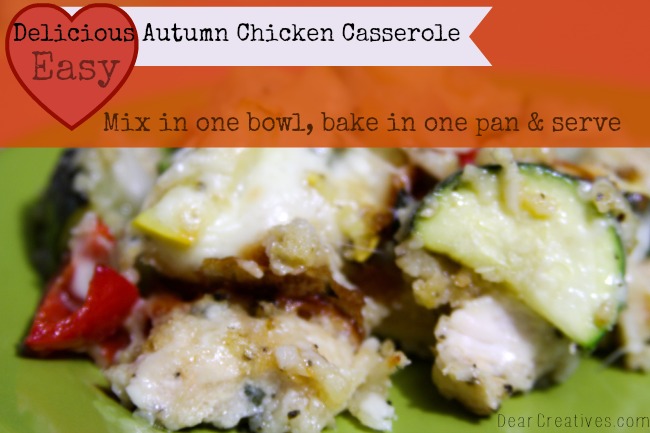 What you end up with is a savory & delicious meal that is easy to serve up & even easier to clean up from! Fast to put together & fast clean up! Perfect for busy weeknights or….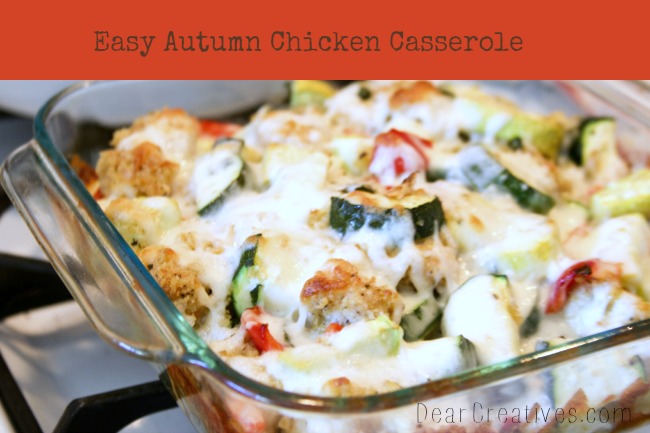 Adapted from this Summer Country Crock Recipe: http://www.countrycrock.com/recipes/detail/34953/1/summer-vegetable-chicken-casserole
Ingredients
2-3 cloves of crushed garlic
2 green zucchini,2 yellow summer squash, 1 red bell pepper (I omitted and/or tomatoes)
1/4 cup chopped fresh basil leaves
1- 1 1/4 lbs. boneless, skinless chicken breasts , cut into chunks
6 Tbsp. melted butter
1 cups Italian bread crumbs
1 cup panko bread crumbs
1/2 a pound (approx. 3/4 cup) shredded part-skim mozzarella cheese
Instructions
preheat oven to 400*
chop all veggies & herbs, add to bowl & set to side
crush or mince your garlic, add to bowl
pre measure your bread crumbs it can be a combination of both (that is what I had on hand or just Italian bread crumbs (for flavoring) If you use panko or other you will need to add Italian spices approx 1 tbsp. I am guessing.
chop your boneless, skinless chicken breasts into chunks add to bowl of veggies
now melt & add the butter, then add bread crumbs mix entire contents well & pour into baking pan.
Bake uncovered for 30 minutes add shredded cheese. Return to oven & bake 10-15 minutes until melted & chicken is all the way cooked.
http://www.dearcreatives.com/autumn-chicken-casserole-recipe-easy-delicious/
DearCreatives 2012-2014
Do you have a favorite fall comfort food or casserole?
Be sure to share it with me so I can try it! Leave recipe link in comments or share your post via DearCreatives weekly link up. (yesterday's post) I'm always on the look out for great recipes that are easy to make. I just need the weather to cool down to really get cooking!
Exciting news in the running to be in the top ten please take a moment of your time to vote for me! Easy just visit & click box thanks for supporting Dear Creatives!