Do you need a meal planner to print out? I like them for scheduling meals for the week! I designed a new Weekly Meal Planner plus, grocery list. You can print one or both.
On the weekly meal planner, there is a small space for adding groceries. But, if you are shopping for groceries and need a bigger grocery list I created a printable grocery list too!
Looking for more printables? Or are you looking for something else? Check out these Free Printables.
Affiliate links may be included in the post. By clicking the links for qualifying purchases we earn a small commission. This is at no additional cost to you.
Weekly Meal Planner
This weekly meal planner printable has spaces for all 7 days of the week. You can add breakfast, lunch, and dinner. Or just meal plan your dinners… There is also a space to add groceries you may need. If the grocery list isn't big enough print out our additional grocery list printable.
Why meal plan? Meal planning helps reduce food waste and can keep your budget in line. Who doesn't like that?
Use your grocery list at the grocery store or when shopping big box stores like Costco, Smart & Final, or The Grocery Outlet…
I made it simple and put all the PFD Files and PNG files in one folder you can pick which ones you need and print them! (There is a version with no graphic on the grocery list too).
The only things you will need are a printer, computer/printer paper, and the link to the files (which are below). If you print a lot of things. I highly recommend the Epson Eco Tank Printers. You can go to that page, scroll down and compare models if you need a new printer. What type of printer do you have?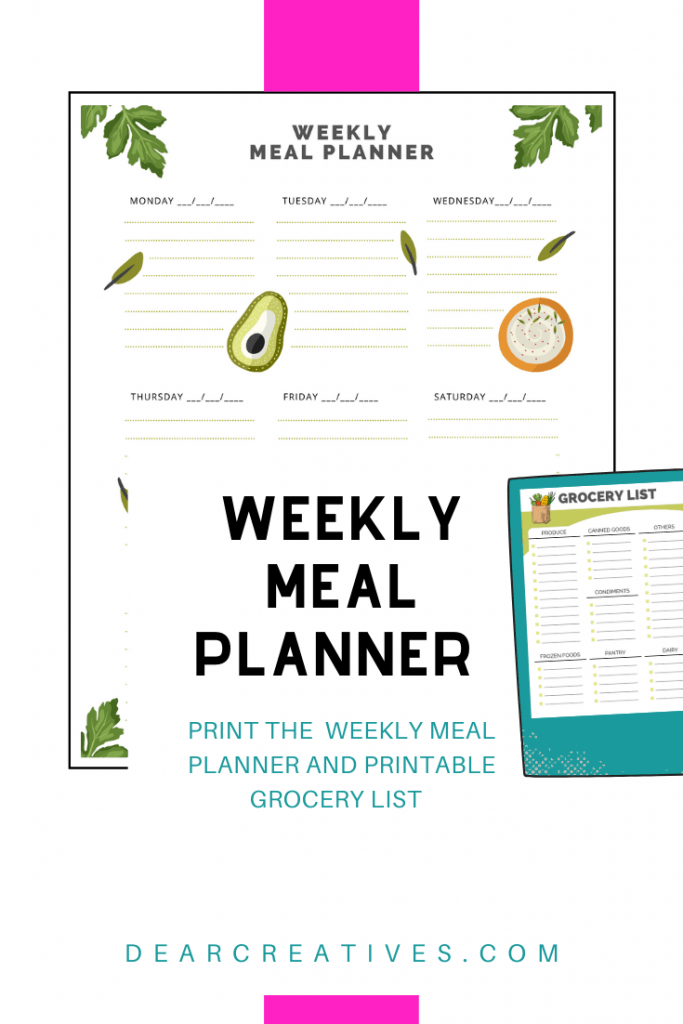 On this weekly meal planner
The meal planning list has 7 days of the week
Enough spaces for breakfast, lunch and dinner ideas
Small space for shopping list – essentials or reminders
Use the grocery list below for the shopping list for the grocery store
Printable Grocery List
This list includes headings and spaces on the grocery list for
Produce
Frozen Foods
Canned Goods
Condiments
Pantry
Other (which could be for meats and other items you need)
Dairy
Do you like printables? If so be sure to subscribe to get access to our Exclusive Readers Library packed with printables and resources. You will get the password sent to you, after signing up and confirmation of sign-up.
And be sure to follow us on our (New Printables Access Page here) grab our 2-week meal plan for free and see our other helpful printables. This is where we will be sharing our freebies too (with a special password and discounts for subscribers).
Thanksgiving Day Planner Printables
You have to see this! Grab my 10-page Thanksgiving Day Planner (and free bonus!) You will find it so useful! Use my special reader Discount Code turkeytime
The Thanksgiving Day Planner Printable Bundle includes pages for a Weekly to-do list, a daily to-do list, Meal plan sheets, Guest Lists with space for food allergies or notes, Pot luck planning sheets, and Shopping lists. In PDF format to download and print instantly for a no-stress Thanksgiving plan, dinner, and holiday weekend.
Use these printables any time for meal planning and for your holiday meal planning! What day of the week do you meal plan and grocery shop?
New here? Be sure to Subscribe. Grab our bonus printable recipe binder and cooking resources. Plus, never miss a post with our newsletter!
Don't forget to Pin it for Later
Happy Printing! I hope this makes your meal planning and grocery shopping a little nicer.