Who is excited about soup season? I sure am and to kick it off I'm sharing my tomato soup recipe!
One thing I love is a good tomato soup paired with grilled cheese. Don't you? Looking for other soups to make? See all our soup recipes.
I have linked to two tomato soup videos just in case you want to see how homemade tomato soup is made. It's so easy to make tomato soup.
TOMATO SOUP RECIPE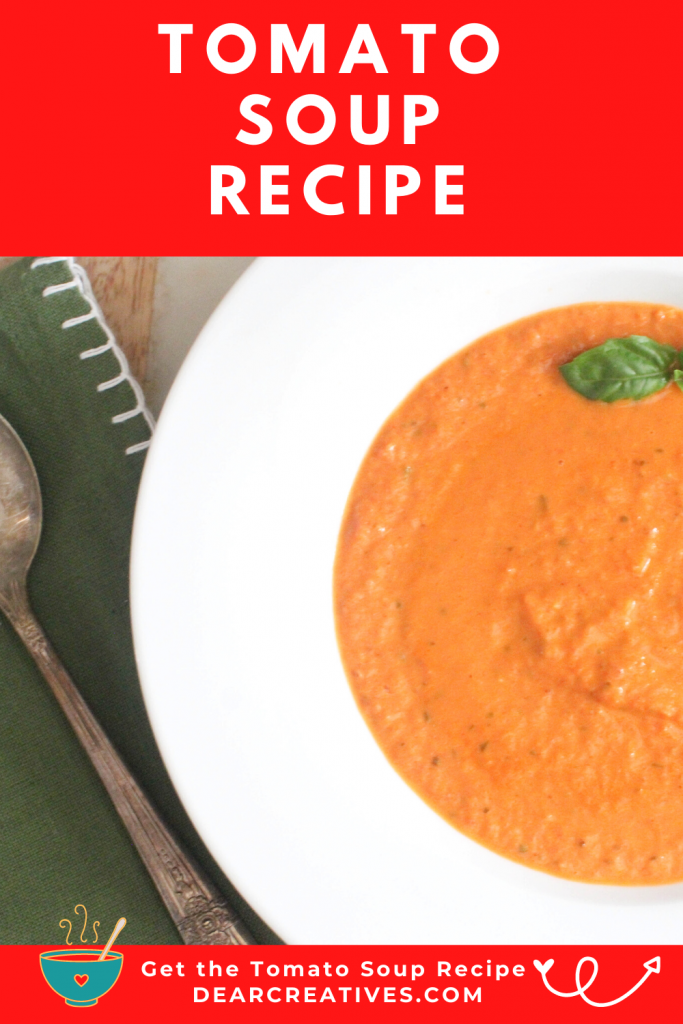 Bonus, if you have fresh tomatoes in the late spring or summer you can adapt the recipe to use all fresh tomatoes. The printable recipe for this tomato soup is at the end of the post.
Ingredients
4 Roma tomatoes
1 small red bell pepper or half a large red bell pepper
4 cloves of garlic
1 small to medium-sized onion
1 cup fresh chopped basil leaves
1 tsp. Italian Spices
Salt and pepper to taste
Optional 2/3 cup cream
1 tablespoon butter
Instructions
Step 1
To give the soup a few extra flavors we first washed (and seeded the red bell pepper) and baked/roasted 4 Roma tomatoes sliced in half and 1/2 of big red bell pepper, sliced and drizzled with olive oil. Bake at 350-375 degrees for 1 hour. Or increase heat and decrease time but, watch the timing. I don't recommend going over 400 degrees.
You will need a blender like this, immersion blender, or food processor to blend these after baking.
Step 2
Peel and chop the garlic and onion.
Sauté in the soup pot with 2 tablespoons olive oil and 1 tablespoon butter.
Add the canned crushed tomatoes, canned chicken broth, and basil.
Next, add the Italian spice and salt and pepper.
Bring to a boil, then reduce heat and simmer on low.
When the vegetables are done baking add them to the soup and blend with an immersion blender to the creaminess you enjoy. Or add the soup and vegetables into a blender (carefully, not overfilling- it may take two batches) that can blend soups (Like my Vitamix blender). Additionally, you can use a food processor to blend the roasted vegetables and add them to the soup after.
Tada! Your soup is done and ready to serve.
If you like to spice things up you can add a little bit of crushed red peppers for garnishing. See the dinner ideas below to go with tomato soup.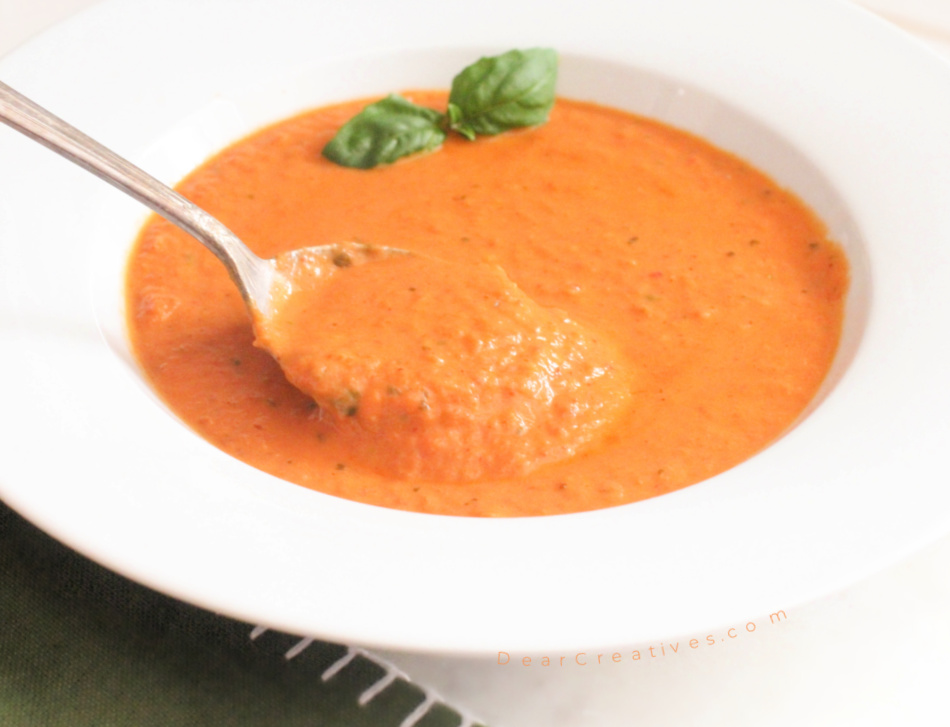 Homemade Tomato Soup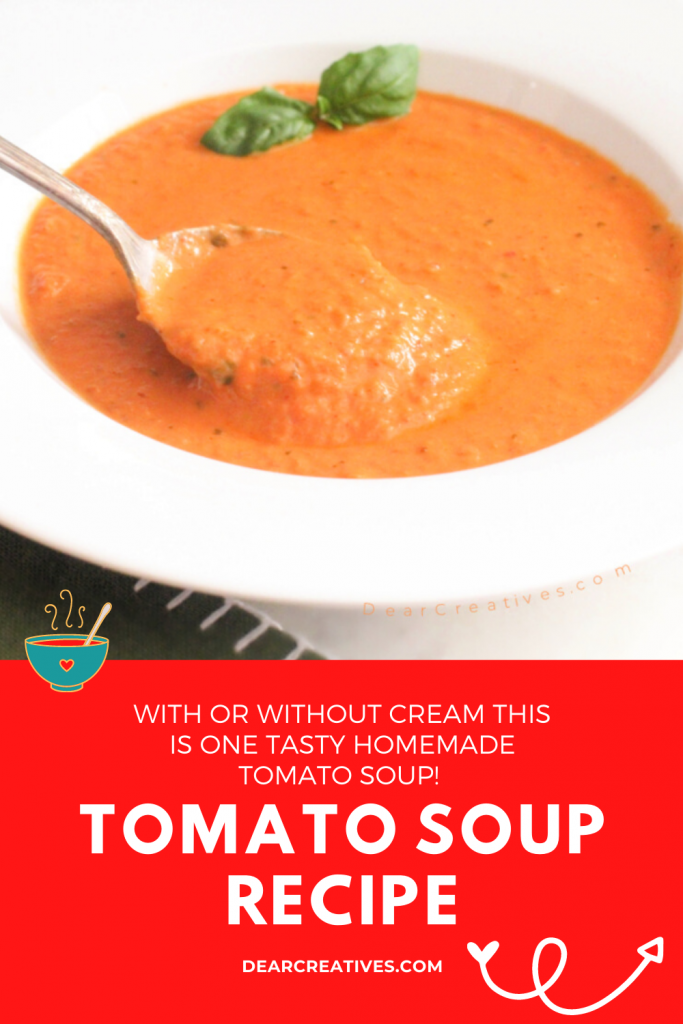 What to serve with tomato soup?
We enjoy making grilled cheese with our tomato soup but, also enjoy a simple baked biscuit or croutons with them. Other dinner options for tomato soup are soup and salad. Or how about BLT sandwiches with the soup.
I almost didn't add cream to this tomato soup recipe but, I did. It makes a creamy tomato soup. But, if you prefer your tomato soup without any dairy by means just omit it and the butter! If you omit the cream for tomato soup, it will be a bright red color and still as flavorful! I promise.
Happy Soup Season! I hope you enjoy making this easy tomato soup recipe!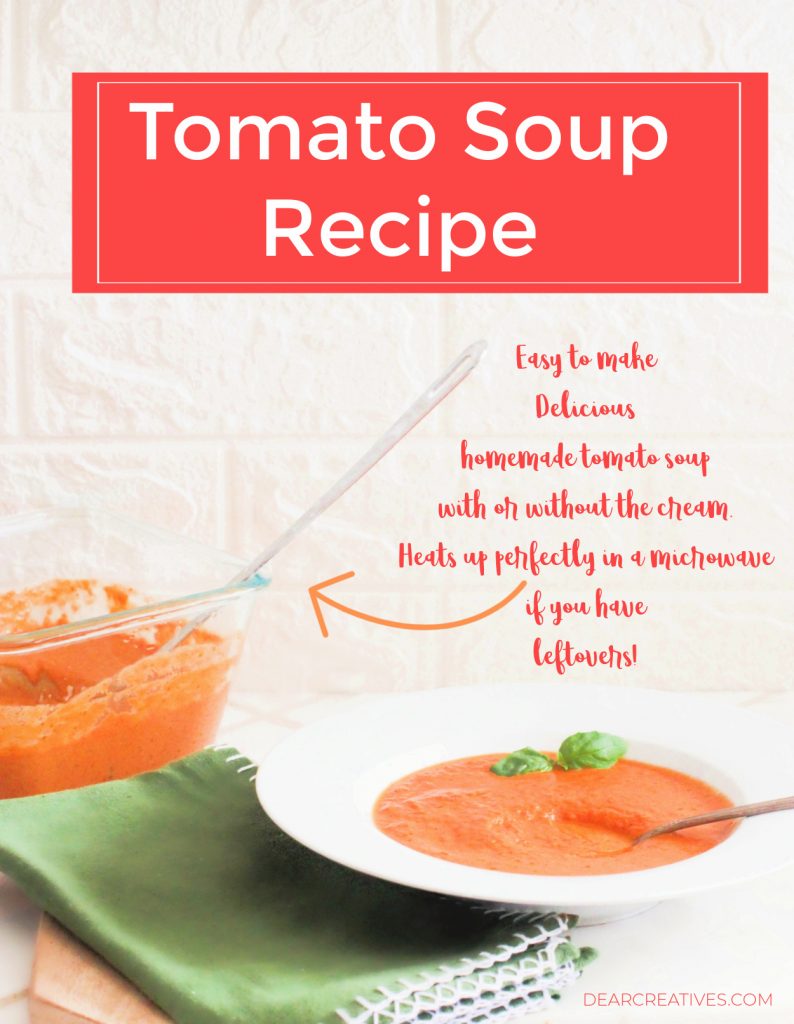 The soup storage containers I use are similar to these and come in 3 color options!
New here? Be sure to Subscribe. Grab our bonus printable recipe binder and cooking resources. Plus, never miss a post with our newsletter!
Don't forget to Pin it for Later