Creamy Pesto Chicken Pasta it's so delicious and easy to make (the tomatoes are optional)! Do you like cooking easy dinners? I love dinners that come together quickly, are easy, and are flavorful. Cooking dinner for the family doesn't have to be complicated. Let's get cooking and make this pesto pasta recipe.
Looking for something else to cook quickly and easily? See our 30-minute Meals.
"I received this product for free from MomsMeet (momsmeet.com) to use and post my honest opinions. Compensation for this post was provided and this page may contain affiliate links."
Creamy Pesto Chicken Pasta
For this pesto pasta recipe you will cook the chicken quickly by using cut up chicken that is cubed and mixed in the creamy pesto sauce. Then you cook pasta noodles according to the package, al dente (either in the same pan or in a separate pot – see the instructions). Toss them with a creamy pesto sauce that comes in a jar (that tastes homemade) garnish and serve the pasta with pesto and chicken. You will be serving dinner in under 30-minutes!
Creamy Pasta With Chicken Recipe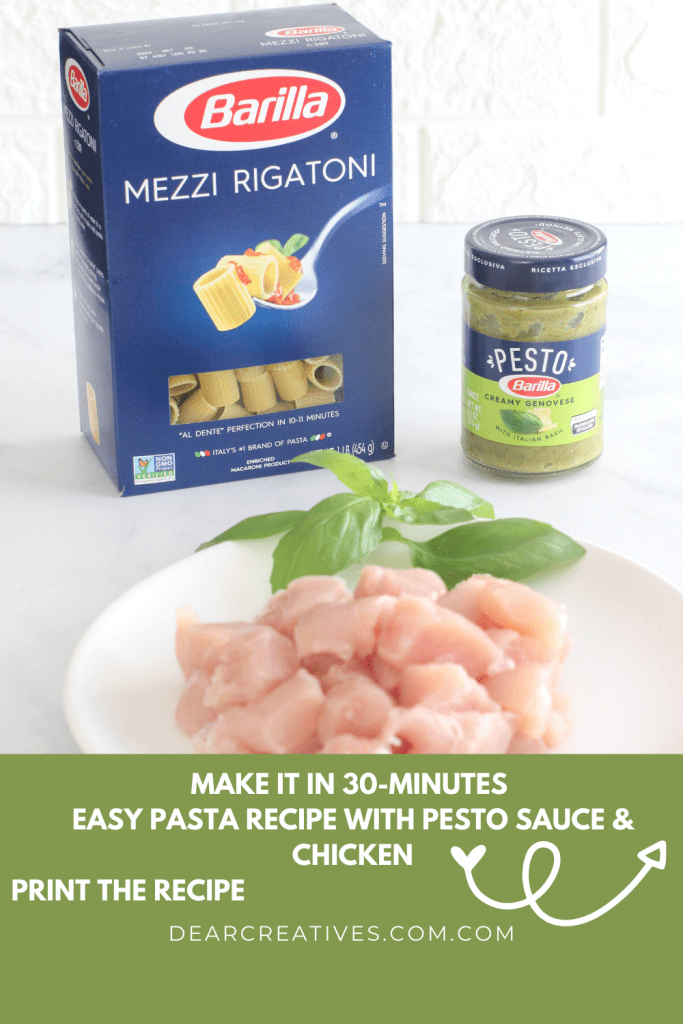 For this dinner idea, I tried and used Barilla Creamy Genovese Pesto. I think you will love this time-saving hack that still gives you all the Italian flavors you crave.
Recipe Ingredients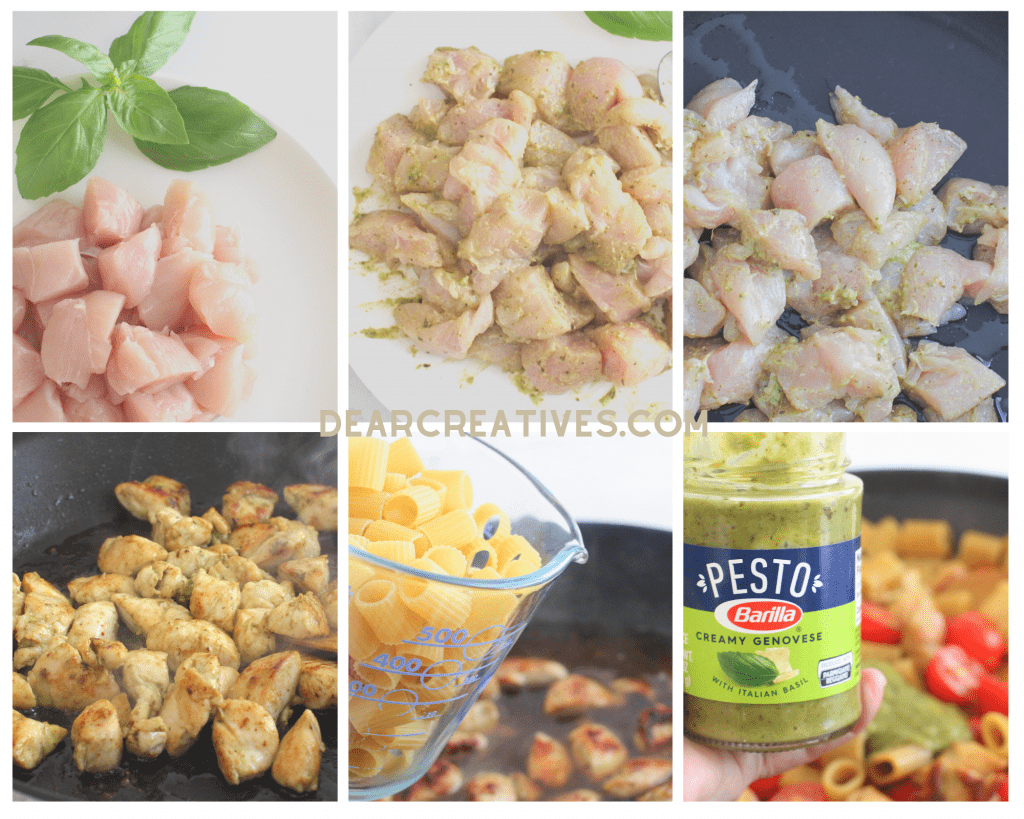 Recipe Instructions
Cut up the chicken into bite-sized cubes. Or buy packaged cubed chicken (skinless boneless chicken).
Coat the cubed chicken with 2-3 tsp. of creamy pesto sauce and marinate the chicken for 10 minutes.
Cook the chicken in a skillet. Preheat it with 1 tbsp. of butter and a little olive oil. Add the chicken, occasionally stirring until fully cooked. (internal temp. of 165 degrees).
Bring a pot of water to a rolling boil. Cook the pasta al dente according to the pasta box directions. Drain the noodles when done. Or make this dish a one-pot meal like I did by adding 1 can of chicken broth plus 1/2 cup of water to the large skillet/pan and add the pasta to it to cook altogether).
Before all the liquid has evaporated add 1 cup of halved cherry tomatoes.
When the cooking is done add the chicken and pasta into a large bowl.
Mix with an additional 3 tsp. of creamy pesto sauce and garnish with chopped basil and shredded Parmesan cheese.
Garnish, serve and enjoy!
Recipe Notes:
Do not touch the raw chicken and dip the spoon back in the jar! Use a clean spoon for measuring and one for spreading and mixing the pesto sauce!
See the printable recipe card (below) for the additional notes and tips for making this easy pasta dinner with pesto!
To make this pasta dish vegetarian omit the chicken!
Review of Barilla Creamy Genovesse Pesto
To be honest I love this creamy pesto sauce. It has a bit milder flavor than traditional pesto sauce. I even used this creamy pesto on pizza and can't wait to share that recipe with you. There are so many things you can make with pesto!
Once you make this pasta dish it really is fast to make. It's a dinner idea that I am putting on repeat in my meal plan rotation. It's quick, easy and so good! Your family might be impressed with your cooking and its taste and you don't have to tell them how easy it is to make (unless you want to). I love the convenience of this Barilla pesto product and its taste! Use a jar spatula like this! A handy kitchen tool to help you get every last bit out of the jars.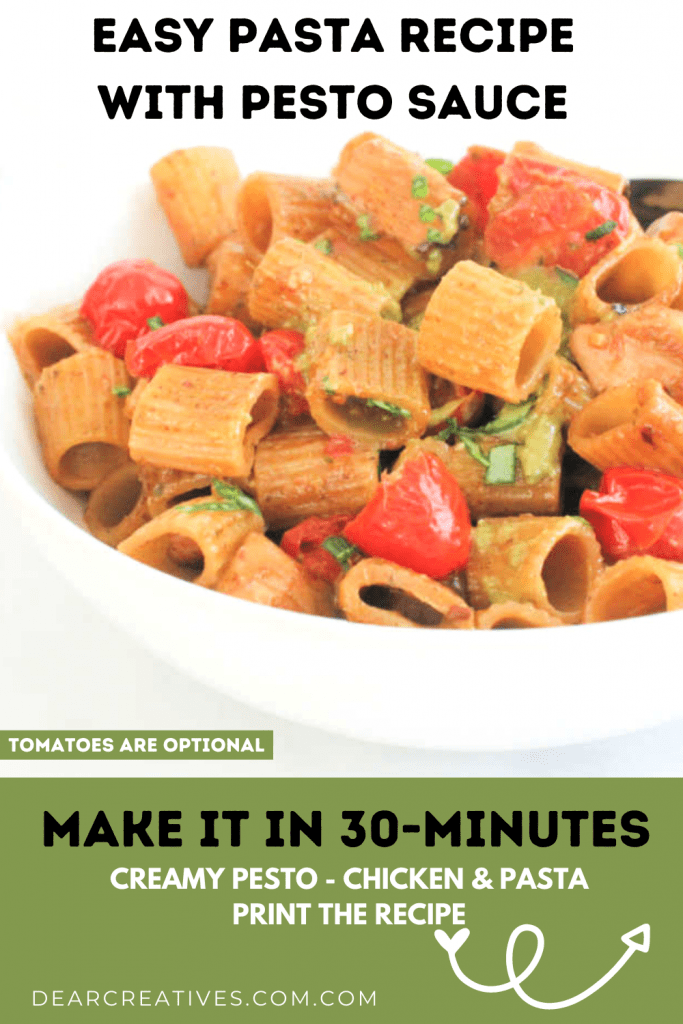 Looking for more ways to use pesto sauce?
Ways to use creamy pesto sauce
Marinate chicken and other meats.
Use it as an appetizer for dipping with chips or pita chips.
Use the pesto as a spread on bread, toast, tortillas…
Stir it in with noodles, pasta, and other grains.
What is great about Barilla Pesto Creamy Genovese is that it doesn't have to be warmed and can be used in so many ways. Their Italian flavors make cooking taste so good. How do you like to use pesto in your meal planning?
Pin it for later if you aren't making it tonight for dinner!
New here? Be sure to Subscribe. Grab our bonus printable recipe binder and cooking resources. Plus, never miss a post with our newsletter!
Don't forget to Pin it for Later
Print the creamy pesto pasta recipe or pin it for later!
Facts About Barilla Creamy Pesto Sauce
Barilla Creamy Genovese Pesto is a flavorful. It can be used cold or warm, its versatile, and convenient pantry staple.
Imported from Parma, Italy, it's made with fragrant Italian basil and freshly grated Italian cheese.
Creamy Genovese Pesto has a creamy, smooth texture and savory taste. You can stir it into pasta and grains. Spread it on sandwiches. Use it for marinating meats and vegetables. And even use it as a dip.
To preserve the natural color of basil and the fresh aroma of Italian Cheese, Barilla minimizes the handling of ingredients and rapidly prepares their recipe in as little as three hours from the start of ingredient preparation to the tightening of the lid.
With Creamy Genovese Pesto, a little goes a long way; one 6.2-ounce jar of pesto mixes well with 16 ounces of pasta.
A 6.2-ounce jar of Barilla Creamy Genovese Pesto typically retails for $3.29.
Shop for Barilla products & Creamy Pesto Sauce at Target, Genovese Pesto Sauce and other Barilla products on Amazon, and your local grocery stores.
For four generations (since 1877 in Parm Italy) Barilla has been passing down secrets to quality great tasting pesto. Inspired by the Italian lifestyle and Mediterranean diet. I think you will love their products.
Looking for more recipes using pesto?