Ground Chicken Burgers are a great way to eat healthier. And get dinner on the table. These burgers are lean, moist, and have chopped vegetables mixed in with them! I baked these in the oven but, you can use the stovetop or grill to cook them too.
I think you will love adding these burgers made with ground chicken to your meal plans.
Affiliate links may be included in the post. By clicking the links for qualifying purchases we earn a small commission. This is at no additional cost to you.
Ground Chicken Burgers
You can make this recipe with or without cheese melted onto them. Make this recipe for ground chicken burgers in the oven, on the stovetop, or on the grill. The key is making sure the chicken reaches an internal temperature of 165F degrees.
Ground Chicken Burgers Recipe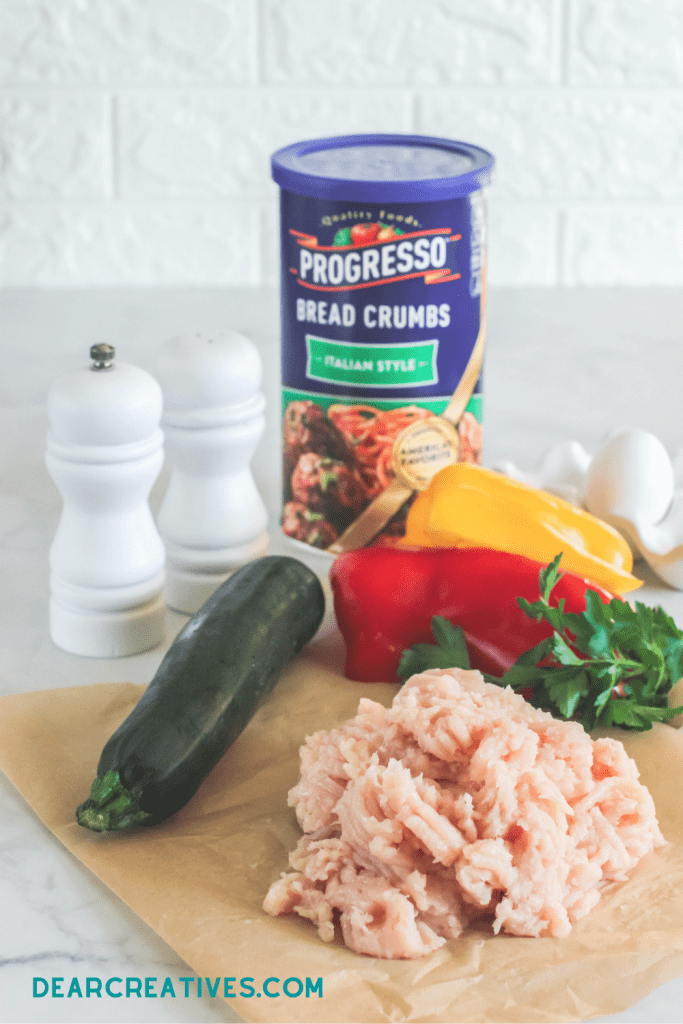 Ingredients
1 pound of ground chicken
1/3 cup of Italian Bread Crumbs
1 egg
2 cloves of freshly crushed garlic
salt and pepper to taste
half of a red bell pepper (chopped)
half of a yellow bell pepper (chopped)
1 zucchini (chopped)
Instructions
Add the ground chicken, egg and bread crumbs to a medium-sized bowl.
Note: If you use unseasoned breadcrumbs add a teaspoon of Italian Seasoning Blend spices.
Stir to combine the ingredients.
Next, add the chopped bell peppers and mix them together.
Then add the chopped zucchini. Next, crush garlic into the bowl and combine it together.
Use your clean hands to make the ground chicken patties.
I made four large ones (adapt this for your family's needs).
Place the patties onto a prepared baking sheet. I used foil and parchment paper (It makes clean-up easy! You can line your baking sheet with one or the other).
Now, place the prepared baking sheet with the chicken burgers in the oven to cook.
Bake for about 20 minutes on one side. Flip and bake on the other side. Cooking them until an internal temperature of 165F degrees is reached.
If you are serving the chicken burgers with cheese. Take the tray out of the oven and add sliced cheese (of your choice) to the burgers. Return to the oven and bake 3-5 minutes longer.
Remove from the oven and serve on Kaiser rolls (or hamburger buns).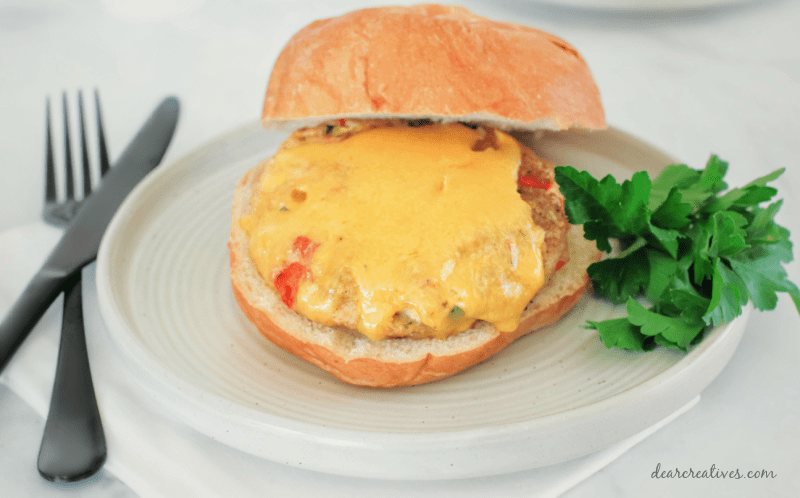 Recipe Notes
Add your favorite toppings and condiments. We served our chicken burgers with cheese and lettuce. And while the chicken burgers were baking in the oven I prepared green beans on the stovetop.
I used my chopper to chop my vegetables. Which saves me time and chops them evenly.
Sprinkle the tops of the burgers with a small amount of salt and pepper to your liking prior to baking.
New here? Be sure to Subscribe. Grab our bonus printable recipe binder and cooking resources. Plus, never miss a post with our newsletter!
Don't forget to Pin it for Later
More recipes you might like to cook for dinner.