Are you looking for felt coaters to make? DIY Felt Leaf Coasters. This is an easy sewing project with felt! Grab the free craft pattern and use our instructions to make coasters. Included are a free printable leaf template (maple leaf design) and a circle template. Print the template, and follow the instructions to make this craft project with felt (or other materials).
If you are looking for something else to make with felt or other DIY Coasters go here for more felt crafts to make.
DIY Felt Leaf Coasters
Use the craft pattern templates for the maple leaf and circle to make this project (or any other project). All you need is colored felt, a needle, scissors… This is an easy project that has hand-sewing stitches (plus a few easy embroidery stitches). Let's make these felt leaf coasters with the instructions below!
Are new here? Be sure to subscribe and never miss a post or crafts to make.
Affiliate links may be included in the post. By clicking the links for qualifying purchases we earn a small commission. This is at no additional cost to you.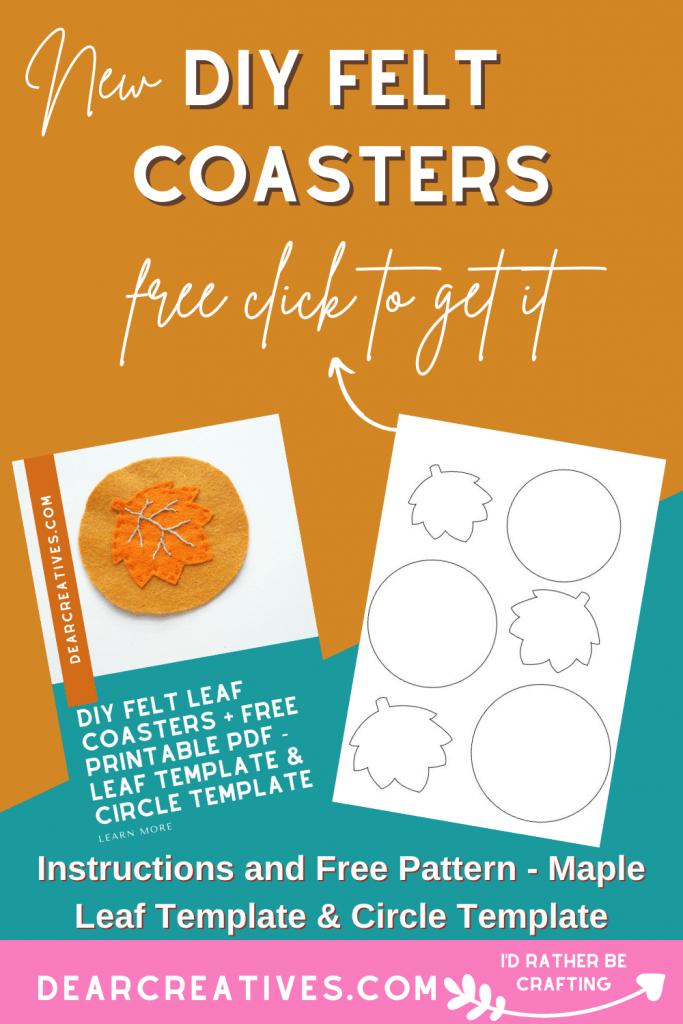 Template Pattern – (Leaf Template and Circle Template)
Supplies
Download and Print the pattern template for the

Felt Leaf Pattern

– Print it here: (Leaf Template and Circle Template)
Colored felt fabrics (This is my favorite for quality felt on Etsy in fall/autumn colors. Note other colors and sets of felt are available. They also carry skeins of floss) You can purchase it on Amazon too (with free shipping) Colored Felt. Or grab this 6 x12 Marino Blend Wool Felt 21 sheets of fall colors.

Pencil

Sewing Scissors (for detail work I like these craft scissors)
Fabric Tracing Pen (with disappearing ink) or Sewing Chalk
Instructions
How To Make Felt Leaf Coasters
These resources may help you! Especially if you are a beginner. Use this video to learn the top 12 stitches in hand embroidery. And here is a book I have owned since I was a teen. You will love it! Embroidery Step-by-Step Guide To More Than 200 Stitches. (On Kindle too!)
Step -1:

Select 2 different colored felt fabrics for the maple leaf coaster. Trace the round base on any colored felt fabric you like and trace the maple leaf pattern on a Fall-inspired colored felt fabric. Trace the patterns using a fabric tracing pen or chalk and use scissors to cut them out nicely.
Step -2:

Prepare a needle. Use different colored embroidery thread. (By using thread other than the felt selected for the maple leaf pattern). Place the maple leaf felt cut-out in the middle of the round base cut-out.
Step – 3:

Start stitching from the bottom side of the maple leaf. Tie a knot on the open end of the attached thread and draw the needle from the backside of the base and draw it out to the bottom side of the maple leaf pattern.
Step – 4:

Use a fabric tracing pen (or chalk) to trace the veins of the maple leaf. Next, stitch over the traced vein patterns.
Step – 5:

Fill the vein lines with solid stitches (not a running stitch or any sort of dashed stitches).
Step – 6:


Done stitching the vein patterns of the maple leaf? Now prepare a needle with matching thread (the same color as the maple leaf pattern). Stitch the maple leaf around the side. Make sure to stitch the base with the maple leaf pattern as well when stitching the side. After you're done stitching, draw the needle to the backside of the coaster pattern. Then tie 2 or 3 tight knots. And cut off extra thread if necessary. The coaster is ready.
Note: If you are worried about the edges of the coaster fraying you can sew or stitch around the edge or use liquid stitch.
Be sure to tag us on Twitter and Instagram @DearCreatives with your finished crafts! We'd love to see how your projects turned out.
Repeat The Steps To Make A Set Of Felt Coasters With Maple Leaves
Repeat the steps to make a set of coasters for use or to give the homemade coasters as a homemade gift or hostess gift for Thanksgiving. Maybe include them in a basket with coffee or tea. If you aren't making this craft now be sure to pin it for later!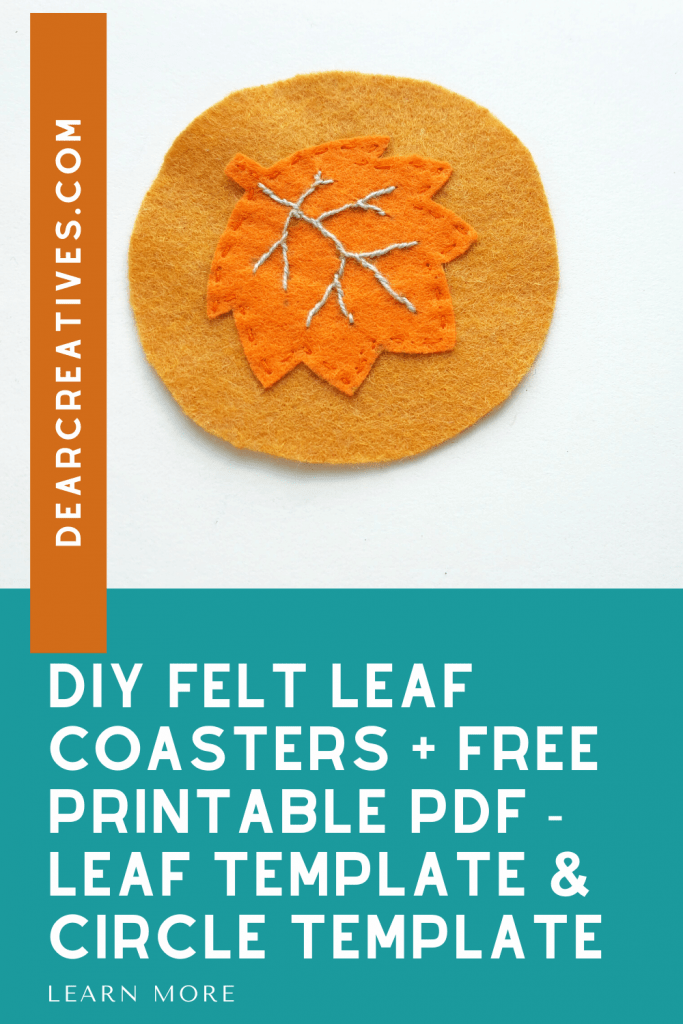 I hope you enjoy making this easy sewing project with felt! Happy Crafting and Making!
New here? Be sure to Subscribe.
Pin it for Later
DIY Coasters To Make