Is anyone else ready to shake off winter, get outdoors, and start traveling again? There is nothing worse than having cabin fever. We love taking day trips to the beach especially when we can't get away for weekenders, or full-fledged vacations. How about you? Are you ready to plan your spring break travel or next vacation? One of our favorite spots for hanging out, and hiking on the beach is in Cambria, California. Today we are sharing our beach travel essentials, and our day at this must see beach.
At Moonstone beach there is a walking path along the top of the bluff that follows the shoreline for about a mile. You can head down to the shore, with a stair ways at several points. You can either hike to the south or north on the beach. South, you'll find a water way running into the ocean, and a more sandy section.
Travel Style
We packed up our eco-friendly, Marine Life Tote's Sea Bag
. Then headed to Moonstone, beach in Cambria. At the beach the north, are rocks everywhere for hiking, or climbing up along that side of the beach. There are also lots of rocks in the water making tide pools area, for exploring. We love searching the beach for rocks, and shells the tide brings in.
Do you want to make it to the beach faster? Plan a trip, and pack your bag faster! Know the key items you should have for your trip. Lay them out, and select the perfect bag to fit them all in. We share our essential beach day packing list below.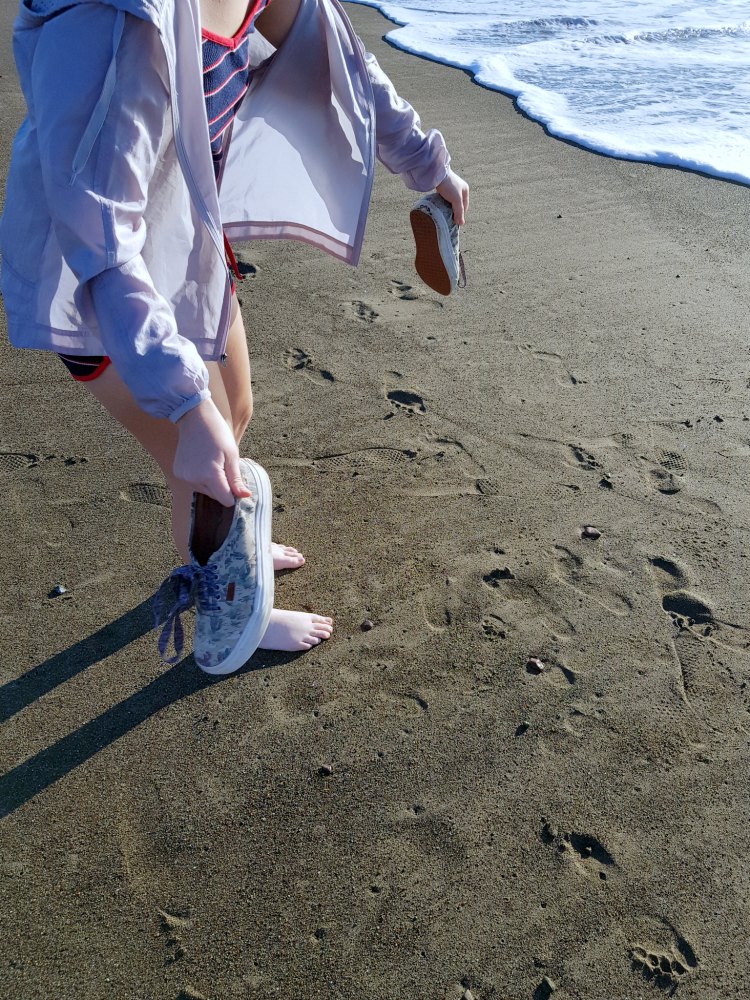 It never fails no matter how old you are the first thing to come off are the shoes, and feet head straight to the water.
When we headed out, we planned to be there a few hours before heading into San Luis for some shopping.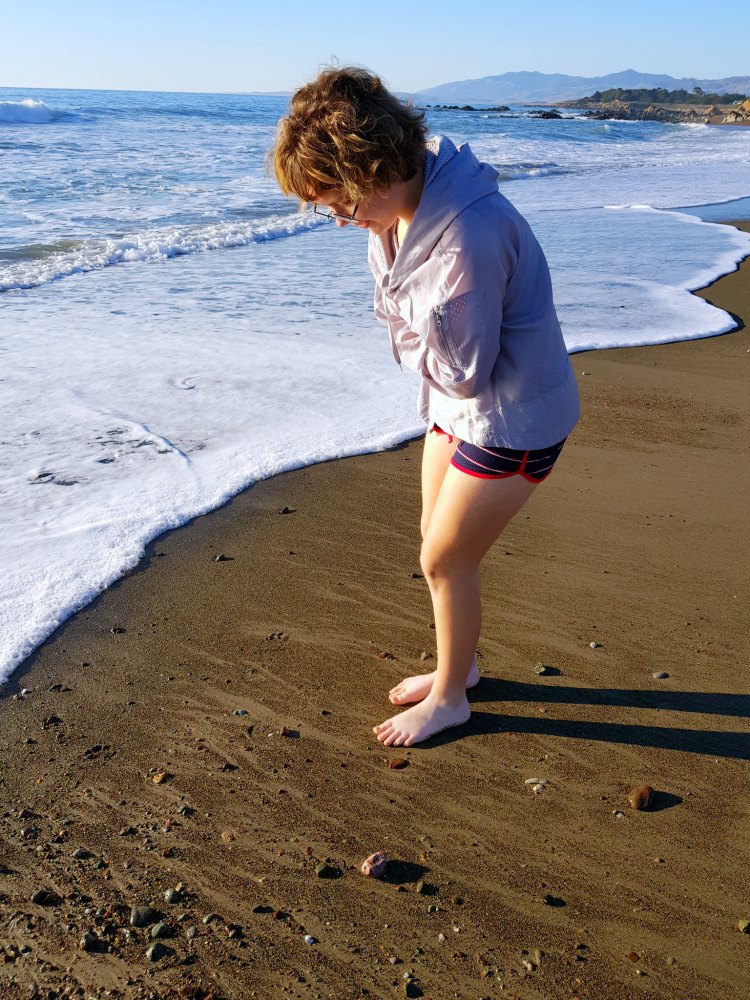 But, it was so beautiful that we put our bag down, and just kept walking the shoreline collecting rocks, and shells.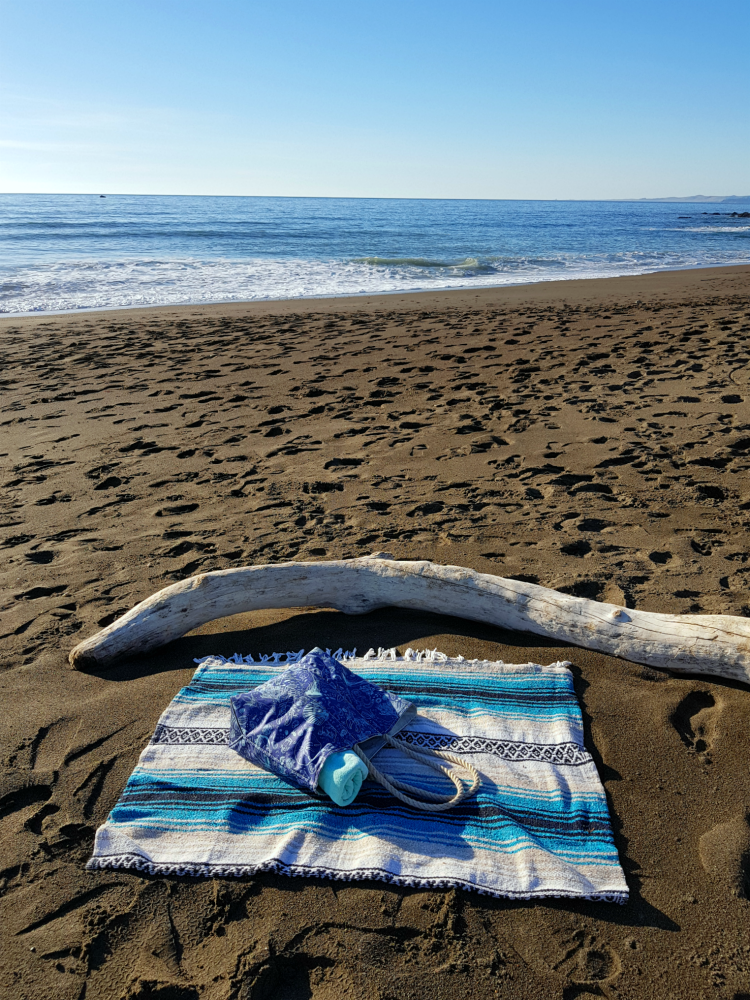 Enjoying the beautiful sunny day. We spotted wild life like sea otters playing in the water, and seagulls flying about. We love spotting sea life, and care about our ocean waters, and beach. It's our happy place. Where is your happy place? Where is your favorite travel spot?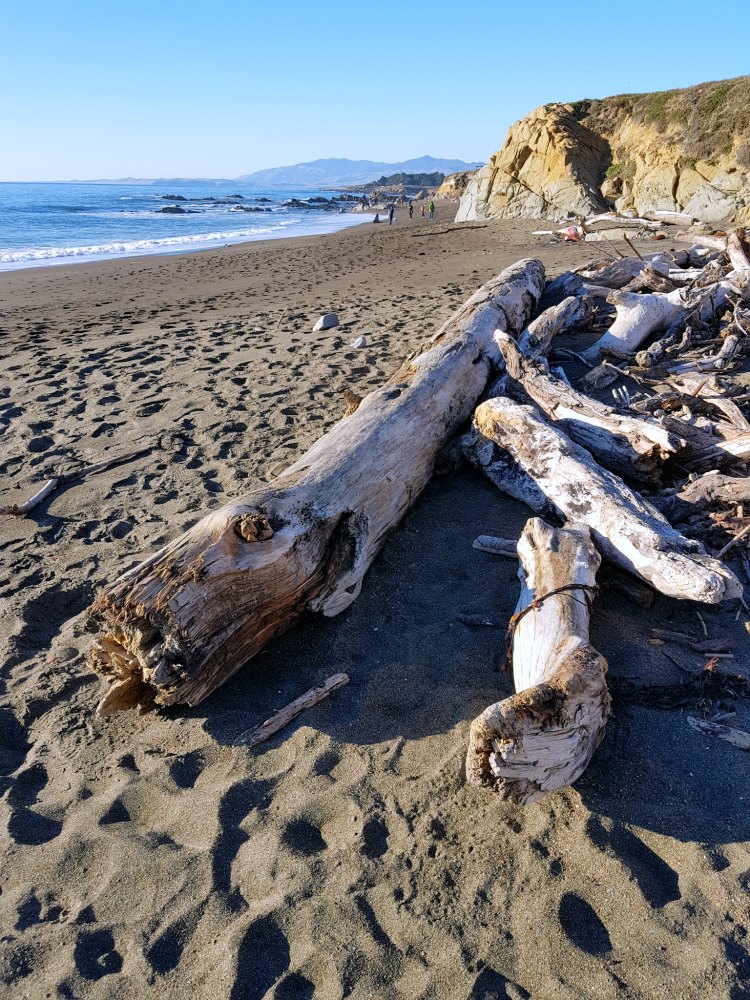 There was driftwood everywhere from the recent storm, and high tides. Forts, and other structures were built with the driftwood.
We unpacked, and packed our beach blanket back into the marine life, nautical handcrafted bag several times, as we headed north up the shoreline.
What to pack in your bag for the beach?
Beach towels
Reusable water bottles
Snacks
Beach blanket
Windbreakers
Camera
Car keys, cell phone
Sunscreen
Hand sanitizer
Cosmetics, stow away in our bag for touching up before hitting the town.
Having these essentials are a must for traveling to the beach. Keeping them with you is important. Having the right travel bag is an essential too. I love that our Sea Bag, has a little slot for cell phones, keys, and lets us travel in style. We usually keep a heavy pull over or jacket
for if the fog rolls in, and our in a pickle
in the trunk of the car for emergencies. (A must if you have kids)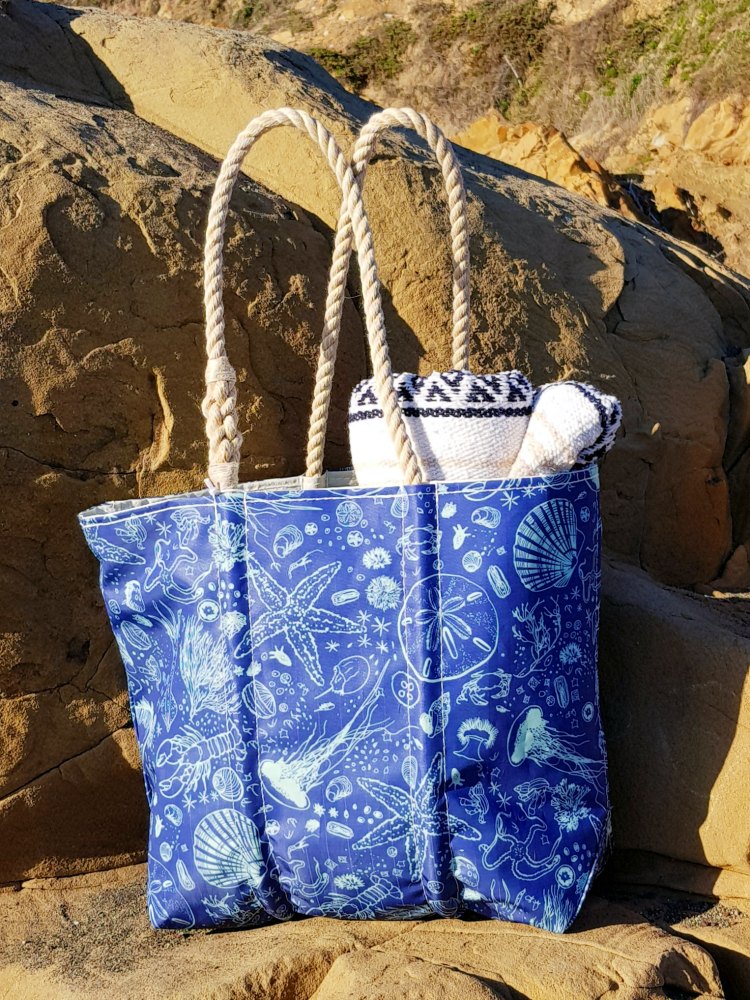 Unless we are close by we don't leave our bag alone. We take turns carrying it as we go. Having a bag that you can grab stuff out of, pack up, and carry around easily is a must. We pack out what we take in.
We ended up being there until sunset. See our other beach, travel and behind the scenes, plus more California travel photos on our Instagram. Are you ready to pack up a bag, and get outdoors? To the beach? Sailing? Traveling? If you haven't traveled here yet add Cambria, California to your bucket list. Hearst Castle is right up the road and another don't miss destination.
Need a bag for traveling or the beach?
These travel – beach bags are quality handmade bags made from recycled sail cloth. This makes them an eco-friendly choice. We received ours to try out for free. We love how easy it was to shake the sand out of the bag. It easily held all our beach supplies with it's big bucket interior with reinforced stitching.
The products are Made in the USA
Ready to see all their styles for traveling? You can find their travel styles here: SEA BAGS
New here? Be sure to subscribe.
What else we love about Sea Bags? At SEA BAGS
, "recycled" and "sustainable" are not afterthoughts. They are the cornerstones of their brand. Their products are upcycled from used sails. They use eco-friendly inks and develop innovative solutions for reducing scrap. Which is good for our planet, oceans, and beaches. We are committed to caring for our California coastline for all to enjoy. Remember to pack your trash out when your visit.
What California beaches or sites are on your must see list? We will update you on our California backyard and back road travels soon.
Are you traveling anytime soon?