We love trying new grapevine wreath ideas, and decided to try a Magnolia market inspired Farmhouse Wreath DIY. Today's farmhouse wreath is the classic white, and green.This grapevine wreath packed with pretty white florals, and a bit of sparkle. Because that's just how I roll. I love sparkle.
Farmhouse style evokes a neutral, and simple style that is very pretty. Starting with lots of greenery such as magnolia leaves, eucalyptus leaves, bay leaves, or olive leaves. I'll share a few ideas to spark your creativity. Although today's DIY doesn't have step by step images, we take you through the steps to make your own with a video tutorial.
Farmhouse Wreath DIY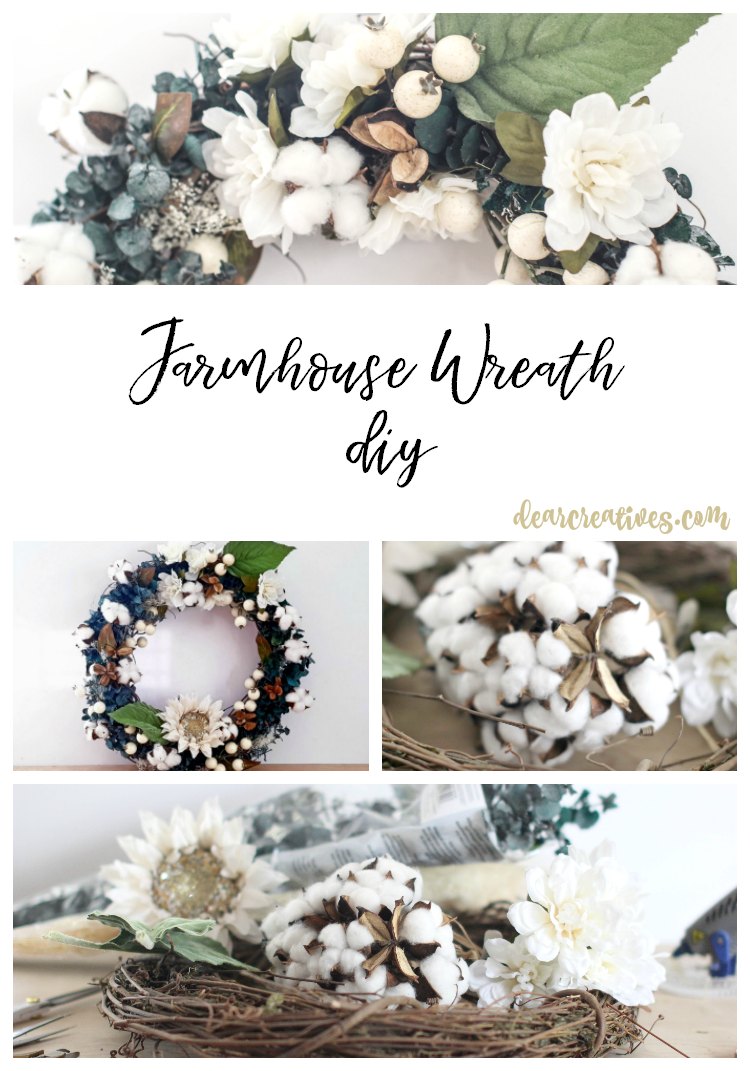 Grab a few floral supplies, set aside about an hour or two depending on your skill level, and you can create a wreath just like this.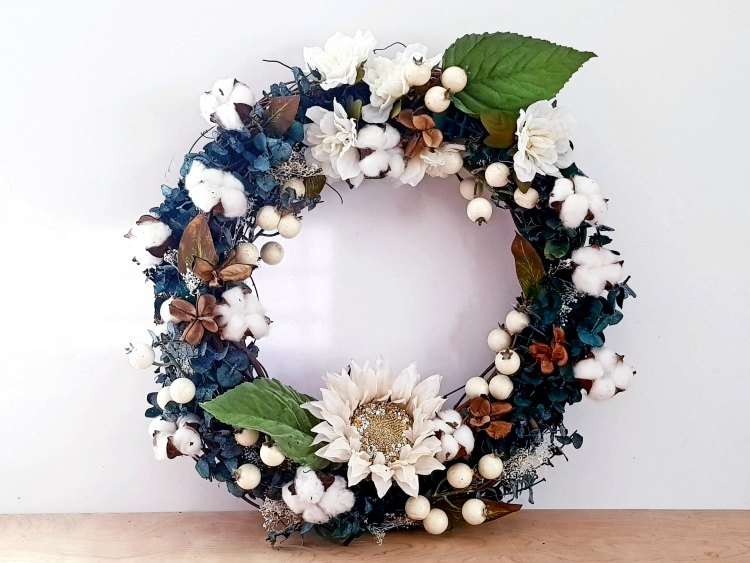 You will need a 18 inch grapevine wreath. Cotton bolls, eucalyptus leaves, a silk flower or two, glittered daisy, and a couple of sprays with white balls on them.
Remember to start by making, and adding your wired hanger to the back. Or opt to use a wreath door hanger if not going onto a wall.
I really think the cotton bolls add that farmhouse feel to the wreath. You can carefully take apart the bunch placing them throughout your wreath.
The traditional Joanna Gaines Farmhouse style wreaths are made with Magnolia leaves. You can start with a pre made Magnolia wreath, and add your other floral supplies to it if you prefer. Note, the same vender has magnolia leaf garlands. You can even hang them without decorating them if you like a really simple look.
If you are just getting started with wreath making you will need these basic tools to make wreaths.
Scissors
Wire cutters
Tweezers
Hot glue gun, and hot glue sticks
Pliers
Floral wire
visit this page for these supply resources, and more DIY, step by step resources if your just starting out.
How to decorate a grapevine wreath farmhouse style
After grabbing all your supplies, heat up your glue gun.
Wire your hanger on the back.
Add your eucalyptus to your grapevine wreath, tie down with wire, and hot glue as needed. This is your base.
Determine your focal spot for a bow, or in our case we used a gerbera 9 inch daisy flower. Set it into place.
Then start adding your cotton bolls, white sprays with balls, and add in your fillers.
When you like your placement hot glue all your floral additions to your wreath.
As needed add more eucalyptus to your wreath.
Be sure to step back when your working on your wreath. Hold it up or set it up to see if everything is balanced, even step further back.
Add finishing touches.
Now, your ready to gift or hang your

home décor DIY

farmhouse wreath.
Video tutorial further down in this post.
You can grab cotton bolls occasionally at the craft store, or pick a spray, swag, and even wreath off Amazon, and with Prime pay no shipping.
Other supplies that are nice for filler are dried bleached white babies breath (a cheaper alternative is artificial baby's breath but, it has a very different look ). I don't know the name of the white big berries, these are the closest thing to the white berries I could find online but, they are smaller. They come in bunches, and could work.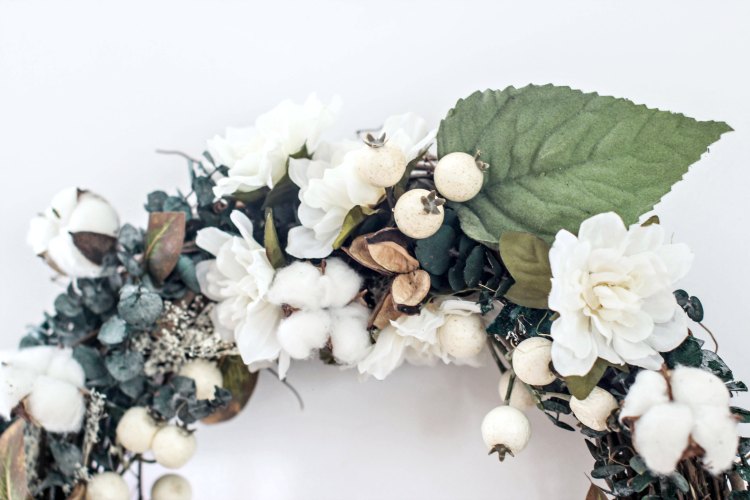 Another thing I love that would work are lotus pods. They are super pretty in wreaths.
Tips for sourcing floral supplies: Besides Amazon I occasionally check the clearance area at the craft store, and if visiting the city stop by floral supply centers.
DIY Farmhouse Wreath Video Tutorial
No matter if you make this wreath for yourself or someone else I'm sure you'll love it. I don't know if I mentioned my daughter Jen opened her own hair studio. Hollar, beauty lovers. I made this wreath for her to hang at her salon.
I can't wait to share a few more details, and photos of her salon. It's so chic. It's called The Blossom Salon, and is located in Sebastapol, Ca. Ladies if you are getting married, or know someone who is you need her for your hair, and makeup. Check her out on FB JustJenniStyle and, The Blossom Salon. You'll find her on Instagram too. She's been featured on big wedding sites, magazines… I couldn't be more proud of her leap of faith into owning her own business. PS. She can travel to your destination.
Want to make your Rustic Farmhouse Wreath later?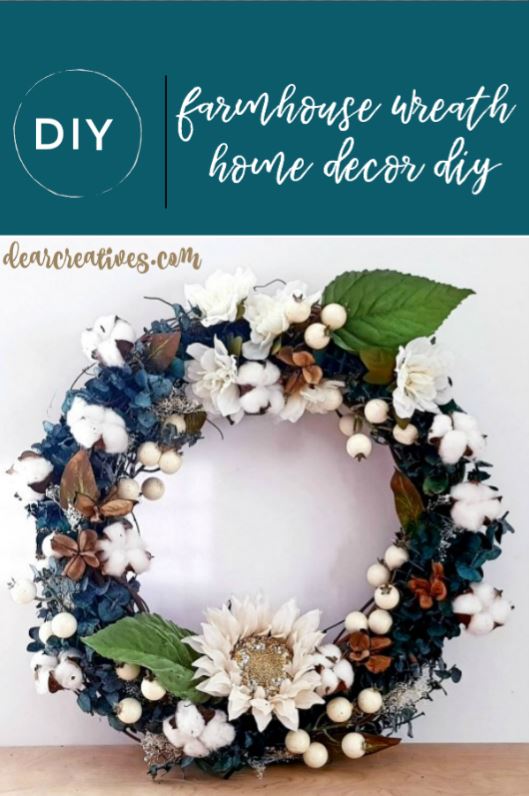 Do you make seasonal wreaths?