This homemade chicken soup is delicious, flavorful, and comforting! It's good for you if you are sick. Or just craving a good bowl of soup to warm you up!
Easy to make – cook this soup any night of the week. And it is simple enough any novice cook can make it. Chicken soup is good for when you have a cold or flu symptoms.*
Are you looking for something else to cook? Check out all our Soup Recipes.
Homemade Chicken Soup
This chicken soup recipe is made with chicken broth, chicken, carrots, celery, onion, potatoes… It is so easy to make this soup with chicken. Simmer the soup on the stove. When it's done ladel the soup into your bowl. Serve it with crackers, biscuits, or rolls.
Affiliate links may be included in the post. By clicking the links for qualifying purchases we earn a small commission. This is at no additional cost to you.
Chicken Soup Recipe
Ingredients
4 carrots
4 stocks of celery
half of a large onion
5 cloves of garlic
Fresh thyme
Fresh Italian flat leaf parsley
2 tablespoons of butter
2 tablespoons of olive oil
3 russet potatoes (or other potatoes)
1 pound of boneless, skinless chicken breasts
salt and pepper (to taste)
Noodles (

egg noodles

, bow ties…) *optional
Kitchen Tools
Cutting Board (I like the dishwasher safe ones)
Chef Knife (My chop wizard saves time. Plus, it gets veggies all the same size. I didn't chop my potatoes, garlic or parsley with it. I used it for my onion, celery and carrots.)
Instructions
How to make chicken soup
Wash and chop the vegetables (I use a vegetable chopper like this).
Wash, peel, and chop the potatoes. (Put them in a bowl of cold water. Until the recipe calls for them to be added.).
Peel and mince the garlic.
Finely chop the fresh parsley. (Reserve until needed).
Saute the carrots, celery, onion. Add in the minced garlic and saute a few minutes longer.
Add the two boxes of chicken broth into the stock pot with the sauteed vegetables.
Next, add the prepared potatoes (drained) and uncooked chicken breasts to the stock pot.
Add half the parsley into the soup. Along with several sprigs of the fresh thyme (You may string them together. I don't I just pick out the twigs after cooking).
Cook until the chicken is done. With the stove on simmer. Pull out the chicken and cut it up into bite-sized pieces. Return the cut chicken to the soup pot.
If you want noodles with the chicken soup cook 2 cups of noodles in a separate pot of water according to the directions (al dente). Drain and rinse them, and spoon the noodles into the bowl. Ladel the soup into the bowl over the noodles.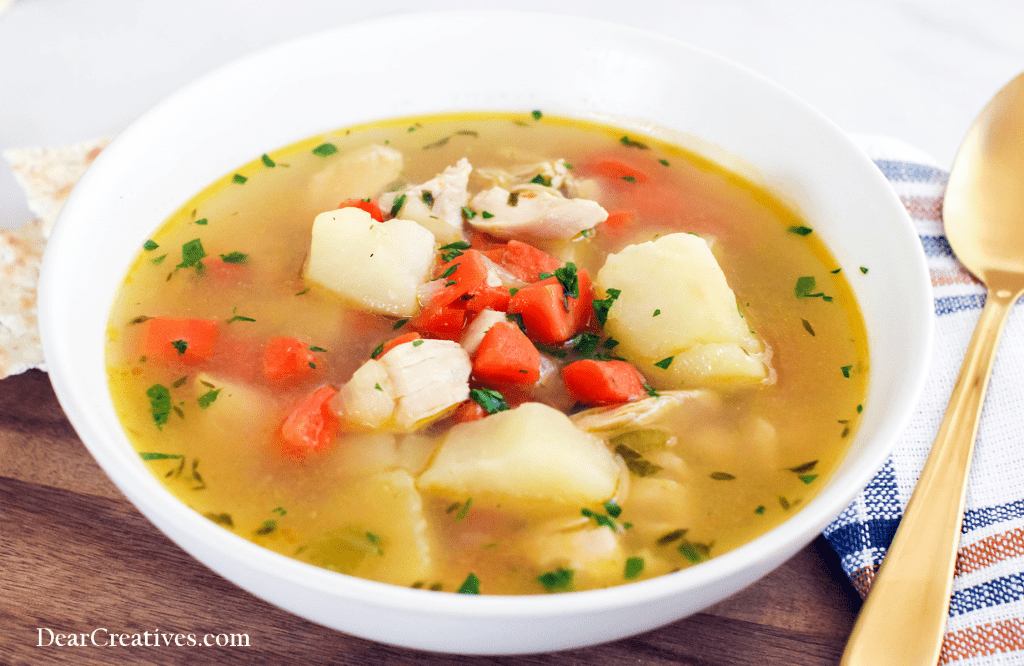 Cook your chicken soup with or without noodles!
Half of my family likes noodles in the soup, the other half without. Either way, enjoy this homemade chicken soup. Serve it with crackers, bread, or rolls. *(health benefits of chicken broth…)
New here? Be sure to Subscribe. Grab our bonus printable recipe binder and cooking resources. Plus, never miss a post with our newsletter!
Don't forget to Pin it for Later
Print the recipe for homemade chicken soup!
Looking for more homemade chicken soup recipes to try?
Try making any of these Chicken Soup Recipes