Heading into spring we are watching spring fashion trends. Ladies get ready to wear shorts, skirts, and lighter jeans. Five casual spring outfits to fit into your lifestyle, and colors you'll want to wear this spring.
Casual Spring Outfits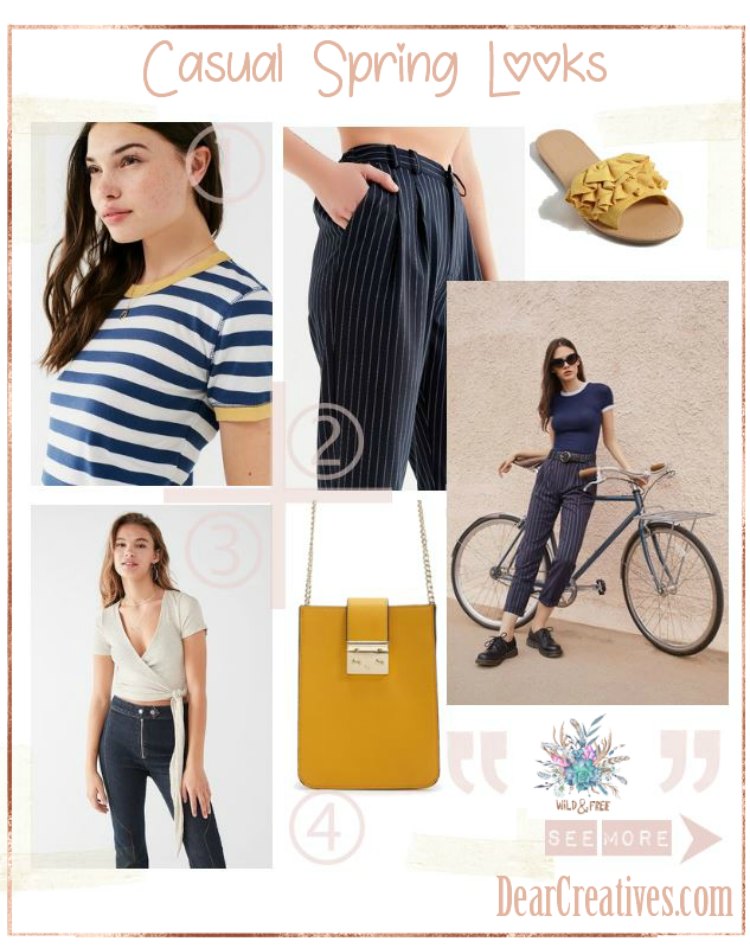 Crew Neck Tee | Wrap Tee | Striped Pant | Ruffled Sandal | Crossbody Bag
As California girls know all too well that you need to layer. Mornings start out cold or foggy, sun pops out, and then it can heat up 30 degrees. What does that mean for your every day fashions? You need to layer. If you live back east, I know you might have to wait a bit longer for spring, and to pull out the shorts. But, it's nice to see what you can look forward to wearing.
Two of today's looks are for under 30, and two for the over 30 crowd. But, honestly I am believe age is just a number. You should wear what looks good, and feels good on you. Do you follow fashion rules? Or try on things until you find your perfect style?
What colors are on trend this spring?
Olive colored outfits
Pull Over Sweater | Cargo Shorts | Backpack | Canvas Chuck Taylor Sneaker
What's missing from this outfit? A white tee shirt. Why we love this outfit? Easy to wear, casual, everyday fashion look. Sammie loves wearing cute spring outfits for school. Her favorite sneakers are her Vans.
Mustard Colored Outfits
Henley Tee | Walking Shorts | Baggu Flat Tote Bag
I've always been a sucker for mustard. Do you love it? Wear it? Yellow = Cute fashion ideas.
Navy colored outfits
Button Down Shirt | Ruffled Flats | Striped Shorts | Mochella Backpack
Just because your a mom doesn't mean you can't have style. I love picking one or two quality outfits to mix, and match throughout the season. Add a tank top, top with a sweater or jacket. You will be pretty much ready for heading out to lunch, the park with the kids or the boardwalk.
Lavender colored outfits
Romper | Hoop Earrings *gold | Hoop Earrings *silver | Metallic Buckle Sandals
I love the ease of tossing on a romper especially if heading to the beach or park. Layer with a slouchy sweater or just grab a wind breaker. This is my favorite style fashion for spring, and summer.
I wear jeans year round. Do you?
Spring weather equals leather sandals

Here's just a few cute sandal ideas that caught our eye. I am all about investing in a good sandal that will last, and be comfortable. Yes, flip flops work but, really I like to keep those for the yard, and beach.
Urban Outfitters Cleo Wrap Sandal
Sydney Brown Vegan Platform Sandal
Birkenstock Mayari Slide
Birkenstock Arizona Mono Slide
Bamba Europa Leather Avarca Sandal
Birkenstock Gizeh Sandal
What styles or fashions, and colors are you looking forward to wear for spring?
New here? Don't forget to subscribe
See our day at the beach, along with tote bag, travel bag must haves. (here)