The Mid State Fair is open this past week and through July 30th. If you live in the San Luis Obispo or Paso Robles, California area you know that this is the place to go for entertainment, food, drink and fun! 12 full days of fun. Today we are sharing a few insider tips for having fun at the fair this year or planning your next travel trip to the fair.
California Mid State Fair
Typically it's hot here in Paso Robles during fair time. But, we aren't complaining about the fair weather this year. It's just amazing, which makes it even better for getting over to the Mid State Fair. That is just what we are doing this week. Be sure to follow us on social media for updates of it all. Pack your shorts, skirts and light clothes, just don't forget a sweater.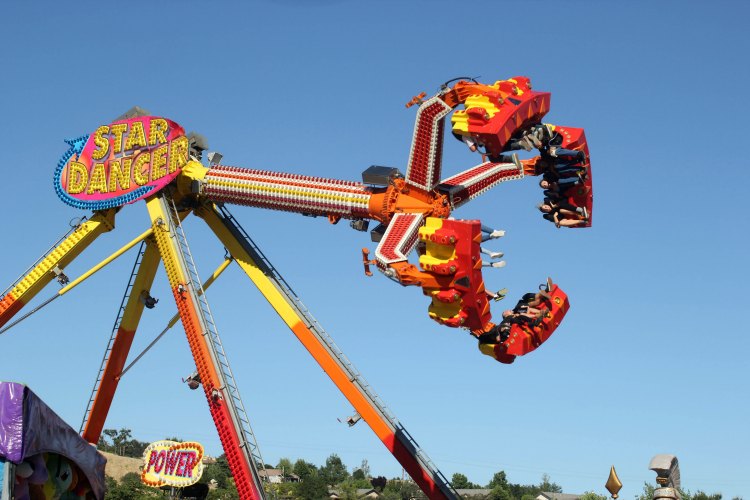 Rides at the Fair
We arrived early for an afternoon of fun and stayed after the music concert we planned on seeing. We loved that in the ride section there are fans with benches nearby for taking breaks and also fans with misters for when you get really hot. Just walk past the cool mist.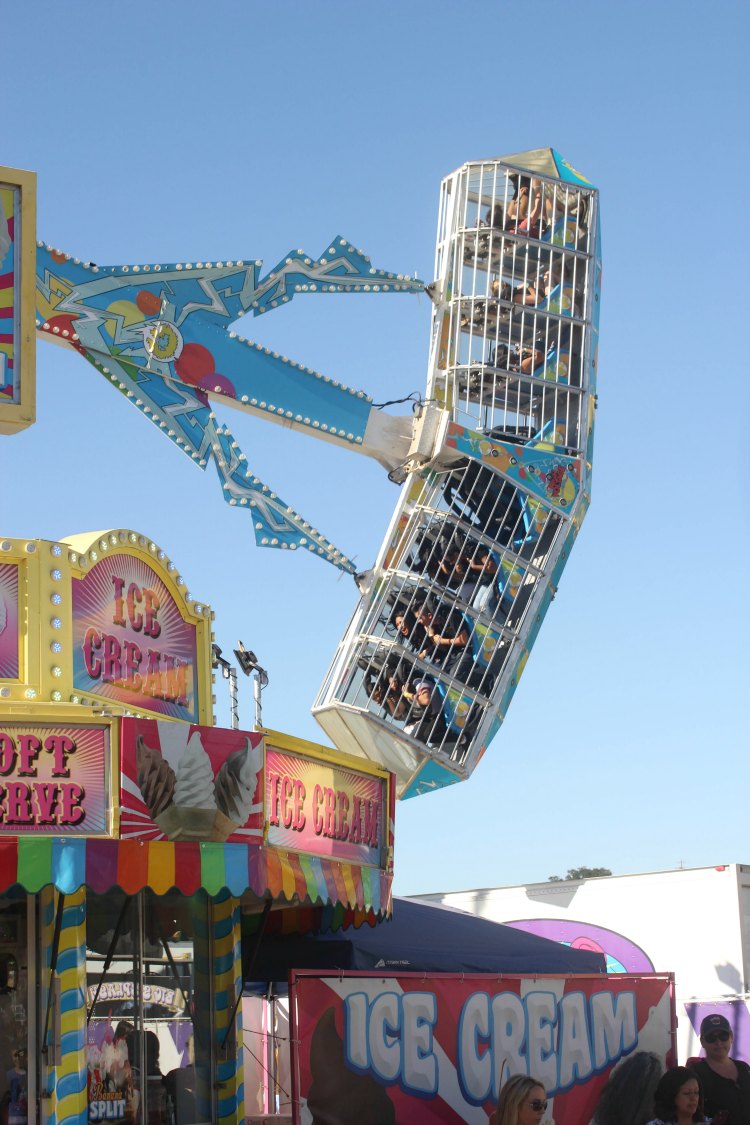 This year there is a new rides vendor with a few different rides than previous years and they don't disappoint.
Day or night you'll enjoy either thrill rides or the milder fun rides or a visit to the kids section. I gotta say, no spinning rides or upside down rides for me.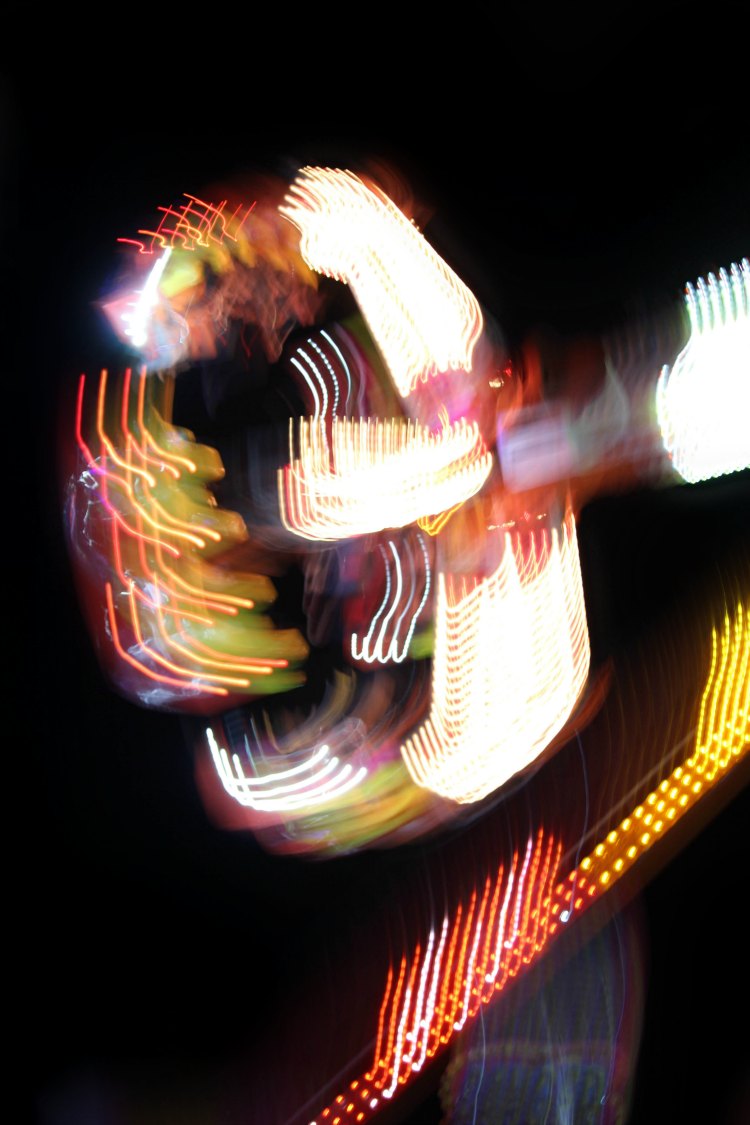 Above is the Star Dancer thrill ride at night.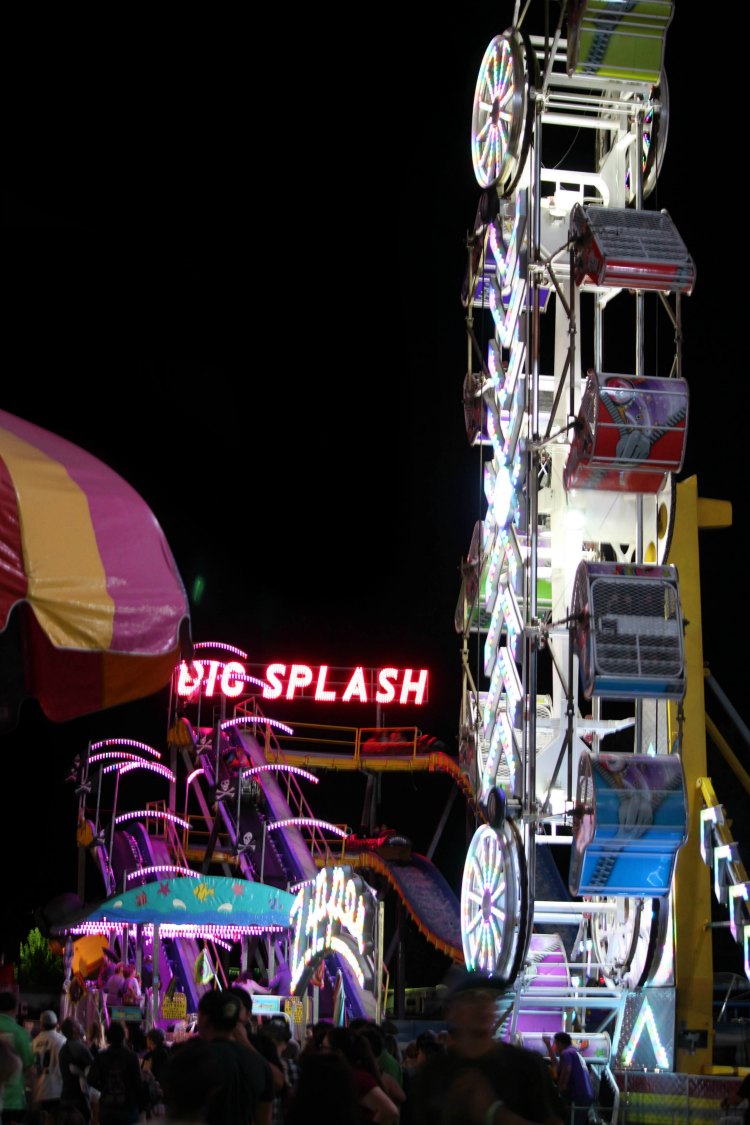 Sammie purchased her own bracelet from her soccer club fundraiser and rode all the rides, all day and into the early evening. Her favorite ride was The Zipper. Her tips for ride fun, head over before you eat. If you get to the fair around 12 pm Sammie said, "the wait for rides weren't long." But, in the evening you'll be waiting in the lines for popular rides for the zipper. Either way, it's great fun.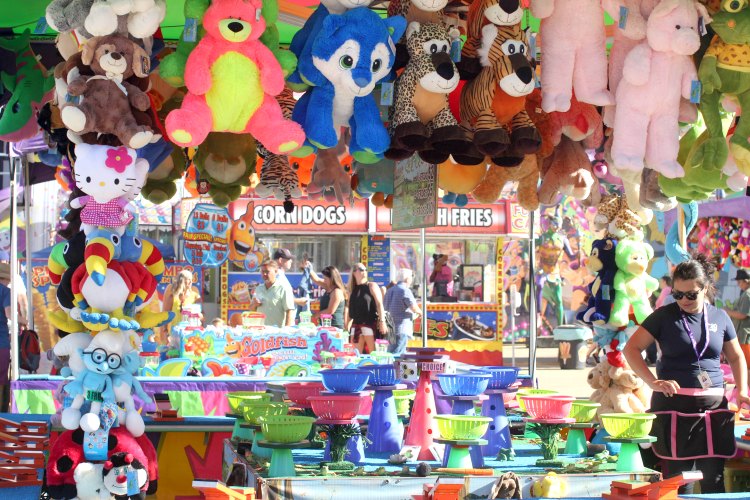 You'll find rides for everyone and the standards too such as The Slides, Swings, Merry-Go-Round, and Ferris Wheel. Don't forget there are plenty of fair games. Pop balloons, toss balls….. Maybe win a prize?
The little kids section is nearby the south entrance. You can purchase tickets or ride bracelets the latter being more cost effective.
I love walking the area at night and seeing the lights all lit up, and action of the rides.
Walk The Fair Midway

When you walk the midway you'll find food and drink vendors, and other things such as this artist. We enjoyed watching @ArcyArt doing his spray paint art at the fair. You'll find various panels he has done and they are quite vibrant and amazing.
Exhibits at the Mid State Fair
Earlier in the day we walked around the fair exhibits enjoying the arts and crafts, bug exhibits (neither of us wanted to try eating bugs but, you can) and of course no trip is complete without walking through and seeing all the vendor exhibits.
Sammie added to her fashion collection with a light cotton Indian print pants, she purchased. I'll have to have her model them later. The vendors are varied. From fashions to your typical mattress or pillows, spas, leather purses, swings and jewelry. The parks department has a vendor booth with information about all our local parks, which is perfect for seeking out more fun things to do in the area. There is at least two if not more buildings of fair shopping.
Concerts at the Mid State Fair
This year we got a media pass and headed to the John Mayer concert. Shows start just before sunset and then when the sun sets the stage lights come on for the shows, making for some great visuals with your musical entertainment. If you don't eat before heading into the concert you can get kettle corn ($8 bag), cotton candy, and pizza ($13 small) There are two bars to purchase drinks from inside the venue.
The opening act for John Mayer was The Night Game from out of Boston. I bet we hear more from this up and coming band. *event calendar schedule at bottom of post for entire headline entertainment. I love this video that was made for the fair by the The Night Game.
I wish we had been a little closer for my concert photos or I had an even longer distance lens to grab more shots, these were taken from section C grandstands, which is center back in the arena. No matter where you sit you'll hear and see the concert just fine. We've sat in various sections and up front before.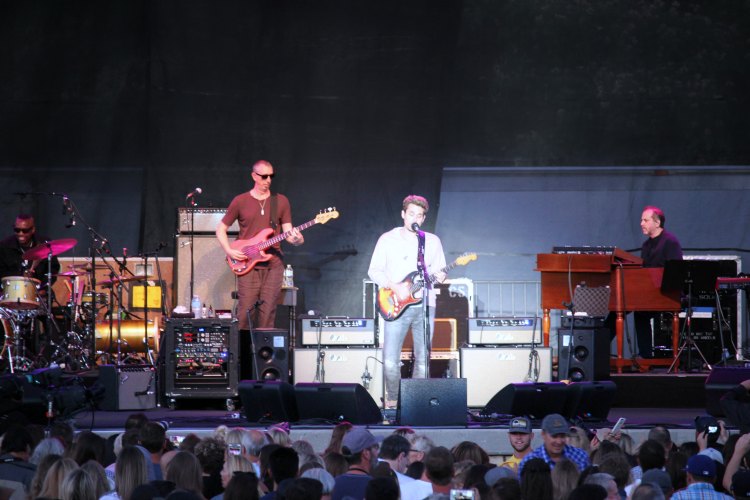 I have seen John Mayer in prior years at the fair. He always has an amazingly talented full band with back up singers. We really enjoyed seeing him perform. He even takes time to joke, talk about his past, how life is a journey and his music reflects much of it.
He is a musical artist that we enjoy seeing over and over again. So we were happy to see him in the line up of concerts this year.
What concerts have you seen at the fair?
Tonight is The Band Perry with Hunter Hayes kicking things off and 7-26 Keith Urban. Grab your tickets early to headliner shows, some of the bigger music artists and shows sell out quickly.
Agriculture Exhibits
I must admit we didn't hit up the animals and 4-H areas, or ag shows.But, maybe next time. Finishing up this week are the Country Rodeo Finals (Saturday) Fiesta Del Charro Rodeo and Tracker Pulls (Sunday) *see event calendar link below to find out more
Pick and plan your days, entertainment and free shows. You will have a great time at the Mid State Fair.
We have a few insider tips for you if it's your first time visiting the California Mid State Fair.
You can park nearby at various lots $$ bring cash. Or take a shuttle over. Or even call an Uber driver.
Strollers are available for rent (single and double)
Be sure to bring your own bottled water or purchase at the fair $$ ( you can bring up to 2 unopened plastic bottled waters)
Bring a light sweater, sweat shirt or light jacket for nights. If you are heading to a concert or staying to ride the rides.
The fair is open until midnight. Sometimes it can cool down rather quickly (up to 30 degrees cooler than day time temps. and occasionally the fog may roll in.
You are subject to search at entry for keeping the fair safe (not even a pocket knife is allowed)
Plan to eat fair foods? Drink? Bring cash, although some vendors may take credit cards. (I did see an ATM is available on midway)
To find out more see the Mid State Fair's frequently asked questions and faqs.
As far as tickets there is the entrance fee ( Child 6-12 $8.oo Adult's 13-61 $12.00, Seniors 62 and over $10.00) which includes many free concerts, some stage entertainment and ability to go to local food vendors….For headlining entertainment see the event's calendar below.
Be sure to pin this post and these tips for when your headed to the fair or planning a trip for next year if you don't live close by.
New here? Be sure to subscribe and never miss our posts.
Have any tips or insider tricks you know of? Be sure to leave a comment with them or tag us on social media @DearCreatives #MidStateFair
What is your favorite thing about going to fairs? Have you ever been to the Mid State Fair?