PRINT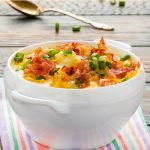 Homemade Potato Soup
Homemade Potato Soup is an easy 30 minute soup recipe. This recipe is a crowd pleaser.
wash and scrub all your vegetables

7

big russet potatoes

1

yellow onion

3

garlic cloves

3

celery

mini carrots or regular carrots

half a pobalno pepper

optional

half a red bell pepper

half a yellow bell pepper

Other ingredients you'll need

1

cup

milk

half a cup heavy cream

3

tablespoons

flour

2

tbsp.

butter

1-2

tablespoons

olive oil

salt

pepper and Cajun Spice Mix

2- 32

ounce

chicken broth
Optional toppings
Grated Cheddar Cheese

Bacon bits
Wash, scrub, and rinse off potatoes.

Then peel potatoes and chop into bite size pieces.

Place in cold water until needed. Drain off cold water before adding to soup, after adding broth.

In a non stick skillet:Sauté your chopped onion, garlic, celery, carrots, poblano pepper, red bell pepper in 2 tablespoons butter, 1 tablespoon olive oil.

When onions are translucent add the 2- 32 ounce boxes of chicken broth.

Add chopped potatoes

Add spices (dash of salt, cracked pepper, and 1/2 teaspoon Cajun Spices

Bring to boil

Reduce heat to low/simmer

After 10 minutes mix flour with milk, and cream. Temper by adding a few spoonful's of broth to the bowl, then pour into pot of soup.

Then cook until potatoes are tender about, 10 more minutes or slightly longer if needed.

Serve with sides of grated cheddar cheese and chopped crispy bacon
Serve with sides of grated cheddar cheese and pre cooked, chopped crispy bacon.
Adapted from PerfectPotato Soup