PRINT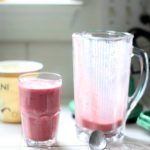 Berry Smoothie Recipe
An easy Berry Smoothie that is perfect for breakfast, lunch or snacks. We enjoy Berry Smoothies in summer for a dinner on a hot day. Refreshing, delicious and healthy.
First add the apple juice, frozen berries and Greek yogurt to the blender. Next add ice and blend until smooth.
This will make one full 16 ounce serving plus a small glass. Approx. 24 ounces. But, might vary depending on the size of your glassware. If you are milk intolerant substitute the yogurt with half a banana.