Easy Grinch Krispy Treats – Are you looking for Grinch ideas? Or a fun and tasty holiday movie night treat? These Grinch Krispie Treat Cookies are easy to make and perfect for eating while watching movies like the Grinch That Stole Christmas! Or have a holiday Grinch party…
Making Grinch Krispy Treats is so easy. They are semi-homemade. You can also use the steps to decorate Grinch treats after making homemade Krispy treats too.
Affiliate links may be included in the post. By clicking the links for qualifying purchases we earn a small commission. This is at no additional cost to you.
Grinch Krispy Treats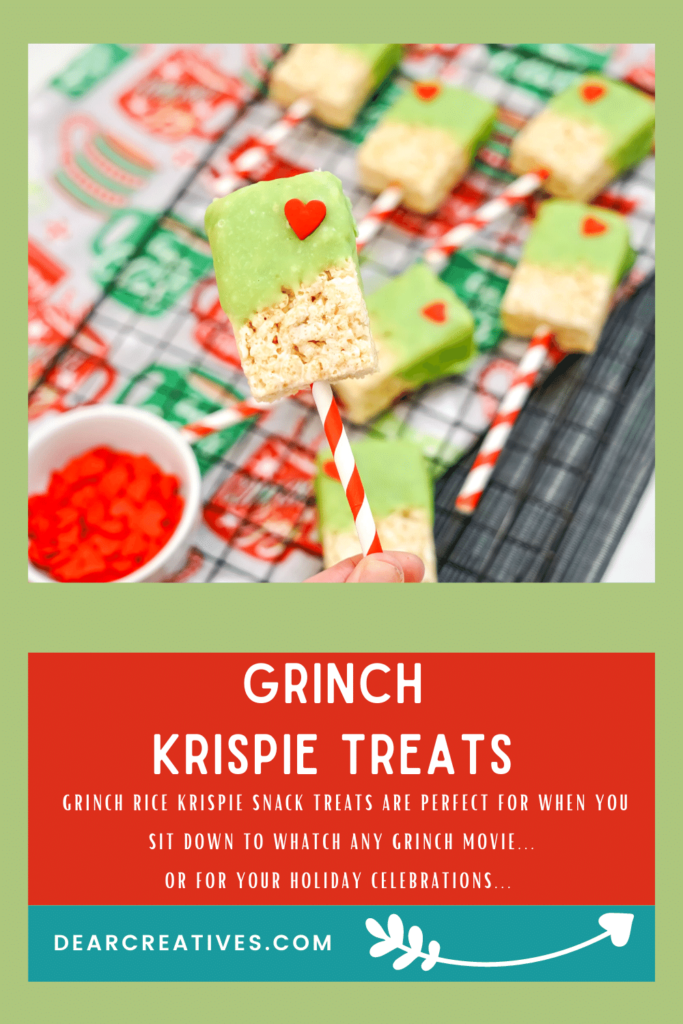 These Grinch Rice Krispie Snacks are perfect for when you sit down to watch any Grinch movie, to serve when you do Grinch crafts, and for your holiday celebrations…
Grinch Rice Krispie Treats
You can make these by starting with purchased Rice Krispie Bars or by making the Rice Krispie Treats from scratch (I always use the original Rice Krispie Treats Recipe). Decide which way you prefer and follow the tutorial for decorating the Grinch Krispie treats.
Supplies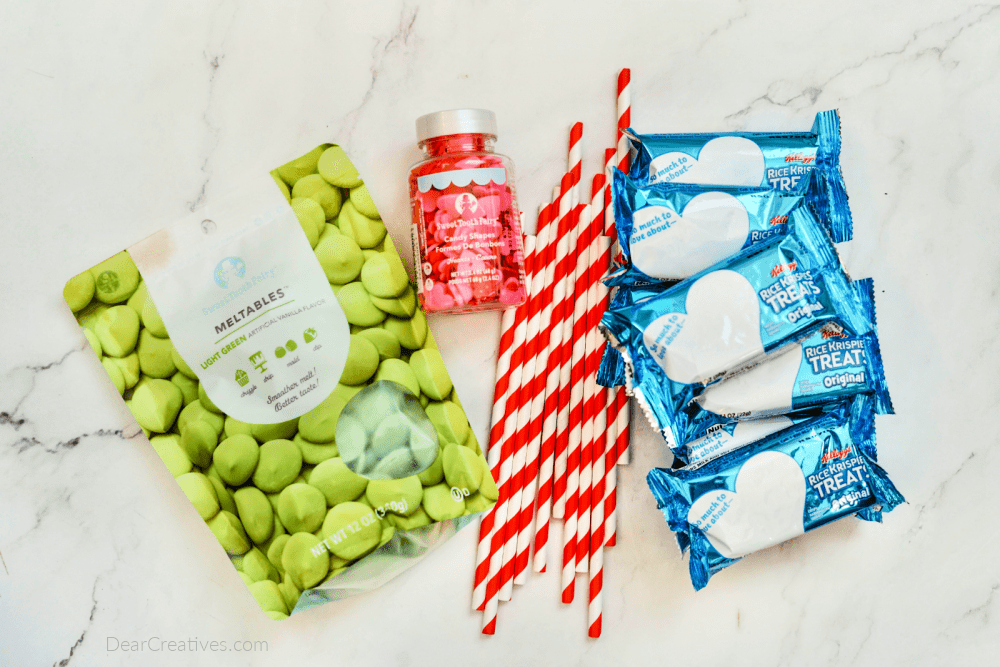 You could also decorate them with these festive Grinch Sprinkles. They do have hearts in them too.
How To Make Grinch Krispie Treat Pops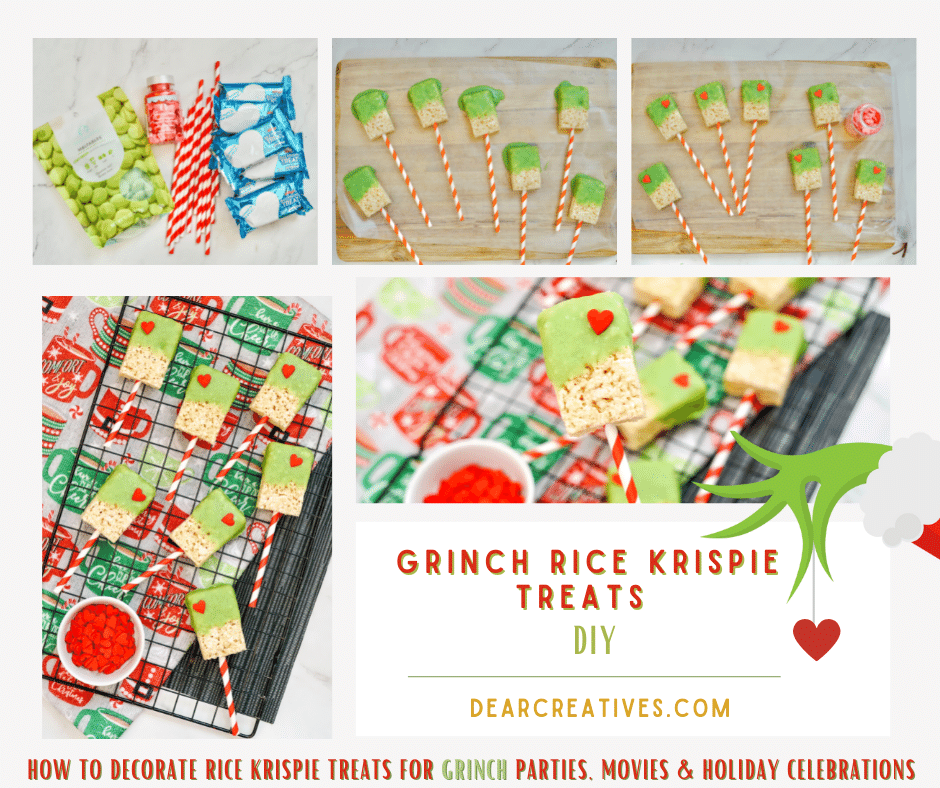 Unwrap the Rice Krispie Treats.
Or make and cut homemade cooled Rice Krispie Treats, cool and cut into rectangles.
Prepare a surface to lay the decorated treats. Lay out wax paper onto a cookie sheet, cutting board, or under a cookie cooling rack. Or other clean surface (to catch any melting chocolate as it dries).
Stick a straw into each of the Rice Krispie bars (at the bottom short side).
Use cooking spray and prepare the bowl for melting the green candy melts. Do this by spraying a microwave-safe bowl or cup with cooking spray. After preparing the bowl pour in the candy melts.
Microwave the candy melts for 30 seconds. Using a hot pad remove the bowl from the microwave.
Spray with a little more cooking spray and place the bowl back into the microwave for another 30 seconds. Keep repeating until the candy is fully melted.
Dip 3/4 of the Rice Krispie Treat into the melted candy.
Place the candy-covered treat onto a piece of wax paper and quickly add a heart sprinkle!
Repeat dipping and adding the heart sprinkle, and adding them to the wax paper, until all are covered.
Let the Rice Krispie Treats sit until the candy has set.
Any Grinch lover will enjoy eating these Grinch Pops. They make fun Grinch Christmas treats to make and eat. They are so easy even the kids can help make them!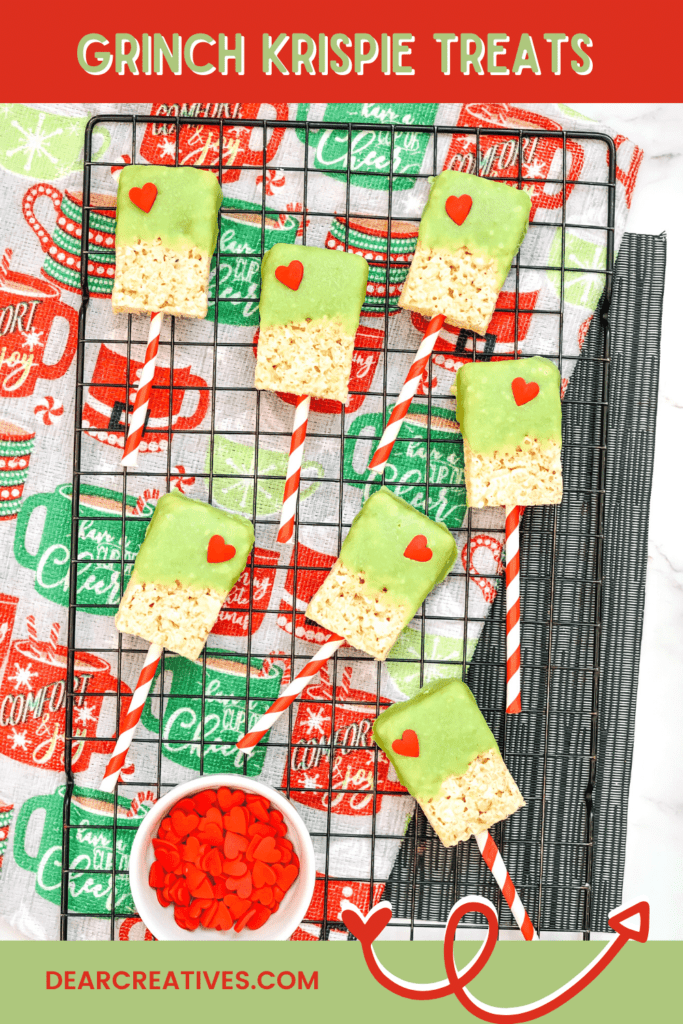 New here? Be sure to Subscribe.
Pin it for Later
Looking for more fun ideas to make or bake for the holidays?
Ideas For The Holidays and Christmas Season!