We made a list of the best summer wreaths. Hang these summer wreaths in your home or use the summer wreaths for your front door decor. Enjoy them all season long. Do you like decorating your home for summer? From beachy themes to fruity themes or flip flops we have you covered.
But, this list is all about pretty summer wreaths. Want to make your own wreath? Be sure to see all our Grapevine Wreath Ideas.
Summer Wreaths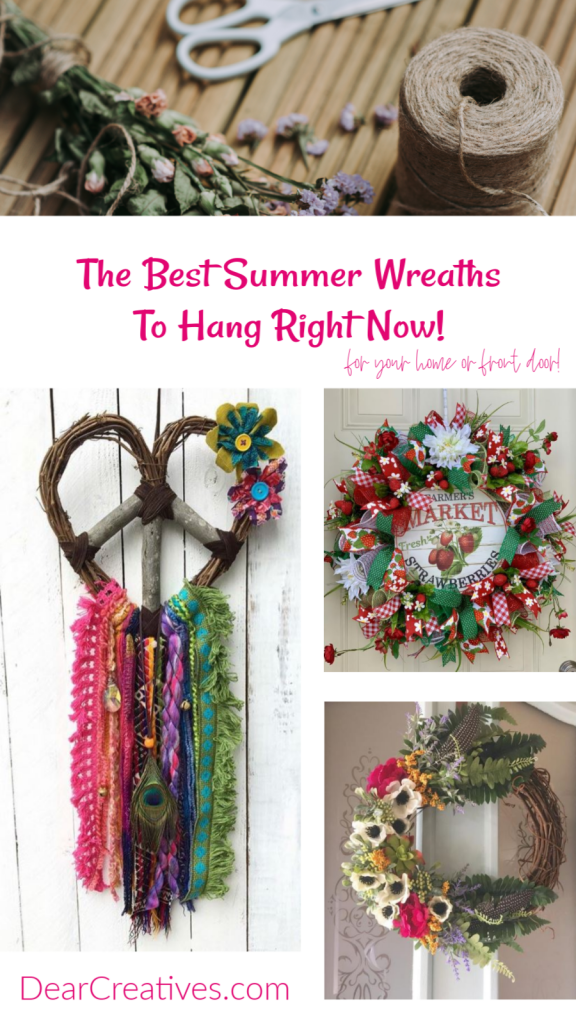 Summer Wreaths To Hang Right Now!
Strawberry Wreath – This Beautiful Spring/Summer strawberry deco mesh wreath is sure to take yours and your guests smile as you and they walk up to your entry door or your wall this spring!
Sunflower Wreath With Buffalo Check Bow – This bright and sunny wreath is sure to add some cheer to any door or space! It is made on an 18" grapevine base, with three large sunflowers and yellow wildflowers, along with ficus greenery.
Fairy Garden Wreath – An adorable little fairy, riding her trusty snail, through her private garden. A great addition to a child's room or just to hang for the summer.
Hello Summer Wreath – This simple and lovely wreath is created with summer subtle color of yellow, red, white, greenery and flowers.
Welcome Watermelon Wreath – A beautiful spring/summer wreath to Welcome your family and friends.
Pineapple Sunflower Wreath – A traditional symbol of welcome, this bright pineapple wreath is made of 2 1/2 dozen silk sunflowers and finished with green artificial palm leaves and a yellow chevron burlap bow.
Beach Wreath – If you are blessed with a home on the beach….or just wish you were, this is the perfect wreath for your front door. This wreath is created with navy blue, natural and white deco mesh. It is adorned with coordinating ribbons in blue, white, and natural and accented with starfish. Plus a wood beach sign.
Patriotic Wreath – If you're looking for a floral red, white, and blue patriotic wreath for your front door, this wreath is just the thing! You'll fall in love with this trendy patriotic wreath with layers of red, white, and blue flowers!
Frog CountryWreath– Bright bows complete a look that is whimsical and cool as the days get longer and hotter. Freda frog is here to remind us to HAVE FUN, and enjoy life's simple pleasures.
Sea Shell Wreath – Seashells, starfish, and driftwood this is such a pretty coastal wreath. Perfect, summery, hang in your home or hang your wreath at the beach house.
Flip Flop Wreath – Fun, whimsical and packed with the colors of summer.
4th of July Grapevine Wreath – Here is a farmhouse style patriotic wreath that pops with color yet still has that charming, rustic feel. Made with many patriotic colored flowers including red, light blue, dark blue and white. Intertwined with the flowers is various greenery. And a wooden star.
Find all our favorite summer door decorations and wreaths to hang!
Boho Wreaths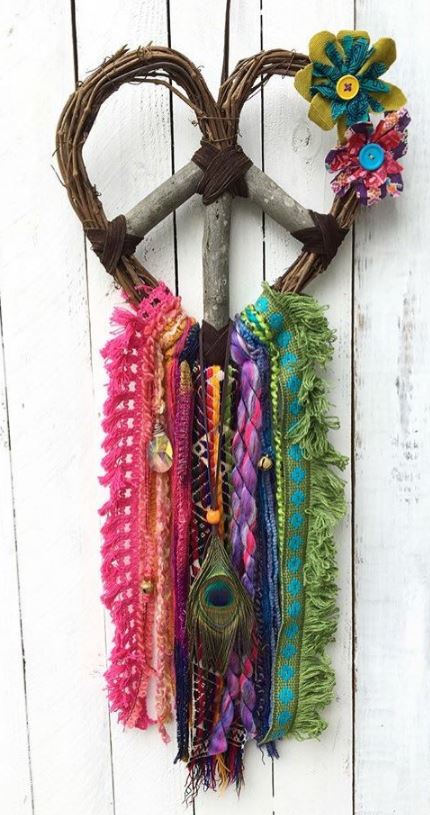 Bohemian Dream Love Heart Wreath via Run2TheWild
You will find beautiful wreaths, handmade wreaths such as burlap wreaths, mesh wreaths, and grapevine wreaths… find more boho wreaths.
Front Door Wreaths
Find (large summer wreaths here)
Find (boho summer wreaths here)
Find the best (Front Door Wreaths here)
Stay tuned for our upcoming tutorials for how to make summer and patriotic wreaths. If you want to make a wreath for summer you might like this succulent wreath DIY is an easy way to add a woodland wreath to your home's decor. We made this one last year. OR our Farmhouse Wreath DIY is a fun wreath to make, and only takes one to two hours depending on your experience. This wreath diy has a video tutorial to show you the how-to, along with written instructions. Need more ideas for making your own summer wreath? 23 Summer Wreaths and ideas to style your home for summer.