This Cherry Dump Cake is easy to make, and delicious. After it has been baked, top it with whip cream or ice cream. It is perfect for celebrations, on the 4th of July, Labor Day, and Memorial Day. Cherry lovers will enjoy this for a birthday cake or as a sweet treat.
Make this as a summer dessert. Or make it any time of the year you are craving a cherry dessert. Looking for other cake recipes to make? Try these Easy Cake Recipes.
Cherry Dump Cake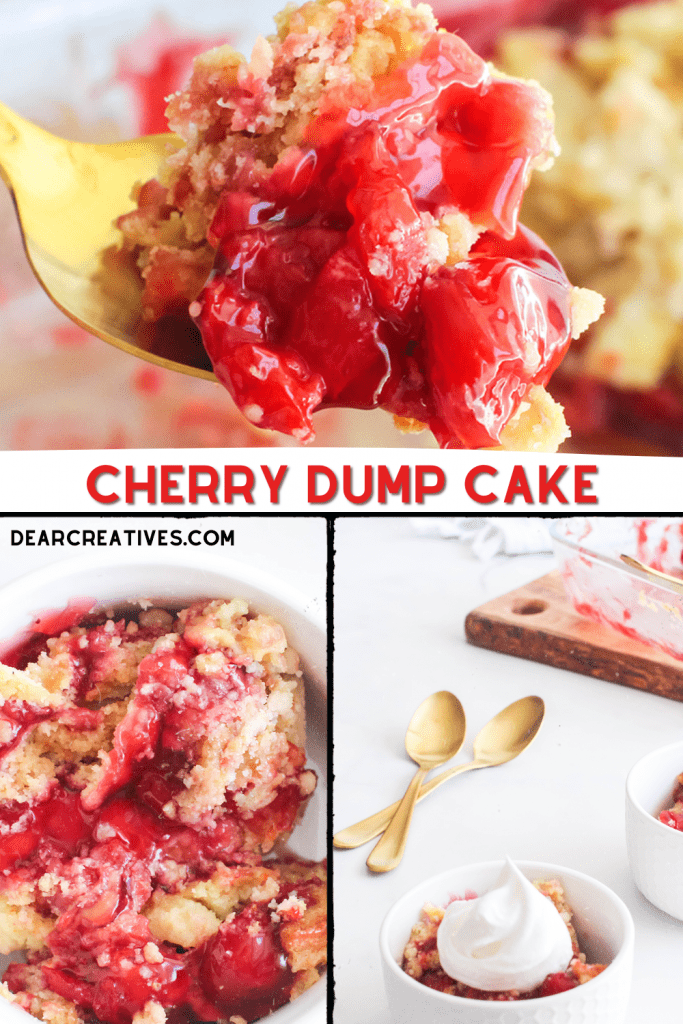 Are you looking for an easy dessert to bake? Cherry Dump Cake is easy to make. Bake the cake mix with cherry pie filling at the bottom. After baking add scoops of the dessert into a ramekin, bowl, or another dessert dish. Top this cherry dessert with a dollop of ice cream or whipped topping. It's so good!! This is similar to a cherry cobbler. You will love it!
In a hurry scroll down to print the recipe!
Recipe For Cherry Dump Cake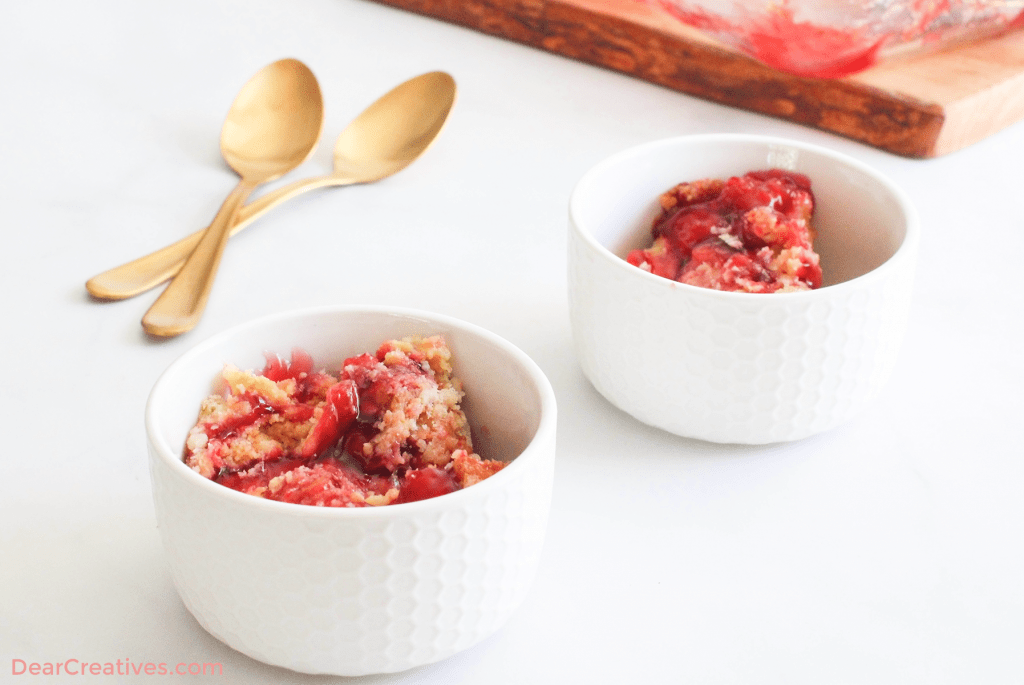 Affiliate links may be included in the post. By clicking the links for qualifying purchases we earn a small commission. This is at no additional cost to you.
For this recipe you will need an 8 x 8 baking pan, hot pads, and a serving spoon. Ramekins, dessert cups, or bowls. This recipe will make 6 servings. Or 4 if you serve very large portions.
To use 2 cans of cherry pie filling use a 9 x 13 baking pan. And keep the rest of the ingredients the same.
Ingredients For Cherry Dump Cake
For Cherry Cake Dump Toppings
Premade or homemade Whip Cream Topping
Cool Whip
Vanilla Ice Cream
Recipe Notes – Dump Cake Variations – You can use other pie fillings if you don't like cherry. Try using peaches, strawberries, or your favorites. Other variations for the toppings; try adding chopped pecans or sliced almonds (to the cherry pie filling). Sprinkle chopped pecans or slivered almonds to the whipped topping or ice cream as desired. Or even garnish it with dark chocolate shavings.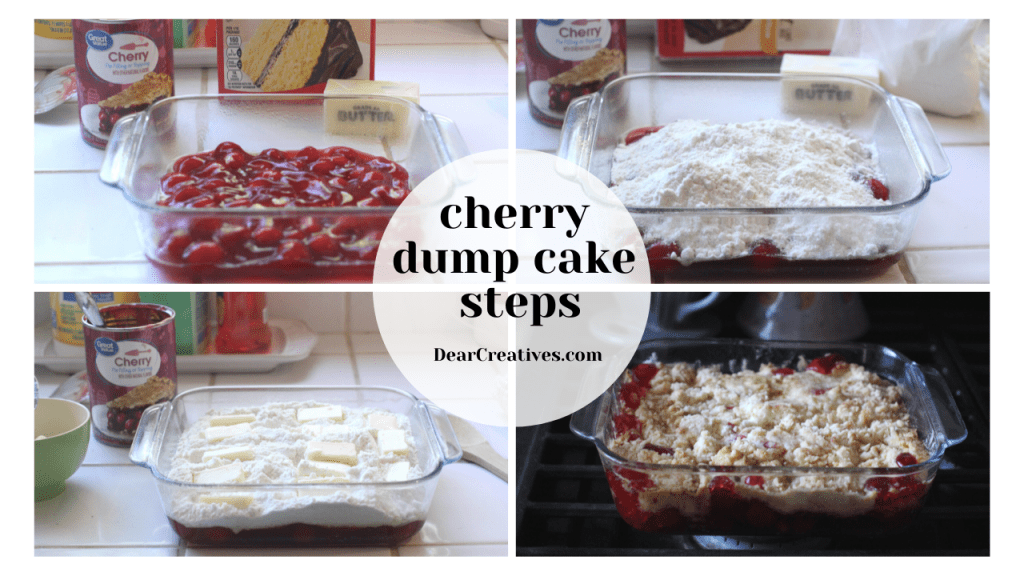 Instructions
Preheat the oven to 350F degrees.
Prepare the baking pan by spraying it with non-stick spray.
Open and add the can of cherry pie filling to the prepared baking pan.
Add the yellow cake mix and spread it over the top of the cherry pie filling.
Cut up and add 6 tablespoons of the butter spread over the top of the cake mix.
Bake for 40 minutes.
Use the edge of the spoon to cut air slots to the top (allowing the cherry filling to bubble up inside the cake).
Add the remaining 2 tablespoons of butter (on any dry cake mix areas) and sprinkle the vanilla extract over the top (and where any spots are dry and not combined yet).
Bake the cake for another 10 minutes. Let cool slightly.
Spoon into a dessert cup and top with your favorite whip topping or vanilla ice cream.


Add The Topping
Enjoy!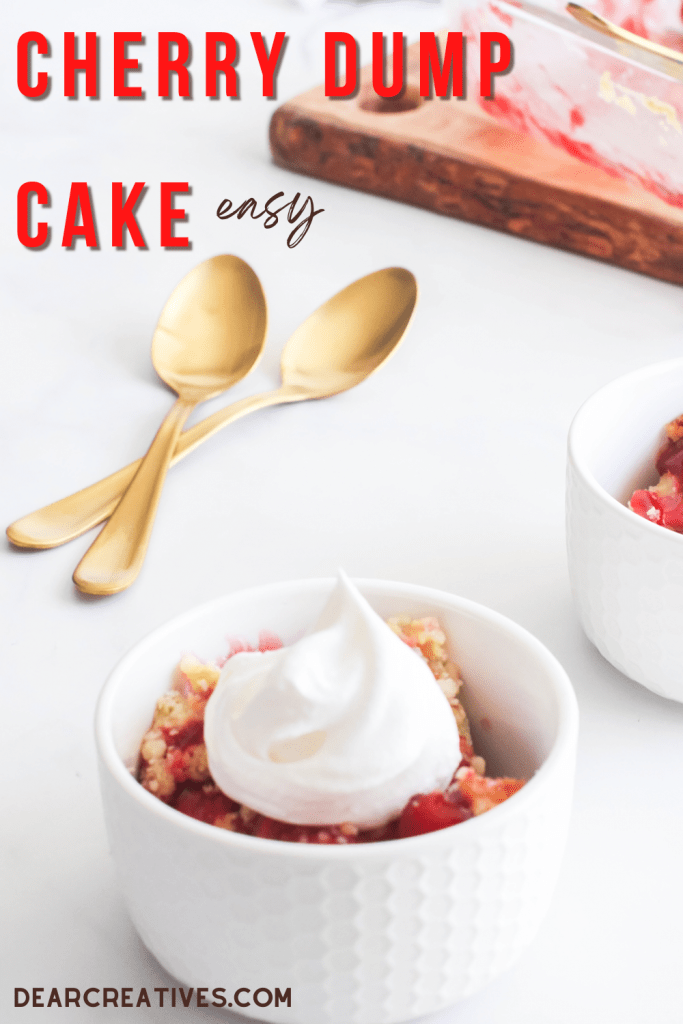 These honeycomb ramekins are similar to mine. And are perfect for serving this dump cake with cherries!
New here?
New here? Be sure to Subscribe. Grab our bonus printable recipe binder and cooking resources. Plus, never miss a post with our newsletter!
Don't forget to Pin it for Later
Pin It For Later
Pin it to save the recipe and make it later!
Recipes With Cherries
More Desserts and Treats To Make