Recently I created a diy upcycle projects for back to school. I'd been searching for a big bulletin board for Sammie's room. She'll be taking two classes at the high school and the rest at the middle school. She was in advanced math last year and other classes which boosted her to jump ahead. Always exciting and challenging. I just happened across an older, stained cork bulletin board that was bigger. It could use some updating so I set out to create something she could use and that would look pretty after I upcycled it!
Do you ever happen across something at a yard sale or thrift shop that you'd been looking for that needs a little help? Why buy it new when you can use a few supplies you might have on hand and paint to give it new life. Sometimes I'm thrifty by necessity and other times just because I love a challenge. What about you?
UpCycle Projects: Stenciled Bulletin Board DIY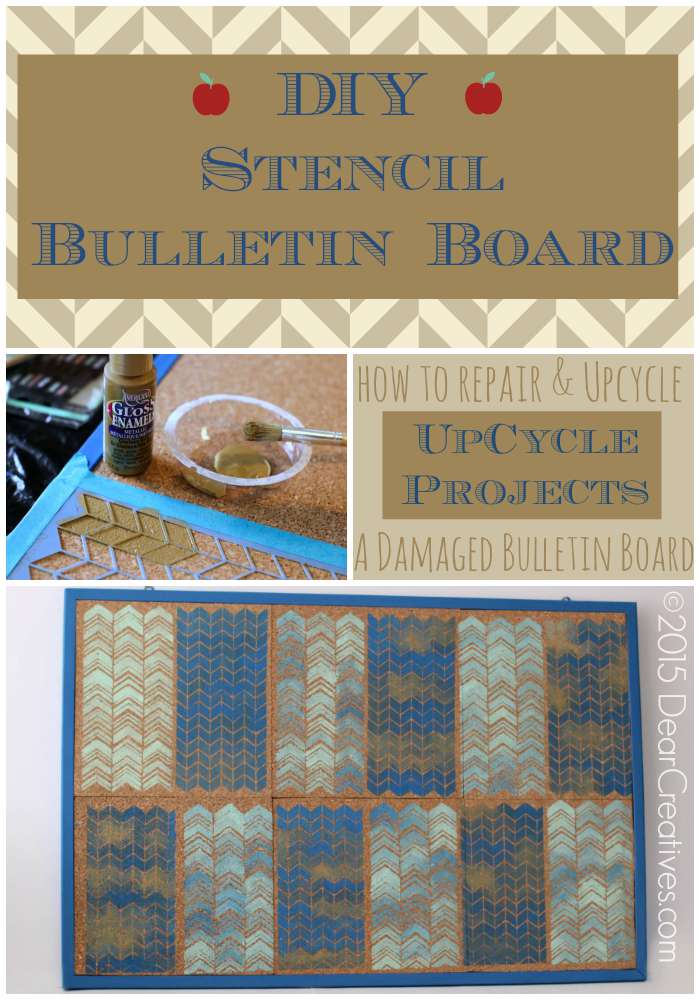 UpCycle Projects:
Stenciled Bulletin Board DIY
I think you'll love the Upcycled Bulletin Board Tutorial. It's straight forward, easy and only takes a few pretty colors of paint to upcycle your project. Below are a few items that helped me fix mine. The full tutorial is over on DecoArts Blog.
You don't have to use an old bulletin board. You can always grab a new Cork Bulletin Board But, if you have an old one you might enjoy updating it and upcycling it. If you do upcycle yours you might like these 12 x 12 cork tiles that I used to update ours. It made it so easy! Head over to see how to upcycle and stencil your own! (follow the link above at the bullet point to see tutorial!)
Bulletin boards are perfect for an office, back to school or even a command center or family room. The great thing about this upcycle project is you can pick any type of stencil to create a pattern with, colors of paint to match your decor and hang it with Command Strips/Hooks or just by using metallic push pins.
I'll have a new diy/craft tutorial here for you soon of other projects but, hope today's idea will give you some inspiration and help you upcycle a bulletin board.
Where would you hang your upcycled bulletin board?
PS. If you have a piece of furniture that you gave a second chance to be sure to enter this contest to win $2000 and $500 of retail products for grand prize. See all the details and other prices here: DecoArt Second Chances Contest *ends 8-31-2015
Looking for more diy / upcycle projects?
Special Online Sale! 400 Crafts and creative classes on sale $19.99 or less! Grab your deals now! I've taken quite a few and loved them all. They come with a 100% satisfaction guarantee. Visit Craftsy for details!