Inspired by the designers creations from Bloomingdale's Spring Looks Designers and 100% Bloomingdale's Spring 2015 Campaign post we decided to give the Crayola Meltdown Art Set a try and create two Spring Crafts for kids projects to share with you all and let you know what we thought of the art kits! First off, everything you need comes in the kit. Minus something to protect your work surface area. We decided to add creating a tee shirt design for our fashion design meets crayon project, inspired by yesterday's post. (tee shirts are not in the kit)
If you try the kit you'll just need a blow dryer, unless you decide to do the tee shirt project too. We went to Michael's and purchased their white tee shirts in two sizes (I've included a supply list at the end of the post for you).
We used heavy duty plastic garbage bags to cover our work space. I highly recommend doing this and even cutting a cardboard box to have three sides to protect your area, as Sammie put the blow dryer on high and went to town. As the crayons melt the wax can really travel on /off the canvas that is provided. We also placed the cut out cardboard side in between the tee shirt to keep the melted wax from melting through the project. All the steps are shown below in a easy to follow format.
Spring Crafts For Kids: Crayola Meltdown Art Sets #DIY
I must admit we are a bit in love with the neon pack collection included in the kits. I created the flower with the Crayola Meltdown Art Set and used fabric pens for the writing. Although our designs weren't nearly as detailed as the designers shown yesterday we had fun making them.
Sammie made her tee shirt with the crayons melts kit creating a heart. She paired it with her favorite New York sweat pants. Perfect for casual weekends and teen fashions. You can follow the steps below, plus with an added tool create a tee shirt or just use the art sets as they come and create art canvas creations.
Crayon Fashion Design Spring Craft Project;
As mentioned yesterday: You don't have to be a fashion designer or a craft expert to use these Crayola Meltdown Art Set kits you just have to follow the directions and make sure your work space is properly / completely covered with plastic or other protective materials to keep the melted wax from getting onto your table surface. This is a project perfect for kids ages 8 and up with supervision. The kits come with everything you need. Supply list at end of post.
Spring Crafts for Kids Crayola Crayon Meltdown Art Set Steps;
Step one:
Prepare your surface to be protected and have adult supervision for this project.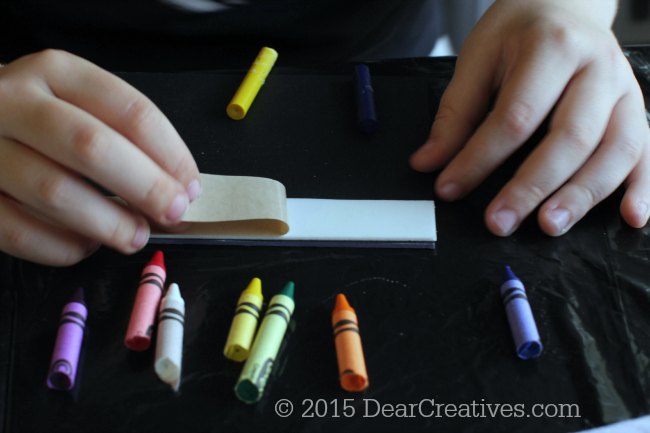 Step Two;
Your ready to begin open your kit and grab the double sided tape. Peel it back and then place it on the canvas of your choice. It comes with two white and one black canvas.
Sammie decided to break her crayons, and place them as shown. She also unwrapped half of them.
Step Three;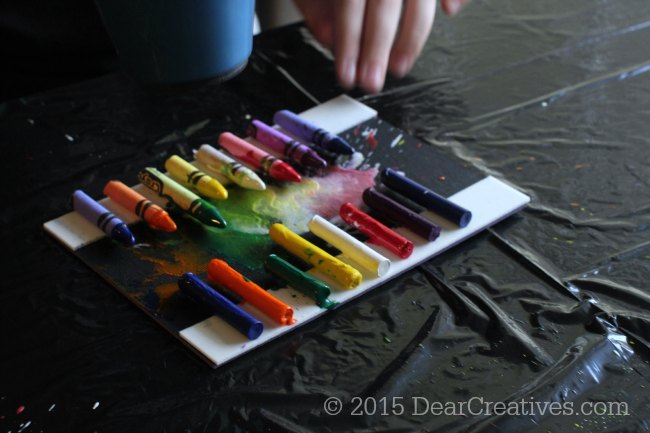 Next she plugged in the hair dryer (while supervised) and laid her canvas down and began to heat up her crayons by blow drying them.
Step Four;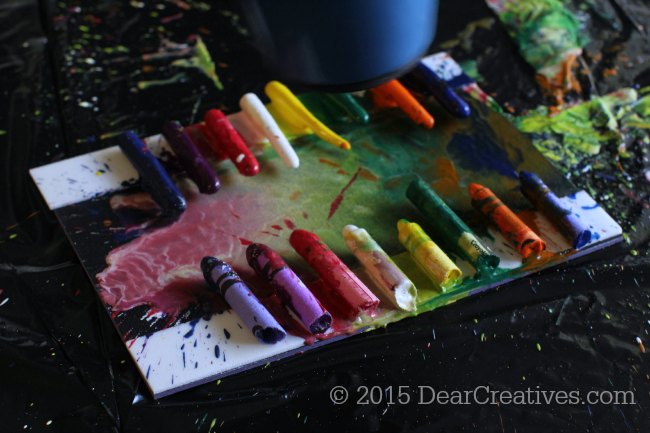 She continued the process until she melted all her crayons (her choice) and then added some more blue crayons to create her finished ocean scene as shown below.
Finished Crayola Meltdown Craft Project;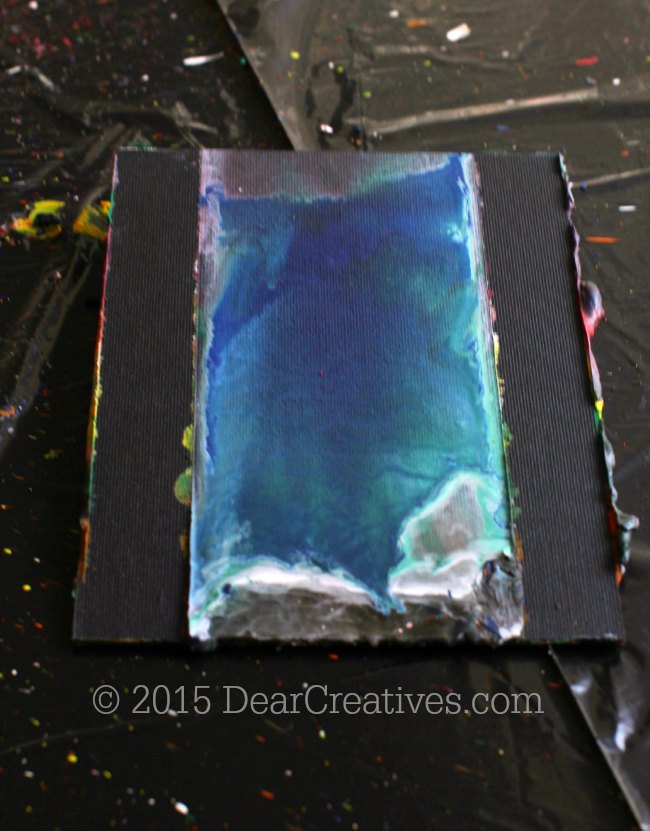 You can see that she took off the double sided tape and that is where the canvas will show un colored. Each canvas comes out different by doing something different.
Additional Steps for Creating the Tee Shirts With the Crayon Meltdown Art Set;
Then we decided to do it on the tee shirts. Be sure to follow the same steps as above but, then put a piece of cardboard inside of your shirt so the crayons don't melt all the way through. We found the crayons did slide when melted across the fabric. But, for more control on our tee shirt designs we placed the crayons where we wanted to melt them using the blow dryer melted them. Watch out if you don't tape them down they will fly off project.
Sammie went crazy on her using tons of colors, almost to the point of muting the colors. I used mine sparingly. We also used a tool to melt the wax crayons with more control to finish our design. (But, this step was optional! Sorry no pics)We did this part in an area where we have a ceiling fan for ventilation.
How ever you decide to use the kits they come with everything you need and are recommended for ages 8 and up.
We had fun doing this project. Sammie really enjoyed the freedom and experimentation. Clean up was easy since we covered our entire area with plastic and swept up crayon wrappers Sammie accidently had blown on the floor.
Supplies needed for both projects;
Purchase only the Crayola Meltdown Art Set if you don't want to create a tee shirt. You can also consider creating a tee shirt with only the fabric markers they are super fun too and only recommend pre washing fabric and are permanent when drawn on.We were surprised on the rating (3) of the Crayola Meltdown Art Sets as they come with water colors too and everything you need. We would rate this a 5 star! We had a blast! Hope this helps you have some fun with the kids this spring! Or anytime!!
Happy crafting!
What is a spring craft that you have done with or without your kids lately?