Being creative, having kids and writing a blog doesn't always give you a lot of time for complicated recipes. I used to have a few basic recipes I'd run through and then repeat. Let's just say meal planning and getting creative in the kitchen wasn't topping my list. But, I've always enjoyed cooking when I have time and love to bake! I decided to share my easy family recipes. In case your like me.
I was just stuck in a recipe rut! Sound familiar? Then all my older kids moved out and I was left with Sammie and the Mr. at home. Sounds like cooking should be easy for three. Well, not when the last one in the nest is a picky eater! That's when I decided to break free from the same old dinner routine schedule and focus on getting more creative in the kitchen.
Easy Family Recipes;
Easy Recipes:
In a hurry? Scroll down to see index!
Each recipe will share how many servings, ingredient lists, tips, occasionally where to purchase an item or even a food product review and how the family liked it or if they gave it a shrug.
You'll find recipes I have tried, recipes I have adapted and even some recipes I have created myself.
If a recipe is here we have enjoyed making them more than a few times, with a picky eater that's a good thing! I hope you enjoy the recipes.
All recipes have an easy print or save option.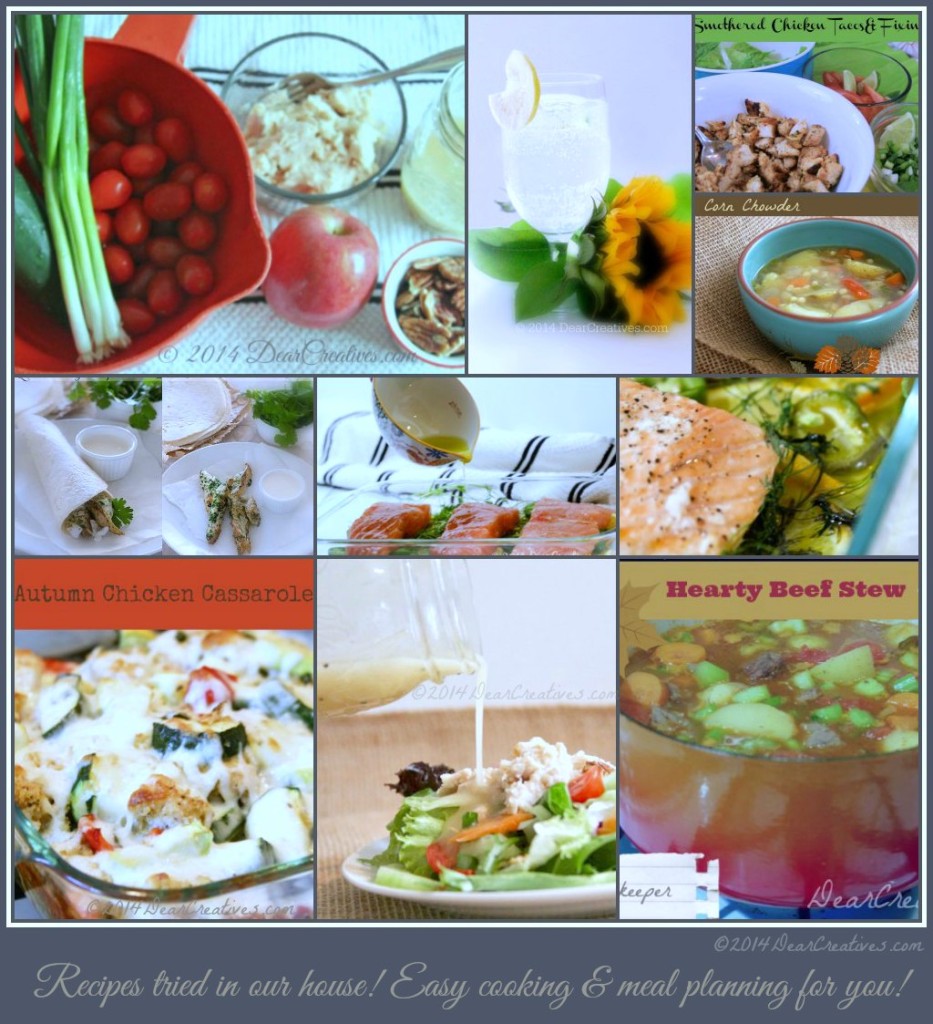 I have more recipes than time to try them all that's when you might occasionally see a recipe round-up. But, I started looking for our family and testing recipes to fit our lifestyle. I wanted easy dinners that were healthy and a good variety to rotate through the months to allow us to get out of the rut of eating the same tired menus and meal plans. I also have a page for grilled recipes, you can see the recipe gallery and maybe soon baking recipes page.
Easy Family Recipes: If your ready to break the recipe rut this is a great place to get started.
I'll continue to add recipes weekly that are perfect for meal planning and adding to your easy family recipes! Now fire up your stoves and get cooking!
Easy Chicken Recipes:
Easy Beef Recipes:
Easy Pork Recipes:
Easy Fish Recipes:
Appetizers:
Breakfast Ideas and Brunch Recipes:
See our baking recipe index too for more!
Casserole Dishes:
Candy Making Recipes
Canning & Freezing Recipes:
Chili Recipes:
Crock-pot Recipes:
Desserts:
Drinks:
Meal Plans:
Monthly Meal Plans:
Noodle Dishes:
Oven Recipes:
Pasta and Italian Dishes:
Recipe Round-Ups:
Roasts
Sandwiches:
Salads:
Sauces:
Side Dishes:
Snacks / Treats
Soups:
Stews:
Stove Top:
30 Minute Meals:
Holiday Recipes:
Food Safety Tips:
Grilled Recipes:
Yes, we grill all year round. To make the recipes easier to find I started a Recipe Index Page just for all those Grilled Recipes!
Kitchen Tools;
Cookbook Reviews:
Cooking With Kids
Homemade Pet Treats And Recipes;
Baked Recipes:
We love baking! You can find a full Recipe Index Page just for Baked Recipes (coming soon!) Be sure to subscribe and check back often for updated easy family recipes that you can enjoy.