About the time I was working on Sammie's Halloween costume my second youngest daughter Krissy asked if I could make a costume for Audrey my grand daughter. They are reading through the book series Little House on the Prairie. I said I'd do a quick search and see what patterns I could find. Often times you can find vintage or even drafted patterns for sale just by taking the time to look. I found one but, not in the correct size so the hunt went on until I found it. Today and tomorrow I'm sharing how the costume turned out, sewing tips when using patterns, the fabrics I used to create the look and give it that vintage feel.
I think this is a fairly easy pattern if you have some experience sewing. There were a few spots were the details weren't clear to me even having some experience with using patterns and construction but, I made my way through the pattern.
Time it takes to make this costume with this sewing pattern;
It took one day for the dress construction (layout, cutting and sewing) and one day for the hat and apron, then going back to finish the hem on the dress. I had everything I needed prior and had read through the pattern. Tomorrow I'll have some sewing tips for using patterns that will help make things easier.
This pattern has quite a few places where you'll want to pin and baste to make sure your placement is good prior to sewing! Above is a pinned, being basted sleeve.
I did make a few alterations to the Little House on the Prairie pattern;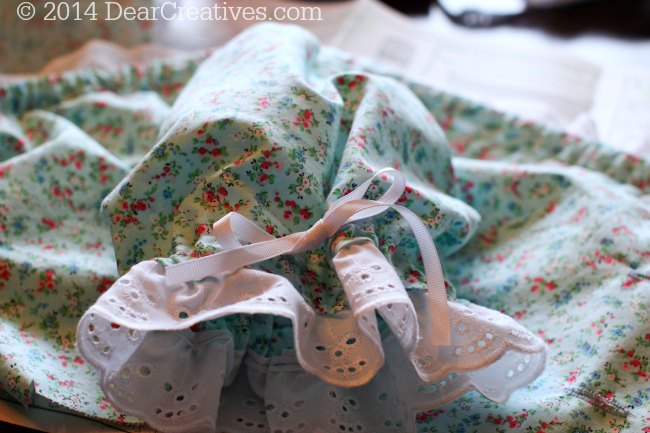 Looking back on the construction as cute as the ribbon is on the sleeves I would change this to elastic and tack on a bow vs. creating button holes and stringing lace to create the gather (if I ever make this again). Even with the extra ribbon length, when Audrey was playing in the dress the sleeve ribbon came untied and she lost it. Luckily I had brought the extra up with me, re-cut, laced through sleeve and tied. This time I used a safety pin to hold it in place under the ribbon tie. Yes, it could be sewn. But, then it can't be altered for loosening if someone with a larger arm width uses the costume.
For this pattern you create a casing and thread ribbon to use around the neckline as well as the sleeves as shown above. I used more than ample ribbon so this area wasn't a problem. Tomorrow I'll show back view where you can see what I'm talking about. When adding the eyelet lace at neckline and sleeves I used a larger width than called for. It's what I had on hand and ended up working really well. I pinned it in place prior to sewing.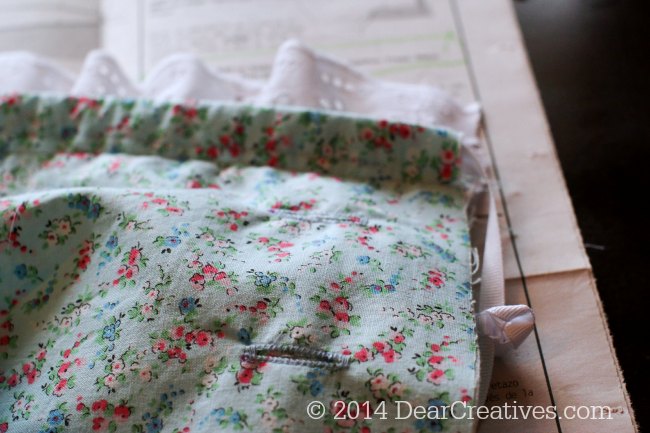 I hadn't made button holes in years! I almost avoid patterns with them. Call me chicken. lol They always seemed so complicated. But, I didn't realize this pattern had them. Game on! I pulled out my button hole foot, manual and read how to use it. I inserted button into sizer on button hole foot and followed the directions. I practiced on several pieces of left over fabric before making these where I marked them with my favorite invisible disappearing pen. Guess what, it wasn't as hard as I thought! And they came out pretty! Can you hear the Mario Brothers music as I level up?!!
The pattern listed below comes in several sizes. We used size 7-14 girls.
Pattern, Fabrics and Notions List;

Come back tomorrow to see the rest of post, see the bonnet and grab the sewing tips!
Did you sew a costume this year? Adapt clothing for a costume? or Buy a costume?
Pom Pom Pets – Create three of your very own fuzzy friends to play with! Explore the world of imagination and storytelling with our explore! play & learn magazine filled with bonus projects and activities!