Today is part 2 of the Little House on the Prairie Costume sewing along with some tips on sewing with patterns. If you missed yesterday's post you can view it here.  I explain some of the ways I altered the construction and tips for changes if I were to make it again and why. The fabric, pattern and notion list is at the bottom of post.
To keep to the vintage feel of the Little House on the Prairie Costume I we searched for calico prints. This is a type of print that is a small floral print and usually in a tri color combination. We fell in love with the colors of this fabric. When I got it in the mail I fell in love even more! It's a nice thickness and easy to sew!! I pre washed and ironed my fabric prior to using it. I used an eyelet fabric for the apron and bonnet. This wasn't as thick but, worked perfect for this project.
I didn't do the pleating at the bottom of the skirt on the dress as shown on the pattern. It's decorative, looks pretty but, wasn't necessary.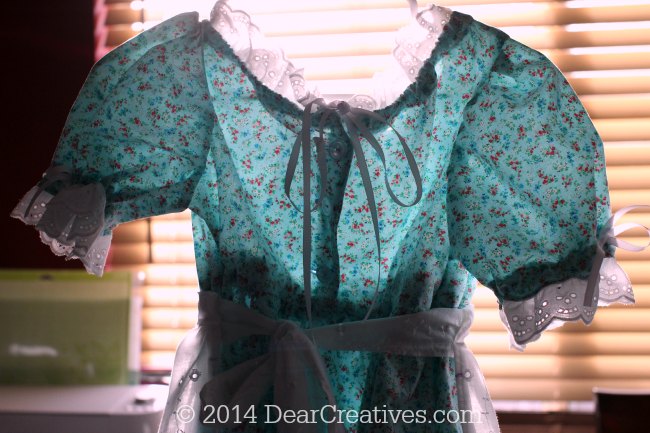 I also decided to use an eyelet fabric for the apron and part of the bonnet. This was a little thin but, worked fine for this pattern. If I was to use eyelet for anything other than something like this I'd want a thicker blend of eyelet. But, it's really pretty and easy to work with.
I tried placing the skirt to the top by pinning first, as shown in pattern. There are a lot of gathers to this skirt. It seemed to bulky when placed on top as they had shown. Then I placed the skirt underneath the top with a clean line of the finished top it seemed to look better. I hand sewed this on vs sewing on the machine. But, for the skirt bottom hem. I sewed that on the machine vs hemming.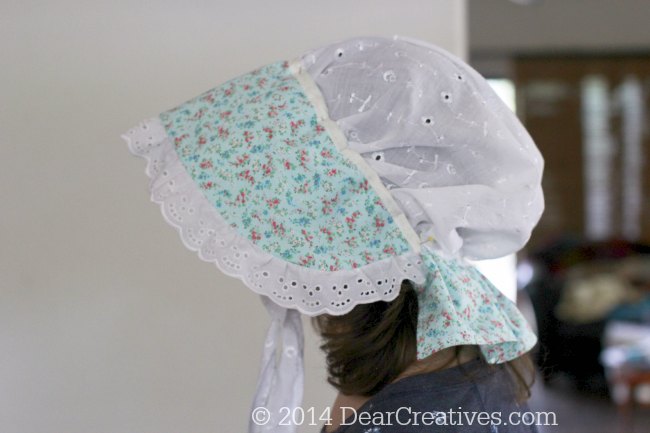 And the bonnet. I altered using by using two different fabrics and binding tape.  It fit Sammie but, was big on Audrey. It was a one size fits all. I ended up pinning the bonnet in the back for Audrey so it fit her perfectly.
Other sewing tips that may help for this or other patterns;
You could watch a You Tube video about how to make button holes too, along with reading your manual if needed.
Be sure when using patterns to check sizes vs measurements on pattern.
Read entire pattern through
I mark with highlighter which cutting layouts / directions for each item I'm making (this helps to keep you from accidently reading /sewing the wrong thing!)
Make sure to write down amounts of fabric needed for each thing your making
Make sure to write down all notions needed (threads, ribbons, lace, buttons…)
Take out all your pattern pieces and separate for each thing your making (dress, hat, apron)
Put other pattern pieces away that your not going to use
Order or pick up fabric and notions
Your ready to begin!
I drove up to deliver the costume to Audrey making sure it fit her and it was perfect. I couldn't of worked it out better if she had been here. I did have her measurements though which was a big help for fitting without her here. I was able to go with them to her school harvest fair and Halloween celebration. They had a dj in the gym and that girl held her prairie skirt up and kicked up her heels in her boots! I was so happy to see her loving her costume! I've never seen a bigger smile from her as when I delivered it! I have one happy 6 year old grand daughter!
The pattern listed below comes in several sizes. We used size 7-14 girls.
Pattern, Fabrics and Notions List;

I might make her the petticoat and pantaloons for Christmas as pajamas.
What are your kids or you dressing up as? Have you sewn a costume for your kids or grand kids before?